The new DJI Osmo Mobile SE could be perfect for content creators on the move, where it's important that kit is lightweight, portable and has decent battery life.
For people who primarily use one of the best phones for video, DJI already offers an impressive range of gimbals – but the DJI Osmo Mobile SE is one of the most impressive yet, with a smaller form factor and a bigger battery than the popular DJI Osmo Mobile 6.
DJI makes some of best smartphone gimbals and, although we haven't yet had a chance to get our hands on the Osmo SE, we have a sneaking suspicion that this could end up going straight to the top of the list.
Osmo Mobile 6 it features DJI's intelligent ActiveTrack 5.0, which is able to track a person or object in shot using a social Vision Recognition Technique, so whether you're shooting a skateboarder or a dancer, you know that your subject will always be the main focus.
If you already have the Osmo Mobile 6 but are looking to switch to something smaller, the Osmo SE is compatible with all the same accessories – including a magnetic clamp that enables you to snap your smartphone in and out and the grip tripod so you can shoot handheld, which is perfect for recording a timelapse.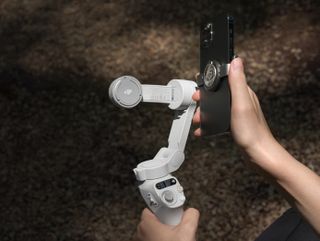 The Osmo Mobile SE also supports Motionlapse and Hyperlapse, and even comes with a simple Motionlapse template so you can transform highlighted clips into professional-looking videos.
A small but high-torque brushless motor enables the gimbal to compensate for slight shifts, even when using a larger and heavier smartphone such as the iPhone 14 Pro, and pairs with 3-axis image stabilization so you can shoot shake-free, silky smooth footage.
The most significant advantage of the Osmo SE over the Osmo Mobile 6 is its size. Thanks to a collapsible design, when folded down it's just 167 x 108.5 x 46.5mm and unfolded it's 262.5 x 119.5 x 104mm, so it can easily fit into a rucksack or even a tote bag.
It also has a larger 2,6000mAH battery, capable of running for up to 8 hours, so you can shoot all day without having to charge. The downside is that it takes almost twice as long to charge (2 hours, 12 minutes instead of 1 hour, 24 minutes) but they both have USB C-type charging, so you can charge on the move.
Despite the improved portability and battery life of the DJI Osmo Mobile SE it's actually even cheaper than the Mobile 6, starting at just $109 / £95/ AU$159 and is available now directly from the maker.
Discover the best camera phones and browse a range of top spec phones from Apple, Samsung and Google