In a world where we're in a state of near-constant panic about the encroachment of AI on our lives, this morning I found myself a little surprised by the more established pseudo-intelligence of normally reliable Google.
My mind was wandering and I was thinking of clouds – not sunset clouds, but the patterns they form after the peak of the day on a holiday weekend as, for me in London, it has just been a long weekend. So I typed 'sky photography' into Google and, well, it decided I could only mean astrophotography.
Now I've got nothing against astrophotography. I deeply admire those willing to research the best astrophotography gear and endure the long hours and disappointments of weather at difficult times of the day. But I did feel that Google might have offered me some possibilities for 'sky photography' relating to the other half of the solar cycle – the time I, personally, spend awake.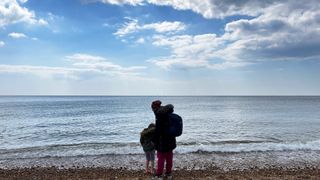 Perhaps I was asking the wrong question. After all, a lot of the time you're looking to make the sky a key part of a photo, the time of day is important. Perhaps if I'd asked, specifically, about the best way to photograph a sunset, or clouds, I'd have got an answer closer to where my mind was in the first place. Though, to be honest, I suspect if I'd mentioned clouds I'd have simply ended up with a lot of opportunities to store my photos on a remote hard drive for a monthly fee.
The point, here, seems to be this – sky photography (or whatever you choose to call it) matters to people whether it is day or night, and that seems like it should be obvious to a search engine. But, clearly, it isn't. At best the search is the beginning of a hunt for knowledge, not the end.
For what it's worth, only one of the three images and one video I could see from the same sky photography search on Instagram showed astrophotography. But a lot had clouds, and it wasn't short of sunsets.