UPDATE: Yet another patent has been registered for Canon's take on the DJI Pocket vlogging camera – and rumors (and common sense) suggest that this device may be the future of the manufacturer's EOS M system.
We've seen this Canon riff on the popular DJI Pocket 2 / DJI Osmo Pocket, one of the best vlogging cameras on the market, a few times before. Unlike DJI's device, however, Canon's take on the idea features an interchangeable lens mount.
It would seem incredibly clunky for such a compact system to feature a full-frame image sensor, and while there are a couple of compact optics among the best Canon RF lenses it would be far more logical for this to be an APS-C camera – built around the EOS M mount.
The best Canon EF-M lenses would be absolutely perfect for this camera, given their ultra-compact design. While not intended to be an image to scale, the latest patent (spotted by Canon News) illustrates the lens locking mechanism – and it seems almost certain that these are EF-M sized optics.
Although the CP+ 2021 trade show is taking place in Japan at the end of this week, that may be too soon to see the camera announced – though some outlets have speculated that it may materialize in time for NAB 2021 in October…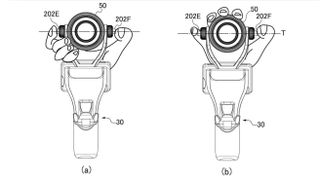 UPDATE (18 Jan): We previously reported on new patents describing a Canon vlogging camera that was seemingly inspired by the DJI Osmo Pocket. However, Canon News has since uncovered even more patents surrounding this potentially upcoming device. The most exciting aspect of these newly uncovered patents is that this Canon vlogging camera could apparently be using the Canon EOS M mount.
This hypothesis is supported by a detailed mechanical breakout of the device, which appears to show the EOS M mount. It's also supported by a patent illustration that seems to show an EF lens mounted onto this vlogging camera using what seems like the current EF to EOS M adapter.
As Canon News mentions, the smaller and more compact lenses for the EOS M mount would likely be much better suited to a vlogging device than the heavier and larger EF or R mount lenses.
While there's no guarantee that we'll see this unusual product hit the market (as Canon are notorious for filing thousands of patents a year that never see the light of day), it's unusual to see this many patents filed for a single device that doesn't end up getting released. Watch this space…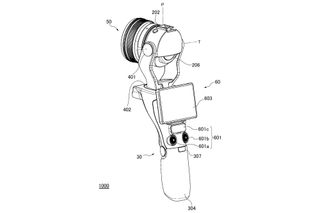 ORIGINAL STORY: The eagle-eyed patent spotters at Canon news have revealed plans for this intriguing handheld interchangeable lens camera. At first glance, it looks like a DJI Osmo-style gimbal camera, but closer inspection reveals some intriguing differences.
While current gimbal cameras (such as the recent DJI Pocket 2) are pocket-sized units with fixed lenses, Canon's patent shows a much larger interchangeable-lens device. The current speculation is that it will use the Canon EOS M lenses and mount, but like all patent applications, this one is a long way from a finished production camera so at lot can change, even assuming this product is ever made.
Canon's design incorporates a grip with control buttons and a fixed screen. The part that moves is the camera-lens unit, which is mounted in a gimbal style yoke mounted on the top of the handle.
This offers a pan and tilt movement, with the ability to flip the camera unit through 180 degrees for selfies and vlogging, but subsequent research of the patent documents by DPReview suggests that the gimbal mechanism is not stabilized.
It's possible that Canon might employ some other kind of stabilization, such as in-body stabilization in the camera unit or lens-based stabilization. We are also assuming that the pan and tilt axes are powered, though that too is unconfirmed.
Canon's accompanying documentation indicates it's also interested the use in the Internet and other "video distribution services", which makes it clear that this is a product for vloggers and content creators.
Canon may be aiming for quite a narrow gap in the market here. The advantages of an ILC vlogging camera over smaller devices like the DJI Pocket 2 or Benro Snoppa Vmate are clear (bigger sensor, interchangeable lenses), but this device would be going up against regular gimbals from DJI and others which can already mount just about any mirrorless camera or DSLR with gimbal stabilization and powered pan/tilt movements.
Read more:
• Best gimbals
• Best cameras for vlogging
• Best Canon EF-M lenses
• DJI Pocket 2 review
• DJI RSC 2 review