Bird Buddy is declaring a "Summer of Birds," having blasted through its target for its new hummingbird-friendly Kickstarter campaign soon before its first AI camera-based product will begin shipping.
Bird Buddy first debuted on Kickstarter in 2020, by offering an AI-based bird table with a removable camera module. The original 5MP Bird Buddy has been the inspiration for an entire genre of products – best bird feeder cameras – but the arrival of a competitive marketplace hasn't knocked Bird Buddy out. It has, however, sent the company back to its Kickstarter roots, with what has to be described as a quirky video to extend the range.
The new Smart Hummingbird Feeder and Smart Bird Bath are both new accessories into which the Bird Buddy camera module can be housed, so the same AI bird-watching capabilities are available – but now in more places.
Check out the video for yourself: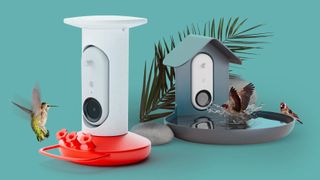 Watch video: Bird Buddy's new "Summer of Birds" products
Of course, Bird Buddy's current struggle to deliver the original product may be affected by the buzz around the active campaign. The very attention-grabbing Kickstarter campaign features what we can only assume is a bird enthusiast on rollerblades, and manages to sit somewhere between charmingly surreal and full-on trip.
It has surpassed 7,500 backers – fewer than the original Bird Buddy's 23,000, but still more than enough to go into production. Kickstarter success would still leave the delivery of the new bird feeders around a year away, however.
Bird Buddy is expecting more of its original product sooner, but there are plenty in the category that you could consider in the meantime. We've even reviewed a housing that turns a smart security camera into a bird feeder camera – the Wasserstein Smart Bird Feeder.
You'll have to decide if you can wait – if you can't, check our list of bird feeder cameras. We'll review the Bird Buddy as soon as we can.