Pioneering brand Ulanzi has already launched a raft of versatile lights for photographers and videographers. Whether you want a waterproof light for an outdoor shoot, a light to go on your drone, or a light wand to create special effects, Ulanzi has you covered.
But now the manufacturer is introducing its new Ulanzi LC150B 150W Bi-Color Cob lighting head. Thanks to its high build quality, fantastic feature set and intuitive controls, the Ulanzi LC150B Video Light enables professional captures in the studio, whether you're working on live streams, video production, or engaging lifestyle content – whatever your skill level.
Let's look at the fantastic features of the Ulanzi LC150B 150W light.
Features of the Ulanzi LC150B video light
Wireless remote control
Although it's great to have quick-access dials that change the settings on your lighting heads when you want to engage with your subject this can become a bit of a distraction. Fortunately, the Ulanzi LC150B video lights can also be controlled by a wireless remote, and it's possible to change the color temperature from 2700 - 6500K at the press of this smart little remote, too.
You can use the 2.4G Remote Controller to operate and tweak multiple lights simultaneously, which makes it easy to create a setup with several lights – all with the perfect balance of illumination to suit your subject.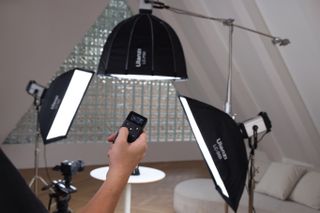 Color accuracy for stills and video
Color Rendering Index (CRI) is the measure of how accurately a light source can reproduce the colors of the subject it illuminates. Generally speaking, the higher the CRI number is, the better light is at color rendering, and 80-90 is considered good while above 90 is pretty great.
The CRI measure of the Ulanzi LC150B is more than 95, so you can be sure that the color of your models and subjects will be captured accurately for stills. But what about capturing video?
TLCI (Television Lighting Consistency Index) is yet another term used in the industry, but instead of measuring the color accuracy of lighting for stills, it's for when using a video camera. Again, Ulanzi's light performs impeccably, at a TLCI score greater than 96. Ultimately, this means that you can be confident you won't need to do any time-consuming color correction to your video footage.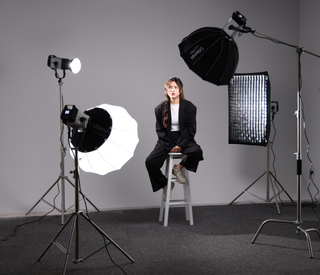 Handy controls
Being able to control your lighting manually is always a helpful option, and the Ulanzi 150b features a dimming control that goes all the way from 0% to 100% – giving you the full creative freedom to use the light at whatever power you want.
Around the back of the head, you'll also find a smart temperature control dial, and 11 effects to choose from, plus buttons for the mode and fan. A helpful LCD screen lets you know what settings have been chosen at a glance. With 11 light effects, the product has a Standard Bowens Mount which means that it's compatible with a wide range of lighting modifiers for creative light shaping and diffusion any way you want to.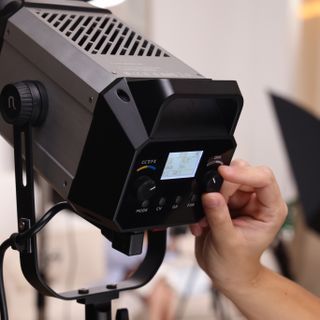 About Ulanzi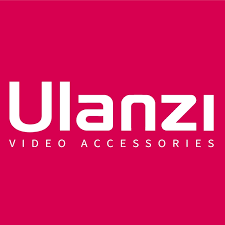 Ulanzi was founded in 2015 and has since become a one-stop destination for photography and videography accessories. Ulanzi designs and manufactures easy-to-use products for stills and video, including tripods, lighting and microphones.
Ulanzi on Facebook
Ulanzi on Instagram
Ulanzi on TikTok
Ulanzi on YouTube
This product is Ulanzi's first COB Light, but what does that mean? In the world of lighting, COB stands for Chip on Board, and it's a more recent LED technology in which lights are clustered together on the circuit board.
Without getting too technical, this design allows for more uniform brightness (rather than zebra patterns) and a much brighter light source in a smaller light – a great thing for studio shooters and filmmakers.
Content creators, photographers and professional videographers alike are sure to find so many impressive ways to use the new Ulanzi Bi-Color Point Source Video Light – especially those who usually work in a studio. The light is available now for a very reasonable pre-order price of $224.95. Even at the full price of $274.95, the light is competitive when compared to other bi-color video lights with the same power.
To find out about the Ulanzi LC150B Video Light and more camera accessories, head to the Ulanzi website.