Over the last few years, BenQ has worked hard to perfect and expand its SW family of monitors. Realising that traditional monitors, despite high contrast ratios and large screens, simply wouldn't cut it for the hard demands of professional photographers, BenQ developed this range to ensure they could get the most out of their work, whether they're casual hobbyists or veteran professionals with decades of experience on their back.
What's most important to a photographer working on their shots is that they can trust that the colours they see on their monitor are as close to the photo's real colours as possible; this is essential both to those who publish their snaps online or have their pictures printed in magazines and/or books. To make sure photographers see colours they can trust, BenQ has developed a bespoke family of monitors. The SW range comprises several units, including the 27-inch SW2700, the 4K SW271 – the latter of which received the elusive Gold Award when reviewed in Digital Camera magazine – and the cream of the fertile crop: the 32-inch 4K UHD SW320.
Each of these models is geared toward suiting professional photographers at any stage of their career and are built to reproduce their images with the same precise detail in which they captured them.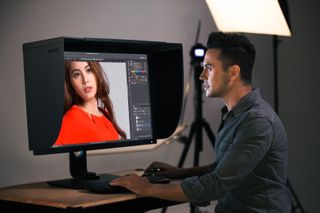 To ensure maximum colour accuracy, every BenQ SW monitor uses AQCOLOR technology, which delivers 99% Adobe RGB colour coverage and hardware calibration support for accurate colours for photography. The SW2700PT model comprises a Full High-Definition IPS LED monitor panel, as opposed to the heavier, less efficient and duller screens of many of its competitors' LCD offerings.
The multi-award-winning 4K models, SW320 and SW271, both feature High Dynamic Range (HDR), for sharpened brightness and incredible detail in every image and both include BenQ's hardware calibration using Palette Master Element software, so using that with a calibrator, you can tune and maintain the colour performance of the monitor at peak level for much longer.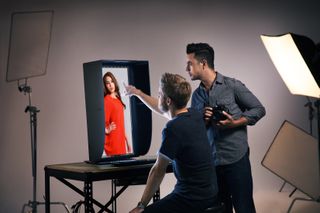 While these monitors are perfect companions for those who make at least a part-time living from photography, some casual and amateur photographers who still want peak performance from their monitor might admittedly find themselves dissuaded by the price for a top-level monitor. That's why BenQ has introduced a fourth member to its SW family, the SW240 PhotoVue Photographer monitor.
More affordable than its senior SW siblings, the SW240 is still fitted with the same proprietary AQCOLOR technology featuring 99% Adobe RGB colour space, and the same hardware calibration capabilities. At 24.1 inches, this 1920x1200 monitor, fitted with a colour mode hotkey and with the traditional BenQ shading hood also available as a key accessory, ticks all the boxes for ambitious photographers on a budget.
So, whether you've got £399 or £1299 to spend on a monitor with colours you can trust, you will find exactly what you need in the BenQ family of SW monitors.
You can get to know the BenQ SW family better on BenQ's Instagram page and its Facebook page.
For more information visit Color Confidence.