Image © Brent Stirton, Canon Ambassador
Brent Stirton was one of the earliest pro photographers to put the EOS R, Canon's first full-frame mirrorless camera, to the test. His photography documents cultures often ignored by the headlines. He took it to one of his ongoing projects to document tribes in Namibia, southern Africa to shine a light on a disappearing world. "If I have the opportunity to see what makes people unique, if I can photograph it well," he says, "we get to keep that alive – at least in some form."
His trip to Namibia gave Brent the ideal opportunity to find out how the EOS R could improve his photographic workflow. "I've been waiting for a smaller camera from Canon, and now I have it."
The EOS R's full-frame image sensor and sharp, stabilised RF lenses ensure great shots in all conditions. "On an editorial assignment, I'll choose a camera setup that means I can work on anything," says Brent. "The EOS R offers me some of the best low-light performance I've seen from a Canon camera. I start simple, really. If there's great light, I try to work with that great light. If there's not great light, I am able to hand-hold these lenses without any real issues."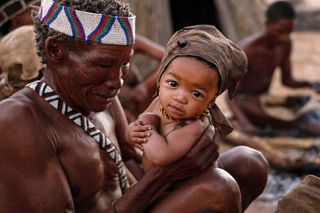 Used with the Canon RF 24-105mm f/4L lens, the EOS R offers five stops of stabilisation. This allows longer exposures with pin-sharp results and gives photographers like Brent longer to concentrate on the composition.
The EOS R's DSLR-style grip, advanced autofocus system and ultra-high-quality electronic viewfinder provide the quality of experience associated with a DSLR, but in a more compact frame. Its true silent shutter mode is also a perfect fit for those, like Brent, who want to shoot as a 'fly on the wall', where it's important the photographer doesn't distract their subject. "The best cameras are the ones where you get to be spontaneous," says Brent.
The Canon EOS R brings high-end features to the mirrorless format, including weather- and dust-proofing. Other protective settings include the shutter closing when the lens is removed, keeping dirt off the image sensor while you change lenses. "Working in Namibia, there are always very fine particles of dust blowing around," says Brent. "What I really need is reliable gear."
Combining innovative shooting technology and compact design, the EOS R and its lenses helped Brent capture a stunning set of photographs in Namibia that would have previously been impossible.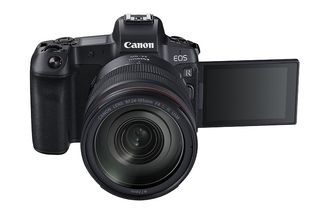 The Canon EOS R is a full-frame mirrorless camera that weighs just 580g. Its sensor has a 30.3-megapixel resolution, for the perfect balance of native dynamic range and crop flexibility.
Canon's advanced autofocus system offers a groundbreaking 5,655 selectable AF positions, and is designed to cope with ultra-low-light conditions down to -6EV. For those who prefer manual shooting, customisable focus peaking offers a reliable way to check focus on the go.
The EOS R's 3.69-million-dot electronic viewfinder also provides a view of your scene that's as clear as that from a DSLR's mirror. The EOS R's rear screen is a 2.1-million-dot display and sits on a fully articulated arm for maximum versatility.
Are you a video shooter? The Canon EOS R can shoot footage at 4K at 30 frames per second and Full HD up to 60fps. It outputs 10-bit 422 over HDMI.
Canon's innovative new range of RF lenses is designed for use with the EOS R: each lens combines super-fast focusing with outstanding optical quality. Currently available are the RF 35mm f/1.8 IS Macro STM; the RF 24-105mm f/4L IS USM; and the RF 28-70mm f/2L USM. The RF 50mm f/1.2L USM is coming soon. The Canon Mount Adapter EF-EOS R* allows the EOS R to be used with existing Canon EF and EF-S lenses.
Find out more about the Canon EOS R and RF lenses at: canon.co.uk/eos-r
*When purchasing the EOS R Camera before 31 December 2018, you will also receive a free Mount Adapter EF-EOS R.