LIVE report: Watch the new DJI drone launch right here!
Watch the DJI Enterprise Event LIVE with us as the company is expected to announce a new drone for 'Everyday Heroes'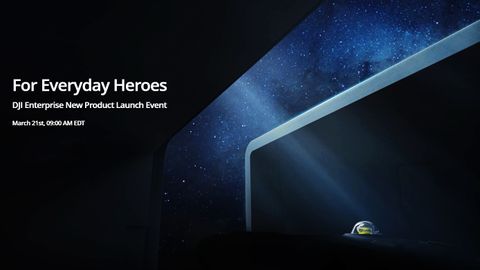 (Image: © DJI)
Refresh
The DJI Enterprise event is now over, and the drone giant has launched a host of new products – namely the DJI Matrice drone family, consisting of the DJI M30 and DJI M30T, along with the new flagship RC Plus controller and DJI Dock.
You can read all the details of these new products in our detailed rundown here:
DJI launches new Matrice drone family: the DJI M30 and M30T take flight
Alternatively, relive the live report and watch the archived livestream below!
…
The DJI Enterprise event, which is planned to go LIVE at 09:00 EDT / 13:00 GMT / 00:00 22 March AEDT, is expected to see the launch of a new drone, controller and drone nest for the enterprise sector. This event is dedicated to 'Everyday Heroes' and will focus purely on DJI's products for first responders, inspectors, rescue workers and those heavily involved in enterprise.
So if you are expecting DJI Mini 3 news, sadly it won't be today. However, if you are looking forward to new enterprise products, new developments and how these products can make your day-to-day even easier, then this is the event for you.
Also, keep an eye on the announced technology as we are likely to see these enterprise features slowly trickle down into consumer products from DJI in the future.
How to watch DJI's enterprise event:
You can watch the DJI Enterprise Event 2022 right here, via the livestream below (or from the DJI Enterprise website). Stay here and we'll be live blogging the event with all the news as it's announced!
It has been rumoured from DroneDJ that DJI is likely to launch a new drone, new controller, and possibly a drone nest.
Leaks have already been flooding the internet, with the first leaked product we expect to see is a new enterprise-focused controller that will possibly be called the RC Plus. rumors suggest that this controller will feature a built-in seven-inch screen, quick access function buttons, and two batteries.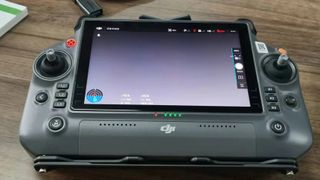 The controller showed up in the FCC's database, giving insight into the RC Plus' features and specs. Apparently, it was expected that this controller would be announced alongside DJI's Agras agriculture drones, but it likely won't now that a new drone has been leaked to be coming out instead.
New drone: M30? M400 RTK?
Last week, notable DJI leakers DealsDrone and OstiaLV gave us images of a new foldable drone that doesn't look like it will be for the average consumer. Instead, the leakers have claimed this is the new enterprise drone and is to be focused on rescue workers and first responders, an excellent match to Monday's event theme.
Many names are going around, so we will have to wait today DJI's event to know which will be the correct version. However, we know it will have a boxy design, similar to most enterprise drones, feature foldable arms, and use the RC Plus controller.
Some have stated it will be a successor to the M300 and others the Mavic 2 Enterprise. Nevertheless, it certainly does look smaller.
Another leak stated that DJI is working on an "automatic machine nest."
Other than that, there are no photos, specs, or use case leaks that we can find, so take this info with a large gain of salt!
It is also a weird item given the theme is based around first responders and it's hard to plan rescue operations around stationary nests. However, it would be an exciting product for autonomous drone fans.
How to watch DJI's enterprise event:
You can watch the DJI Enterprise Event 2022 right here, via the livestream below (or from the DJI Enterprise website). Stay here and we'll be live blogging the event with all the news as it's announced!
Less than 10 minutes to go until the DJI Enterprise event, I would highly recommend getting a cup of your favourite beverage and sit back and enjoy.
and the DJI Enterprise Event for 2020 is now LIVE!
DJI are now running a trailer showcasing the use of DJI drones 'For Everyday Heroes'
We are now hearing from Toby and is giving us and overview of DJI, its products and how the technology has developed.
DJI enterprise was founded by the user taking consumer DJI drones and modifying them for their needs, DJI saw a future for Enterprise and now they are developing drones that help you to do your job faster, safer and smarter - drone solutions built for work, which started with the Matrice 100
Toby is now talking about the matrice 300 with its unique use within the enterprise sector, and that the platform is built for the uses on feedback provided by the heroes that help other in their day-to-day lives.
Todays products are powerful and capable and will help you establish your drone programs
We are now seeing how inspectors dues to work compared to todays standards - power gird crew need drones that are built strong, poweful and porabtle
Meet the new matric 30 and M30T
Image 1 of 1
This is a new generation of drone that is able to help crew get closer to the danger without boots leaving the ground.
The base M30 model has a 12MP wide camera that is capable of 4K 30fps and a 40MP zoom camera that has 16x optical zoom and up to 200x digital zoom
These new drones are equipped with a laser rangefinder that are able to give you the precise coronadites of object of up to 1,200ft away.
The M30T has all the the above along with a thermal imaging camera of 640x512
Image 1 of 1
DJI have moved chips from the payload to the drones body - helping to reduce the weight of the drones payload and help with heat dissertation, the payload is fixed, but because of this DJI were able to reduce weight from 828 grams to a now feather-weight 320 grams
It is IP55 rated, the M30 can be launched in very heavy rainfall, can fly in extreme temperatures from -20 to 50C and fly up to 7000 metres above sea level
and it can achieve a top speed of up to 50MPH!- that is lighting fast for a drone this "big"
when you are airborne you can have smooth video transmission and great control of up to 15km away from your position thanks to is quad-antenna design and 4G connectivity
Sensors for the drone are the same as the M300 has, 6 directional sensing and positioning, which can detect object up to 36 metres away and bring the M30 to a direct stop.
M30 is now equipped with a improved low-light FPV camera to offer better night performance than the previous model.
Image 1 of 1
The M30 also features new batteries, TB30 - tow of these batteries can give you 41 minutes of flight time, they are hot-swappable, so you can change in a fresh pair - without having to turn the drone off.
DJI have acknowledged the difficulty of their enterprise drone batteries, so with each purchase of the M30 will be included two batteries along with a briefcase style charging station which can charge up to 4 batteries, 1 pair at a time to 90% in 30 minutes.
The charging station station has three modes: Standard, Storage and ready-to-fly mode, which is designed for first responders, it will keep the batteries charged at 90% all the time in-charge the need should arise .
Image 1 of 1
DJI RC Plus - the leaked controller new talked about earlier is official!
It features a high-definition widescreen, to give you more information at the palm of your hands, it feature two removable antennas that can communication with the M30 up to 15km away.
Fully charged the RC Controller has a whopping 6 hours of screen on time - under the hood it features two batteries, one external which can be hot-swappable and an built-in internal one to keep your mission going.
The RC is now IP54 ingress protected and can be used in operating temperatures of -20 to 50C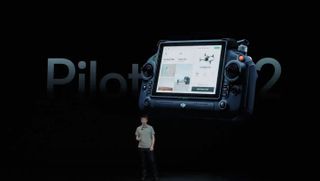 Also releasing with the M30 and RC Controller is the newly designed from the ground up Pilot 2 software
The new software will now present you with the most critical information up front , such as the status of your drone to the right, altitude and geo-location on the top left and also a live feed at a glance.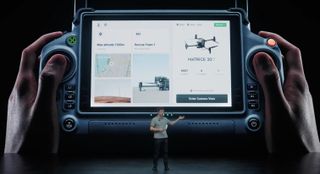 This new software and controller looks amazing and I can see this being a tremendous improvement to pilots in the field - it would also be amazing to see this controller trickle its way down to consumer level drones from DJI in the future.
Toby is now talking about a use chase of DJI software "pinpoints" that was used in 2019 for the bushfires to help fire commander and his firefighters seek out localised hot stops, thanks to thermal imaging and relay that information back to them via satellite call.
But this highlighted a need for more action, a way DJI could get such information to those on the ground quickly and efficiently so the ground team can act upon information instantly.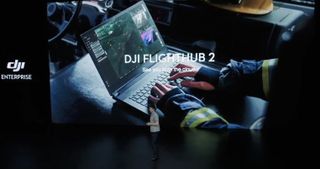 It was theses roadblock and communication issues that lead to the development of DJI Flighthub 2 - see you from the cloud.
Flighthub is an all in one, cloud-based flight data collector and drone management centre, basically an operator will be able to see a live feed from the drone in the sky, and also its pinpoint for the ground team to quickly and efficiently identify hot spots or locations of specific interest and let the team on the ground know just where they need to go.
Free Public Beta of DJI Flighthub 2 is now operational from today through to 31 October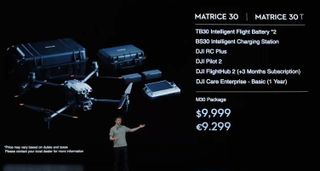 The Matrice 30 and Matrice 30T variants are available to order as an entire package.
The Matrice 30, along with 2 TB30 batteries, BS30 intelligent charging station, DJI RC Plus Controller, DJI Pilot 2, DJI Flighthub 2 (+3 month subscription) and DJI Care Enterprise for: $9,999 - and the Matrice 30T with all the above for: $13,999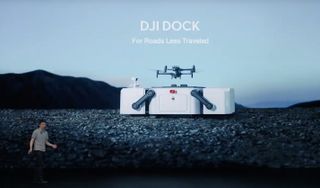 DJI have also announced a docking station for landing and charging with automation programmed flights with the M30.
With the DJI Dock and the M30 you can have a fully automatic, repeatable programmed flights, even in the most harshest and most remote places on earth - man what a time to be alive!
This now becomes a fully automatic drone that is capable of surveillance of an area 7km away from its docking station, that is fully programable by the end user.
DJI take a note out of Apples book with a "one more thing" announcement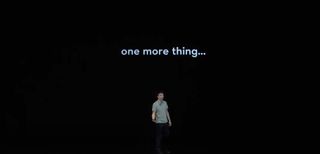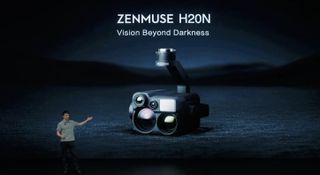 The Zenmus HN20 is equipped with a thermal wide camera, night vision wide camera, laser rangefinder, night vision zoom camera and a thermal zoom camera, making tis payload the best performing payload for night missions
That now concludes the press event from DJI Enterprise.
Some fantastic products have been launched including the new drone, M30 and M30T priced at $9,999 and $13,999 respectively.
Along with BS30 intelligent charging station, DJI RC Plus Controller, DJI Pilot 2 and DJI Flighthub 2.
Thank you for reading 5 articles this month* Join now for unlimited access
Enjoy your first month for just £1 / $1 / €1
*Read 5 free articles per month without a subscription
Join now for unlimited access
Try first month for just £1 / $1 / €1