The eyepiece is the part of the telescope you'll interact with the most, swapping different models in and out to change the field of view you'll get from your scope. Just like when you swap camera lenses, you can use an eyepiece to create a wider or narrower view, making celestial objects larger or smaller. There are even zoom eyepieces for telescopes, and Barlow lenses that act like teleconverters.
Choosing the eyepieces you want to combine with your telescope tube can be a tricky decision. Many people buy a bundle of telescope and eyepieces together, and while this can be cost-effective and a good choice for beginners, the eyepieces that come with your telescope can be cheaply made, poorly constructed, and add optical artifacts to your view through the scope. Upgrades to your eyepieces can improve the view, change the magnification, and have an effect on the eye relief - the distance you need to keep your eye from the eyepiece to see well.
Different types are available, with some good as all-rounders, while others have more specialized uses, and you can buy sets with multiple focal lengths, or buy them individually. When you've got a good, comfortable combination attached to your scope you'll enjoy your stargazing more, which is the ultimate aim of this fascinating hobby.
Best telescope eyepieces
Why you can trust Digital Camera World Our expert reviewers spend hours testing and comparing products and services so you can choose the best for you. Find out how we test.
Best budget telescope eyepieces
Plossl eyepieces are made up of four glass elements arranged to a pair of doublets, and make excellent general-purpose choices, though eye relief can be short. This 1.25in range from Celestron is available in a wide variety of focal lengths from 4mm to 40mm, while a 56mm model comes as a two-incher. The eyepieces are made with a lightweight aluminum body and rubber eyecup, and the inside of the barrel is kept black, which helps to increase contrast and minimize internal reflections.
For the price, you'll get a decent quality view from the Celestron Omni eyepieces, and they're great for planetary observations, but watch out for the short eye relief from the shorter focal lengths, as it can become uncomfortably close.
Best budget telescope eyepieces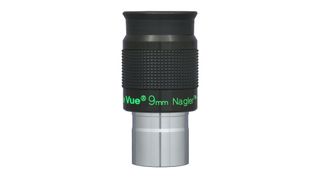 These eyepieces use a more complex optical design than the cheaper Plossls, with seven elements in four groups and a full suite of anti-reflection coatings. They can be expensive, but the quality of the view you'll get is worth it.
The Tele Vue Naglers are available in focal lengths from 3.5mm to 16mm in the 1.25in fitting, which you can boost to 31mm if your scope can take a 2in eyepiece. The benefits of shelling out on quality eyepieces like these include not only sharp views through the scope, but also a more comfortable viewing position, with your eye slightly further from the eyepiece.
Best zoom telescope eyepiece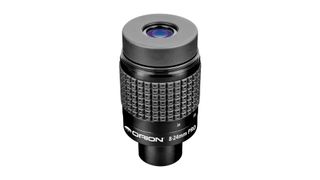 Zoom eyepieces are exactly what they sound like, optical designs that can change their focal length, allowing you to go from a lower magnification view - for finding a target or taking in the vista of a large nebula or cluster - to a much tighter view for admiring planets or lunar detail. They're versatile eyepieces that can cut down on the amount you need to carry if taking your telescope out to a dark sky site.
This model from Orion has a 1.25-inch fitting and zooms from 8mm to 24mm. Interestingly, it's parfocal, which means you won't need to refocus your scope after every change in focal length, and it has a large zoom ring with a rubberized coating for grip, and fully multicoated optics for extra crisp, high-contrast, views.
Best Barlow lens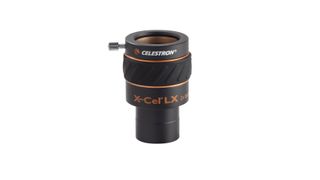 A Barlow lens sits between the eyepiece and eyepiece holder, and increases the magnification of the eyepiece. This Celestron model gives a 2x boost (a 3x version is also available), and has some nice features including a rubber grip that might help prevent a heartbreaking experience when fumbling on the eyepiece tray in the dark.
It takes 1.25in eyepieces, and is a triple-lens design that offers good image quality at a reasonable price.
Best telescope eyepiece kit for beginners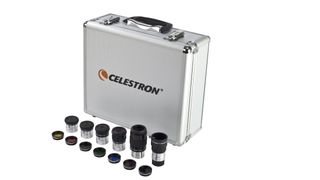 These are not the Celestron Omni eyepieces you'll also find on this list, but a different set of Plossl designs from the same manufacturer. Celestron makes an enormous number of telescopes and accessories, and this kit brings together a nice range of eyepiece focal lengths (five in total) with a set of six filters you can use to bring out details on the Moon and planets and a Barlow lens that brings the number of different magnification available to ten.
All the eyepieces and filters are of the 1.25in type, so make sure your telescope is capable of accepting them before you take the plunge. The 80A blue filter will pick out cloud and polar ice cap detail when observing Mars, while the Moon filter tones down the brightness of our nearest neighbor in the night sky, making observations of its rilles and maria more comfortable.
How to choose the right telescope eyepiece
Are telescope eyepieces universal?
Yes and no. Eyepieces come in different optical designs, such as Plossl or Nagler, and from telescope manufacturers such as Celestron and optics companies such as Zeiss or Nikon, but there's nothing stopping you from using a mixture of types with your telescope. What's not universal is the size. Eyepieces are essentially little metal cylinders with lenses inside, and are measured across the diameter of the end that meets the telescope. This measurement must match that of the eyepiece holder on your telescope, otherwise it won't fit.
Common sizes include 1.25in or 2in, but you may come across others, and they just drop in rather than using a bayonet mount or anything with complicated electrical connections. Simple adapters are available to use the smaller eyepieces in a larger star diagonal, but you'll have trouble using them the other way around.
What kinds of eyepiece are there?
Eyepiece designs refer to the number and arrangement of the lenses within the eyepiece. Some are classics that have been around for years, such as Orthoscopic, which have been updated with anti-reflective coatings to improve them over time, while there are more modern designs such as Lanthanum. As a general rule, designs with fewer optical elements, such as the very popular Plossl, let more light through and give you slightly brighter views, especially of dim objects, but up-to-date optical formulae in other designs that include exotic kinds of glass and lens groupings will provide wider fields of view and sharper images. However, you'll pay a lot more for the privilege.
What's the best eyepiece for viewing planets?
In theory, the more magnification your eyepiece provides, the larger the planets will be in your view of them. There's slightly more to it than that, as you can see the shape of planets like Saturn, with its distinctive rings, with a lower-powered eyepiece such as a 35mm before switching to something with higher power, such as a 10mm, for a closer look. As magnification is linked to telescope focal length, you'll get a different view in the same eyepiece if you move it to a larger or smaller scope, so the best planetary eyepiece is the one that works for you.
What's the best eyepiece for deep sky objects like nebulae?
Nebulae and galaxies can be very large - the Andromeda galaxy would be as wide as six full Moons if you could see it with the naked eye - so you'll need a wider field of view to take them all in and see their shape rather than details. You'll find wide-view eyepieces with focal lengths of 24mm or 30mm, but magnification depends on your scope.
How do I work out magnification?
Magnification is derived from a simple formula: divide the focal length of the telescope by that of the eyepiece. So a 1,000mm scope and a 20mm eyepiece give 50x magnification, and you'd get 333x with the same scope and a 3mm eyepiece. This can seem weird at first to photographers who are used to reaching for a longer focal length when they want to magnify, but the physics is sound.
There is a limit to the useful magnification you'll get out of a particular scope, after which point image quality begins to degrade - though this is a theoretical value, and maximum magnification is just as likely to be limited by atmospheric conditions. You'll find it by doubling the aperture of your scope in millimetres, so a scope with a 150mm (six-inch) aperture is good for 300x magnification, which you'd get with a 5mm eyepiece if the scope has a 1500mm focal length. You could put on a 3mm eyepiece for 500x magnification, but your image will become increasingly dim and soft. Telescopes also have F numbers exactly like camera lenses, though there's no adjustable diaphragm to change them. It's worked out in exactly the same way, dividing the focal length by aperture, and shows how much light a particular scope will gather.
See our guides to choosing a telescope: