Trouble streaming the above video? View/download it here
Nikon recently invited N-Photo to its 'Nikon is the Future' event at Printworks London, where it showcased some of the best Nikon cameras. This provided us with the chance to play around with a near-complete range of Z-series cameras and lenses in a variety of different studio-portrait setups. One of our favourites was this stunning, neon-lit futuristic scene, arranged by Nikon School Training Manager and occasional N-Photo contributor, Neil Freeman.
We paired the Nikon Z 6II with two new Z-mount primes: the Z 26mm f/2.8 and Z 85mm f/1.2 S, and set to work alongside model @veebaginski. But while neon lights can be used to create stunning futuristic portraits akin to Blade Runner or Star Trek, they can be tricky to photograph. If you underexpose too much they can often look a little flat, but by using Photoshop's Gaussian Blur filter and some masking techniques, you can give them a brightness boosting nudge in post-production, without affecting the exposure of the subject.
Download the project file(s) to your Downloads folder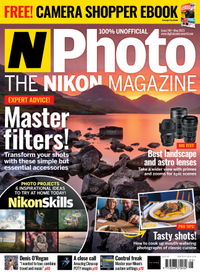 N-Photo: The Nikon Magazine is a monthly magazine that's written by Nikon enthusiasts for Nikon enthusiasts, you can be sure that all the content is 100% relevant to you! So for the best Nikon-focused news, reviews, projects and a whole lot more, subscribe to N-Photo today – with our unmissable sub deal!