The S100 Wall Cam is one in a long line of security cameras produced by Eufy. However, it stands out from the range by not standing out as a security camera! Most of Eufy's security cameras (such as the Eufy 4G Starlight) look like a security camera, so their appearance is a deliberate deterrent to potential burglars. The S100 Wall Cam on the other hand is designed to be aesthetically pleasing as well as being functional. It looks like (and functions as) a front porch wall light that automatically shines when you need to stick a key into the front door lock after a night out.
Read More: If you want to protect your home, or for peace of mind even while you are away, you can find out more about the best floodlight cameras or the best outdoor security cameras in our guide.
The S100 Wall cam doubles up as a security camera thanks to a subtle lens that's placed between the two adjustable light panels. Another key difference between the S100 and the Eufy 4G Starlight is that the Wall Cam is mains powered. This is a welcome feature as my old battery-powered Eufy 4G Starlight is currently offline because I haven't whipped out the step ladder, unscrewed the light, and charged it via its supplied USC-C cable.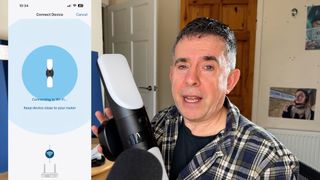 Specifications
Connection: Wi-Fi 2.4GHz
Operation frequency: 2412-2472 MHz
Night Vision: Infrared and Colour Night Vision
Video Storage: 4GB
Resolution: 2K HD
Audio: Two-way audio
Light intensity: 1200 Lumens
Range: 30 feet
Operates between: -4ºF - 122ºF (-20ºC - 50ºC)
Weatherproof: IP65
Dimensions: 4.3×15.9×5.3 in (L×W×H) / 110×405×134 mm (L×W×H)
Weight: 2.0 lb (0.95 kg)
Operates between: -4ºF - 122ºF (-20ºC - 50ºC)
Key Features
The Eufy S100 Wall Camera is triggered to illuminate by a motion detection sensor. It can emit up to 1,2000 Lumens which is powerful enough to light up the average front yard. You can manually toggle the light off or reduce its brightness via the free Eufy app so that it doesn't annoy the neighbors on the opposite side of the street. The two light panels can also be rotated to shine into your front yard rather than across the street.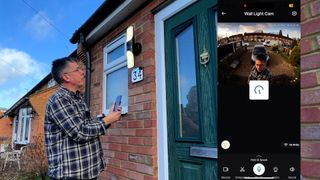 The built-in camera has a wide-angle lens that covers a 160º field of view and the 2K resolution is clear enough to make faces recognizable and number plates legible. Another key feature is the ability to talk to visitors in real-time by pressing a button on the app. Your voice is emitted via a speaker on the Wall Cam and you can hear a person's response through the video feed that streams from the Wall Cam to your smartphone. You can also set the device to emit a 105 dB alarm for extra protection.
Unlike the Eufy 4G Starlight, you don't need a 4G LTE SIM card to transmit the video feed from the S100 Wall Cam to your phone. It uses your home Wi-Fi network to send the video and audio feed to your smartphone wherever you happen to be (though this requires you to use some of your smartphone's data allowance when not within range of your router). Clips are stored in the camera itself thanks to 4GB of onboard storage space. You can download them to your smartphone if required.
Check out our supporting test video to see the Wall Light Cam in action in the Performance section of this review.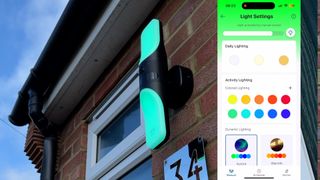 Build & Handling
The box that the Wall Cam ships in says 'Install in 5 Minutes', but this is a bit misleading. I was able to plug the light into a USB-C cable and follow the Eufy app's step-by-step instructions to link the wall Cam to my home Wi-Fi network. This process also updated the firmware on the Wall Cam. So far so quick!
However, I then needed to wire the Wall Cam up to the mains and mount it by our front door which took over an hour of drilling and fiddling with wire cutters and screws. I'm not particularly handy when it comes to DIY but the Quick Start Guide and the Eufy app have clear instructions on how to wire up the Wall Cam safely. I was able to get it wired up but I got an electrical engineer to check my handiwork and finish the job safely.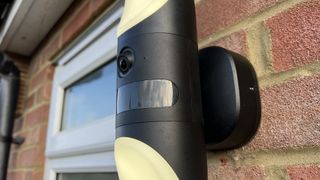 My wife was initially reluctant to replace our traditional-looking wall light with the modern curves of the S100 Wall Cam but she was pleased that we could warm up the color of its light panels via the Eufy app (and even trigger a rolling multi-colored light pattern using the app's Aurora setting). This Aurora setting also impressed our next-door neighbors' children. As well as offering pan-able light panels you can tilt the Wall Cam to fine-tune its field of view.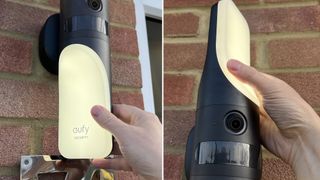 Performance
After installing the Eufy S100 Wall Cam I began to get multiple alerts on my smartphone saying 'Someone has been spotted'. I could then tap on the notification and watch a short 2K clip of someone passing by my property on the sidewalk about 7 meters from my front door.
Notifications such as these are irrelevant. You can snooze notifications but what's much more useful is the ability to go into the app's Motion Detection settings menu and specify which parts of the frame should trigger an alert. I was able to draw a shape over my front yard (but excluding the sidewalk) so that only people entering my property would trigger the lights and camera via the motion detector.
This reduced unnecessary alerts and stopped the lights and camera from being triggered by passers-by. You can also use the app's privacy menu to blank out parts of the camera feed if your neighbors request it, which is a nice touch.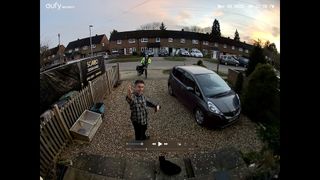 After the short-term pain of wiring up the Eufy S100 to my house's main electricity supply, I've enjoyed some long-term gain thanks to the footage I've streamed via the app. My first discovery was that my milkman delivers bottles of milk to my house at half past midnight (after watching a clip in the app's Events menu the next morning).
But also, more usefully, I was away from home but got a 'Someone has been spotted' message. I was immediately able to view the live stream from the Wall Cam and saw that a delivery driver was standing by my doorway with a parcel. Because I was on a shoot I wasn't able to talk to him through the camera's speaker but I saw him pop the parcel round the side of my house. Because it was about to rain I texted my neighbors and asked them to retrieve the parcel and was delighted when one of them appeared on camera with the parcel safely in their hands.
Without the Eufy S100, I'd have come home to find a soggy parcel (or none at all if someone had pinched it). During my 6-day test shoot the light only went offline once due to a drop in my router's WiFi signal. This could have been a problem with the router rather than the S100 and it was only an issue for a few hours. Thanks to an IP65 weather resistance rating the Wall Light Cam functioned well in rather rainy conditions.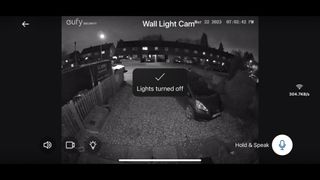 Verdict
On the whole, I'm very impressed with the Eufy S100 Wall Cam. The powerful light panels can blow out details on people's faces at night but you can turn the light trigger off and capture a clearer monochrome picture using night vision. The 2K footage captured during the day is clear enough to recognize visitors.
After a little tinkering in the app the camera now only alerts me when people come to the door and I also enjoy the option of being able to peep through its lens via a live feed any time I like. I didn't know I needed this Wall Light Cam but now I wouldn't like to be without it.