The Arlo Essential Spotlight is an ideal entry point into the world of outdoor security cameras. This battery-powered model does without the need for weatherproof wires, or a cable you have to thread through a wall of brick; the Spotlight allows for easy installation, great viewing angle control, and the built-in capabilities to ensure your home stays protected.
Specs and features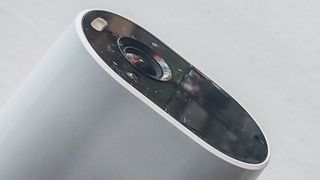 The Arlo Essential Spotlight features a 1080p / Full HD camera, with a 130-degree viewing angle and an integrated spotlight. The light will come on when sensing motion in its immediate area, ensuring moving objects stay in view at all times – even in the middle of the night. An optional siren can also help to alert you to intruders, though we wouldn't activate this setting if the front of your home gets heavy footfall – as it will be going off rather frequently.
This is, helpfully, a weatherproof model, so that "rain, snow, cold and sun" shouldn't impact its ability to keep an eye out. We'd recommend angling the camera lens slightly downwards, though, to reduce the impact that falling rain or snow has on the image.
The Spotlight is also compatible with Apple HomeKit, Alexa, Samsung SmartThings, Google Assistant, and IFTTT, meaning it's simple to connect it with various other smart home systems.
Build and handling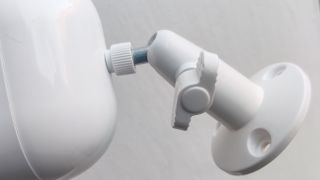 The Arlo Essential Spotlight has something of a classic look – a sleek white camera with an adjustable axis that is best placed above a front door or overlooking a yard.
This is a battery-powered model, so you don't need to trail a cable to a mains power socket – and it's relatively easy to remove the camera for charging every now and again.
You attach the Spotlight via three provided screws – you may need quite a heavy-duty drill to get into firm brick, but a regular cordless drill should be fine if you're screwing into a wooden door frame or similar.
Once installed, it's easy to tweak the direction of the Spotlight's camera, though you'll have to do this manually, rather than remotely.
Performance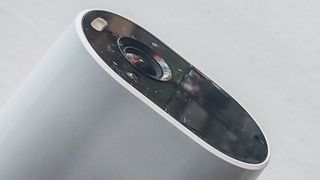 The Arlo Essential Spotlight offers a crisp, colorful image, and is adept at picking up the small darting movements of squirrels as it is the heavy footfalls of neighbors walking past your house.
We found that the motion sensitivity was quite high, and it's best not to angle this camera towards a road, as you'll get a notification every time a car passes by. Either way you can feel confident you're keeping on top of things when away from home – and the Spotlight's ability to record 3-second clips for every sound/motion detecting means you'll have a sense of what's gone down.
Battery life will vary depending on how active it is – i.e. if the spotlight is running all night from passersby. Arlo says that it should last 3-6 months between charges, though we found that a week of use drained about 20% of the battery, so you may only get a couple of months out of it before it needs another charge. You can also choose different power management settings to prioritize battery life over video quality, if you so wish.
As ever, you'll need to pay a monthly subscription fee to get 24/7 video recording, though the short clips embedded in your phone notifications mean it's not as much a necessity as with other smart security camera models. The Arlo Secure subscription also includes theft protection, though, on the off chance your wireless Spotlight camera is stolen – and the monthly fees are far less than what Google Nest will charge you.
Verdict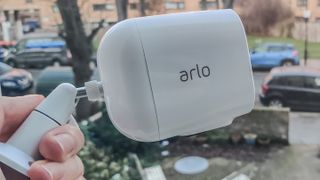 The Arlo Essential Spotlight is a brilliant choice for an outdoor security camera, especially at this very reasonable price. With a sleek design, great motion detection, and built-in spotlights for 24/7 visibility, it's a camera that should give you confidence and security. As a battery-powered model, it's much easier to install too – even if you'll need to take it down for a charge every few months.
Other Arlo reviews
Arlo Go 2 review
Arlo Pro 4 review
Arlo Essential Indoor Camera review
Arlo Essential Wire-free Doorbell review