Modern filmmakers face many challenges, whether they're shooting on mirrorless cameras, DSLRs or dedicated 4K and 6K cinema cameras. However, those challenges can be mitigated by having the right tools on your rig – such as the Portkeys LH5P camera control monitor.
With so many external monitors on the market, it's important to choose one that works seamlessly on your specific system – or indeed, if your crew is shooting with multiple systems, one that works across all of them.
This is the beauty of the Portkeys LH5P; it works with almost all the major cameras used in the filmmaking sphere, including mainstream mirrorless models from Canon, Sony and Panasonic, as well as cine cams from Blackmagic.
On top of that it works with other systems and inputs, such as Tilta's motor controls and Portkeys' own start / stop Rec Key, making integration with your existing gear an absolute breeze.
Wired and wireless camera control
The ultra-bright camera control monitor goes a step further, offering both wired and wireless operation depending on your setup. For example, the Blackmagic Pocket Cinema Camera 4K, Blackmagic Pocket Cinema Camera 6K and Blackmagic Pocket Cinema Camera 6K Pro can all be controlled wirelessly.
Meanwhile, ZCAM bodies and the most used cameras from the 'big three' video brands – from the Sony A7S III and Sony FX3 to the Canon EOS R5 and Canon EOS C70 to the Panasonic S1H and Panasonic GH5S – all benefit from wired operation.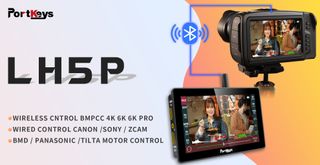 The Portkeys LH5P boasts a 5.5-inch, 1920 x 1080 WLED touchscreen with 10-bit color depth, Rec.709 color space, 1700-nit brightness and a 1000:1 contrast ratio for a faithful depiction of what your camera is seeing – even in bright or sunny conditions where some monitors might struggle, at a viewing angle of up to 178°.
The full aluminum body is compact and lightweight, at just 250g, and features a 1/4-20 inch mounting point at the bottom. It can provide 4K HDMI loop-out signals up to 30fp and, as you would expect, has a 3.5mm headphone jack for audio monitoring.
Advanced exposure and focus monitoring
Not only does the Portkeys LH5P enable you to take control of key functions without having to actually touch your camera, thanks to the ability to change settings via the touchscreen, you can also monitor exactly what is being recorded.
The software functions include everything you need to make sure that you can achieve accurate exposure and focus in your footage, including 3D LUT, HDR, waveform, peaking, zebras and false color – and the 5HP can be color calibrated using an X-Rite i1 Display Pro.
Despite packing in so many high-end and professional features, the Portkeys LH5P retails for just $399. If you want to really unlock the potential of your camera, or you want to elevate your video production to the advanced level, the LH5P will put all the power and control you need right at your fingertips.