Digital Camera World has partnered with Magnum Learn to publish a taster of its first online course, 'The Art of Street Photography'.
• Get more photoshoot ideas
Magnum Learn is the education portal of Magnum Photos, and the course tutors comprise Martin Parr, Peter van Agtmael, Carolyn Drake, Richard Kalvar, Mark Power, Bruce Gilden and Susan Meiselas.
'The Art of Street Photography' consists of 10 themed lessons and costs $99.
This week, in the last of five extracts that have offered a brief overview of the course, you'll learn how to take photographs of people – it's one of the cornerstones of successful street photography.
Miss last week's extract?
Click here to read Magnum Learn Monday Part 4: How to frame the unexpected in street photography.
Click here to read Magnum Learn Monday Part 3: Case study – On location with Martin Parr.
Click here to read Magnum Learn Monday Part 2: Getting started – approaching the street.
Click here to read Magnum Learn Monday Part 1: How to shoot street photography like a pro.

Candid photography
Traditionally, street photography involves little to no interference. It is, as Kalvar says, grounded in real people doing real things, with the photographer taking 'extracts' from reality.
This approach relies on working with the everyday, as it unfolds. The key to this approach is working quietly and unobtrusively to capture a scene undisturbed.
There are many instances when photographers, though working within the candid tradition, may affect the scene in minor ways.
This does not necessarily involve formally asking permission or posing people; it could include any number of small interactions that will affect the relationship between photographer and subject, such as vocalising the scene, interacting with a subject to change their expression, making eye contact and smiling, or manoeuvring the subject into a better position.
Street portraiture
Many photographers use the street as a starting point, a space to find, engage and photograph the people they meet.
Street portraiture relies on chance encounters but also on collaboration between the photographer and the subject (see 'Candid photography', above).
Getting close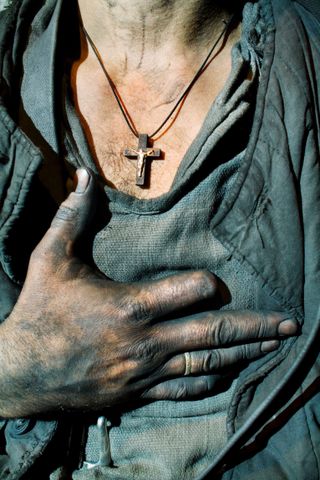 Robert Capa's famous quote – "If your pictures aren't good enough, you're not close enough" – is often given as advice for street photographers. This message can be interpreted in a variety of ways, from physically moving closer to the subject, to having a closer emotional connection to the subject matter you are photographing.
A common trend amongst those just starting out in street photography is a visible distance between the photographer and their subject, often in both physical and connective terms, because they may be uncomfortable or have yet to identify what they are looking for.
As Richard Kalvar says, you have to "dare" to move in, to fill your frame and make a connection with the subject you are photographing.
Getting consent
Your relationship to the subject may change depending on how much of a connection is made.
Gathering consent to photograph (and, more importantly, to publish the work) may be necessary, depending on the location you find yourself in.
Whatever the context, you must be well informed about the regulations surrounding photographing people in the location you have chosen.
Eight tips for approaching strangers
This can be daunting and won't feel natural to everyone. So here are some tips to help you on your way:
Be friendly and polite. A smile can go a long way in putting somebody at ease
Be open and honest about what it is you are doing
Bring a book of your previous work to show potential subjects
Stay for as long as you can. Be persistent
Work with a friend. Sometimes a single photographer may make people uneasy, so consider bringing a friend or colleague to assist
As a courtesy, it can be good to offer them a copy of the picture. Take their name and email
Keep trying, as it takes a bit of momentum. Don't let rejection get you down!
If you need to obtain consent, make sure you have the right documentation with you, such as a model release form
Like what you've seen? Now take the course…
If you like what you've seen from 'The Art of Street Photography' so far, then click here to find out more about the course.
About Magnum Learn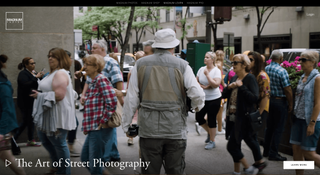 'The Art of Street Photography' is the first course to be offered on Magnum Learn, the new online learning platform from the world's most prestigious photo agency.
The course consists of 10 themed lessons comprising in-depth video and tutoring from Magnum pros, offering key advice and guidance to help improve your photography in the street… and beyond.
Seven world-class photographers teach the course. These include Bruce Gilden, Martin Parr, Susan Meiselas, Richard Kalvar, Carolyn Drake, Peter van Agtmael and Mark Power, plus industry leaders.
These pros have contributed their unique insights, knowledge and experience to the lessons, and guide the pupil through the process of honing their photography skills via intimate interviews and on-location demonstrations.

Read more:
Photography tips and techniques
5 top street photography tips to try
Buying guide: street photography-friendly mirrorless cameras