The Nooie Cam 360 is a smart home camera for those wanting a wide view of their home. This motorized camera can, much like an owl, turn its head 360-degrees to improve visibility of certain rooms while you're away from home, and train its eyes on a source of sound or motion. This Nooie model is pretty cheap, especially given its motorized movement – but offers plenty for the price.
Specs and features
The Nooie Cam 360 uses a 1080p / Full HD camera, with a 100-degree viewing angle – not quite as broad as the 135-degree angle found on the Google Nest Cam Indoor, though the rotating camera certainly helps. A rather low frame rate of 15fps is still perfectly functional, if a little behind the 30fps of some other models, and a night vision mode comes on automatically in the dark to ensure consistent visibility.
However, it's the unmanned movement that really makes the Nooie Cam 360. This smart camera is able to move both horizontally and vertically, angling its view to better focus on motion or sound cues in the immediate area – meaning that any intrusions or unexpected visitors won't be able to hide out of view very easily.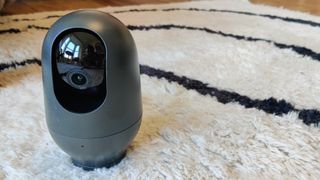 You can also control this moving camera at a distance; instead of being stuck with a fixed-view camera, the Nooie will allow you to actively sweep the area around your camera. Two-way audio will allow you to speak to/from the camera's speaker, too.
As ever, there's a monthly service plan called Nooie Cloud, starting at $3 per month for 24/7 recording and the ability to access three days' worth video history, going up to $19 for 30 days of continuous video history – the latter being especially useful if you're in the habit of going on long holidays. A cheaper option is just to record 'events' observed by the device - which costs $3 a month (or $30 a year)
You can get around the charges by using the built-in microSD card slot, which is hidden beneath the camera. While a little fiddly to access, this allows you to manage video recordings yourself, each split into 5-minute segments; however, you need to remove the card and import the videos to your computer before watching, meaning you can't access recordings remotely, and the clips are terribly organized, making it difficult to find what you're after.
It's also possible to share viewing access with another person, but they'll need to download the Nooie app and create their own account to do so.
Build and handling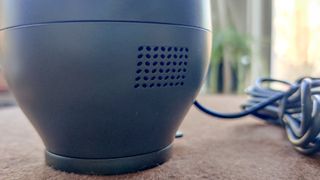 Assembling the Nooie Cam 360 takes a moment, as you need to slide in a small plastic stand to the base of the product, before placing it on a counter or surface. Once you've turned it on, and connected it to your Nooie smartphone app, it will do the rounds of moving its motorized head side to side, ceiling to floor, so don't be alarmed when it starts shifting around without prompt.
Using the Nooie in your smartphone is a breeze, though it's a little slow to jump between screens, and the video feed has a tendency to buffer now and again.
Performance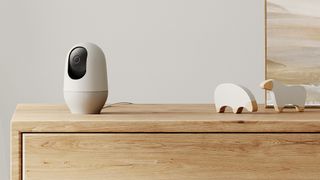 The Nooie Cam 360 is a delight to use. While it's not as sleek as some competitors, the rotating camera ensures the entirety of your room can be in view, wherever you've placed it, and we found it very responsive. You can choose sensitivity levels for both motion and sound detection, and we found the highest settings were able to pick up passersby and moving cars from a street-facing windowsill, as well as movement or clatter inside the house.
Nooie app notifications come through pretty instantly, too, meaning you're speedily alerted to any unexpected disruption, as long as your phone retains an internet connection over data or Wi-Fi elsewhere. Low-light video can suffer, but is broadly functional.
Verdict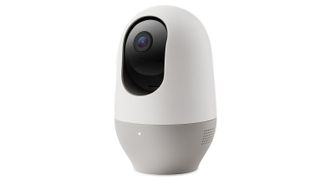 The Nooie Cam 360 delivers on its central promise, with a zippy motor that rotates your camera with ease around the room, at a very good price for such an agile smart camera.
You're missing out on a couple of features you'd get elsewhere, like a higher frame rate or wider fixed-angle lens, and the SD card storage leaves a lot to be desired; regardless, the overall package here is still quite enticing.
Other useful buying guides:
Best indoor security cameras

Best PTZ camera
The best body cameras for personal security