At first glance, the Hawke Endurance ED Marine 7x42 compass monocular looks very similar to the same manufacturer's green-liveried Endurance ED 8x42 monocular. The former, which we're writing about here, is blue, slightly bigger, and heavier, yet at the same time comes with a less powerful 7x magnification rather than 8x. The other notable exception is the built-in compass. Yes, as the model name suggests this one is at home at sea, if you catch our drift, with puns very much intended.
Arguably the reduced magnification also means there's less chance of us suffering a shaky image when we're bobbing along on the waves and holding it up to one eye. As we'd expect given its particulars, this monocular is waterproofed to an IP67 rating, meaning it'll withstand being dunked to a depth of one meter for up to 30 minutes. Along with this, it is nitrogen purged to prevent fogging in moist environments. A monocular with extra bells and whistles then; but does it chime with us?
Hawke Endurance ED Marine 7x42 Specifications
Magnification: 7x
Objective lens diameter: 42mm
Field of view at 1000m: 131m
Closest focusing distance: 2 meters
Eye relief: 17mm
Weight: 405g
Dimensions: 159x80mm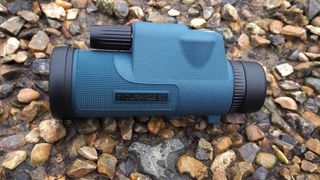 Hawke Endurance ED Marine 7x42 Key Features
The Hawke Endurance ED Marine 7x42 monocular with compass is priced at a slight premium over the same company's regular monoculars designed for nature watching outdoors but not by much. It's still very reasonably priced, given its niche intent. It also comes with a hard carry case for transportation with a shoulder strap, plus a high-visibility yellow wrist strap to add peace of mind plus buoyancy should this device ever actually fall into any water. Also preventing slippage is a roughened outer surface to the monocular itself, aiding grip for anyone using it with wet fingers.
Like other models in its maker's Endurance ED series of monoculars, twist-up eyecups feature as standard, as do front and rear protective rubber caps – the one protecting the lens featuring a stay-on rubber ring, so the cover hangs beneath the monocular when in use and avoids it being mislaid. So far, so good. Add in Extra-low Dispersion glass and BaK-4 prisms however and this one punches above its 405g weight from the off.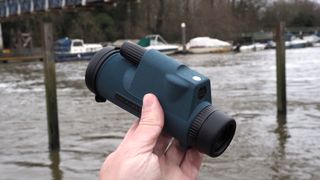 Hawke Endurance ED Marine 7x42 Build & Handling
As we'd expect from Hawke, build quality is very good for the price being asked. Despite being focused on seafaring use, the Hawke Endurance ED Marine 7x42 Compass monocular still ticks the expected boxes as regards what we'd want from a viewing device.
Plus, we not only get a compass provided when we look through the monocular's eyepiece but also a range-finding 'recticle'; not something we'd have to ask a doctor to remove, but rather a grid-like pattern of two bisecting lines, providing distance measurements both vertically and horizontally. Thus we can look through the eyepiece here and pretend we're looking through the periscope of a submarine. Great fun it is, but superfluous to those looking for a more general-purpose, daily-use device.
• These are the best spotting scopes
As on Hawke's Endurance ED 8x42 monocular, which doesn't feature a compass, the main focus knob here is located atop the device, where it can be adjusted via the right hand, while the left grips the main cylinder. For us, this felt slightly fiddly, although admittedly one benefit of needing two hands to operate it accurately at least provides us with extra stability, and thus a reduction in image shake when looking through the eyepiece.
It is just about possible to make adjustments with one hand, though we found this caused the image through the eyepiece to jump about all over the place as if it was experiencing an earthquake; due to our own hand wobble rather than the device itself we have to add.
There is at least also the possibility to use the Hawke Endurance ED Marine 7x42 Compass monocular on an optional tripod if desired, as a screw thread is provided for such attachment, but under most circumstances, we feel the two-handed operational approach will suffice.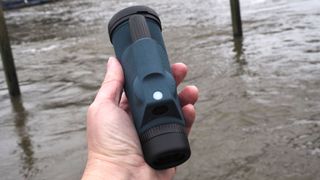 Hawke Endurance ED Marine 7x42 Performance
We took the Hawke Endurance ED Marine 7x42 Compass monocular out on a dull drizzly day; not quite the high seas it's intended for, but at least it gave us the opportunity to benefit from the better light gathering properties of a 42mm objective lens rather than say, a 25mm one.
We were also able to view boats on the Thames and clearly examine close-up details from around 100 meters away, gripping the still fairly diminutive device with two hands and adjusting focus as we went. To set things up from scratch, it's advised that we rotate the compass adjustment wheel that sits just forward of the eyepiece and get both compass and distance measurement looking sharp before going on to point it at a chosen subject, and adjust the focus knob sitting atop the monocular.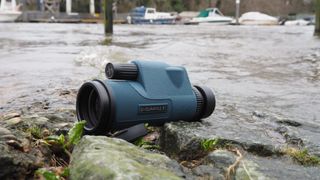 Hawke Endurance ED Marine 7x42 Verdict
Though modest sounding on paper, in practice the 7x magnification aids the possibility of a subject being kept in view even in choppy waters. As detailed above, the Hawke Endurance ED Marine 7x42 Compass monocular also ups the ante by including a built-in compass and 'recticle' rangefinder for calculating distance.
It's a niche within the niche that buying a monocular rather than the more common binocular already affords the user, but the build quality here is very good, it does the job intended in bringing the faraway closer, and the price is very fair. For those who like messing about in boats, and pretending to be a submarine captain or a pirate, the Hawke Endurance ED Marine 7x42 Compass monocular will come up trumps. For the rest of us, Hawke also offers a great land-based selection.