Larger than some of the best monoculars due to the top-mounted location of its focus knob and its bright and large-ish 42mm objective lens, the Hawke Endurance ED 8x42 will nevertheless slip readily into a jacket pocket while still being more compact overall than the competing format of the best binoculars.
In addition, this monocular's overall length is still comparable to the average mobile phone handset, while being narrower than a can of energy drink and, at 320g, weighing less than a pocket digital camera too. So, for those wanting a compact monocular that can still let in a useful amount of light, the Hawke Endurance ED 8x42 is certainly an option. But how does it perform in the field for nature lovers and wildlife watchers wanting to get up close and personal with the natural world?
Hawke Endurance ED 8x42 Specifications
Magnification: 8x
Objective lens diameter: 42mm
Field of view at 100m: 129 metres
Closest focusing distance: 2 metres
Eye relief: 18mm
Weight: 320g
Dimensions: 143x80mm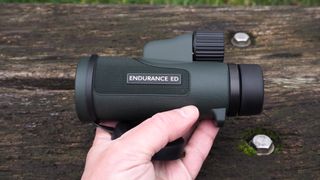 Hawke Endurance ED 8x42 Key Features
The core features represented here by the roof prism type Hawke Endurance ED 8x42 monocular most obviously include that 8x magnification, married to a larger than average 42mm objective lens. In theory the bigger the latter the better the light gathering, resulting in a clearer, sharper image overall – especially in lower light conditions, or when observing subjects in the wild as daylight begins to fade.
Yes, an 8x magnification is still fairly modest, but if we're feeling that's the case its manufacturer's range also happily features a 10x model, albeit with a smidgeon more weight and a marginally higher asking price. Nevertheless, the option we have in hand still manages to pack a visual punch due to its Extra-low Dispersion (ED) glass plus premium BaK-4 prisms used in the construction.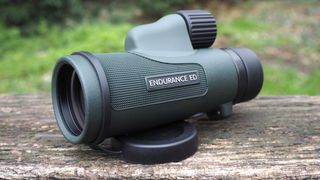 Hawke Endurance ED 8x42 Build & Handling
A neck strap is provided out of the box for the Hawke Endurance ED 8x42 monocular rather than a wrist strap, while we also get a slip-on protective cap for the eyepiece and a second at the front for the lens. The latter is tethered, yet hangs down out of the way when the monocular is in use.
Talking of the eyepiece, a twist-up eyecup is provided for added comfort, whether we're wearing spectacles or not. Rather than encircling the barrel of the monocular as on competing devices, here as mentioned the lens knob is raised up on top, meaning it's more of a stretch for our fingers if gripping the device in one hand.
Alternatively, when using both hands, with our left operating the focus while our right hand adjusted the eyecup, we found it was possible to keep the monocular nice and level and thus the image provided when looking through it was steady. Alternatively, there is actually a screw thread located on the base of the monocular for tripod attachment and added stability if we want to go that far. In most instances, it feels unnecessary, as the unit only weighs a very manageable 320g, but for prolonged observation adding a miniature travel tripod to our setup may indeed make life a little easier and more comfortable.
In all, the operation is as intuitive and straightforward as expected, allowing us to be up and enjoying observation within seconds of retrieving the Hawke Endurance ED 8x42 from its box. There's not much to do here except point the monocular at our subject, adjust the eyecups as required for comfort, tweak the focus as desired to achieve critical sharpness and that's basically it.
A roughened surface on both sides of the monocular affords a tight grip too, and all goes towards achieving a firm hold and thus a steady view. Overall build quality feels good and thus we can imagine us using the device repeatedly if we were to purchase one.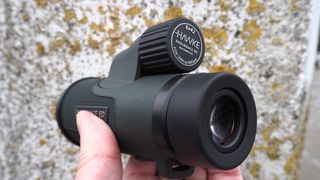 Hawke Endurance ED 8x42 Performance
While not as slim, nor as small, as the Hawke ED Endurance 8x25 monocular – the clue why is here in the model name after all, as the 8x42 obviously features a bigger and brighter objective lens for, theoretically, even better light transmission – the trade-off in size is arguably worth it for true nature lovers, especially those who want to continue observation as light levels drop.
Fully multi-coated lenses here also help prevent instances of ghosting and flare, while the waterproofing and fog-proofing that gives this series of Hawke products its 'Endurance' name means that neither wet weather nor moisture in the atmosphere should stop our play.
Though it is positioned slightly further out of reach, we found the larger focus knob on the Hawke Endurance ED 8x42 monocular slightly more fluid and therefore quicker to use than the stiffer focus wheel on its Hawke Endurance ED 8x25 model we had in at the same time for review. This meant that in operation it felt closer to an approximation of our own eye, which is after all ultimately what we want from a monocular. All of the above contributed to the fact that the view provided is clean, crisp, and moreover clear for a product of its size.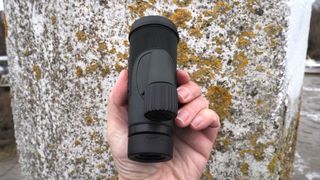 Hawke Endurance ED 8x42 Verdict
Less compact than Hawke's own 8x20 monocular this 8x42 alternative may be, but the larger lens may prove worth it for more demanding nature lovers who nevertheless still favor a monocular over a binocular in order to travel light, while at the same time using it to transmit light.
The Hawke Endurance ED 8x42 monocular further allows for more options when it comes to observation, not only bringing the faraway closer without us having to take a step forward, but also providing focus as close as two meters from our subject, or just over 6ft, potentially useful for the tracking of skittish wildlife subjects when they're on the move.