If you're looking to buy one of the best monoculars for observation rather than binoculars, spotting scopes, or indeed telescopes, it's because you want a compact device to carry about your person.
While that is still true of the Celestron Outland X 10-30x50mm monocular, it is one of the larger examples of its format and, seemingly in acknowledgment, usefully comes with its own mini travel-sized tripod out of the box.
As well as providing a degree of comfort when viewing subjects for extended periods of time, in that we're not having to handhold it, in theory, this should also help achieve a steadier image at maximum magnification.
As the model name indicates, the Celestron features a built-in zoom that, with a quick twist of a dedicated zoom ring, allows its magnification power to be increased from a regular 10x to 30x, at which point it is going to be trickier for us to use the device handheld and still achieve a judder free image. Handily the tripod is simply attached or detached via a standard screw thread at the base of the monocular.
So, as the above suggests, has its maker really thought of everything, how does this relatively powerful monocular handle in practice, and are any areas of possible compromise visible?
Celestron Outland X 10-30x50mm Specifications
Magnification: 10x-30x
Objective lens diameter: 50mm
Field of view at 1000m: 57-30.8 metres
Closest focusing distance: 2.5 meters (at 10x)
Eye relief: 16.2 mm - 22.5mm
Weight: 475g
Dimensions: 61x85x193mm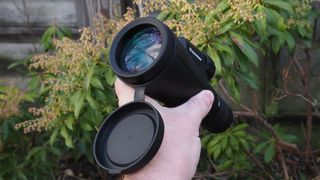 Celestron Outland X 10-30x50mm Key Features
The key features of the Celestron Outland X 10-30x50mm Monocular with a tripod are all there in the model name, with the ability to adjust our magnification from 10x to 30x – and anywhere in between – coupled with a larger than average 50mm objective lens, via which to gather light for in theory a brighter view. Obviously, such specification is very much helpful for anyone trying to bring the faraway that bit closer – particularly when our subject is skittish wildlife that would otherwise be disturbed by the closer presence of humans.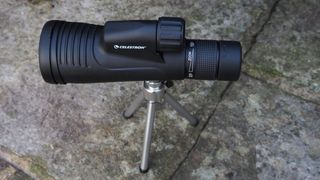 As well as magnification being adjustable, so is eye relief, from 16.2-22.5mm. As we'd expect for its class, the monocular is both waterproof and nitrogen purged to prevent fogging in moist/warm conditions. Further aiding clarity of view and transmission of light is the inclusion of multiple lens coatings and BaK4 prisms, both being pretty standard for this class of monoculars but welcoming inclusions nonetheless.
A carry pouch is included out of the box, as well as the mini tripod for this particular bundle. The tripod is sufficiently small and lightweight for it to be carried in a jacket pocket, along with the weightier/bulkier monocular itself. Set up is as simple as pulling out the tripod legs and screwing them into place at the base of the monocular, enabling us to be up and running in a matter of seconds if we choose to use this particular stabilizing option. The head of the tripod is also angle adjustable, with a locking screw holding it in position once the desired angle has been achieved. So far then, so good.
Want a smartphone monocular instead?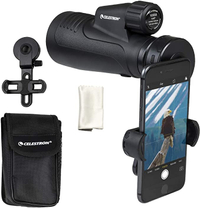 If you like the sound of this monocular, but you wish you could use it to take photos and video with your smartphone – then you're in luck! Celestron also makes the Outland X 20x50mm, the same monocular but with a fixed 20x magnification and a smartphone adapter for connecting up your phone's camera and taking far-off photos and videos, offering up a way to get unique content. Sharing all the same great features of the Outland X 10-30x50mm, the Outland X 20x50mm also comes with a rugged waterproof and nitrogen-purged design, BaK-4 prisms, multi-coated optics, mini tripod and smartphone adapter.
Celestron Outland X 10-30x50mm Build & Handling
Roughly the size of a bottle of water we'd grab as part of a lunchtime sandwich deal, and not that far off in terms of weight, the quality of construction here feels better than the Celestron Outland X 10-30x50mm Monocular's relatively modest price tag might otherwise indicate.
Once again we're getting a soft black rubberized surface to the device to aid grip, and though it lacks the roughened side strips some competitors include on their own monoculars to avoid fingers slipping in the wet, we found that the overall weight and bulk ensures that the Celestron sits firmly in our palm.
The size however does mean that it makes sense to use two hands for operation; one holding the front end steady while the other hand adjusts the zoom and/ or focus ring at the rear as desired. And as an alternative, and particularly if we're going to be observing from one place for extended periods, we have the added advantage of the miniature tripod.
Front and rear lens and eyepiece covers are also included – with the front tethered and the latter loose, meaning it could well be mislaid in time. No neck or wrist strap is included with this one, and neither does the body of the monocular possess a lug via which a third-party option could obviously be attached, which is a minor disappointment.
The provided pouch/bag does feature a loop at the back for attaching to a belt, so other than in the pocket of our jacket or rucksack, that's another possible mode of transportation, although carrying a truncheon-like device at our hip may not be comfortable for everyone.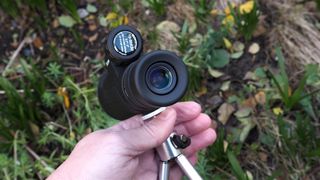 Celestron Outland X 10-30x50mm Performance
The bonus of having the zoom facility becomes clear when we pinpoint our subject in the wild at 10x magnification, then have the ability, once pinpointed, to zoom in further to check detail – as long as the subject doesn't move of course. If it does, we have the further ability to zoom out slightly in a slow but deliberate fashion, to keep the subject in sight.
We found the zoom ring offers sufficient resistance to ensure that adjustment is steady and measured, rather than rapid and sickness-inducing. The focus wheel located atop the monocular is not quite as stiff, but again offers enough resistance to ensure focus is precise.
The eyecup here is once again of the twist-up variety, thereby being adjustable for comfort. We can twist it up to use the monocular without glasses or leave it in the default down position if we're wearing spectacles. Though having that extra magnification can come in handy – one negative we did notice is visible purple fringing between areas of high contrast such as the branches of a tree silhouetted against the sky, which could prove a bit of a distraction for bird watchers.
At 10x magnification, it doesn't look too bad, but it becomes more pronounced at 30x. Detail also appears sharper closer to 10x than 30x, especially if using the device handheld, though being able to get in just that bit closer still to our subject does undoubtedly have its possible advantages.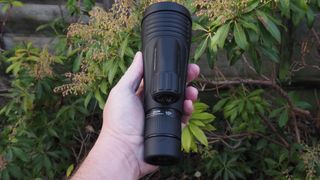 Celestron Outland X 10-30x50mm Verdict
With a carry case, land yard, lens cloth, and lifetime guarantee included, it feels like Bushnell is doing as much as it can to provide peace of mind as necessary and protect our investment. The construction of the device itself is reassuringly sturdy and tank-like too, while not being prohibitively weighty; after all, we'll be choosing this monocular over, say, a pair of binoculars for the fact that they are generally a more portable alternative. While removing the bolted-on belt clip would have resulted in an even more svelte appearance to the Bushnell Legend Ultra HD 10x42 monocular, we do generally feel it's a product with very few compromises, and one with quite a few pluses.
If you are interested in finding out more about monoculars, you can read more in our guide about the best monoculars to suit your needs. If you like the style of monoculars but want something more powerful, you might be interested in the best spotting scopes. Or if you prefer to engage both eyes, check out our guide to the best binoculars.