Image: ©Samo Vidic/Canon Ambassador. Taken on a Canon EOS 5D Mark IV, Canon EF 24-70mm f/2.8L II USM lens at 1/250 sec, f/3.5, ISO 400
Working as a professional sports photographer, Canon Ambassador Samo Vidic shoots the world's top athletes for world-leading brands and publications, showcasing the physical feats and prowess of the sporting elite. But in his latest project, Samo wanted to shine a light on a sometimes-overlooked group of sporting heroes – disabled athletes who've overcome the odds to achieve great things in the sports they love.
"Disabled athletes are rarely seen in the media in comparison with non-disabled ones," Samo says. "The Paralympic Games gets relatively little attention – probably 5% of what the Olympic Games gets. I wanted to show different kinds of sports people, to highlight them and tell their often amazing life stories."
Slovenian photographer Samo has focused on sport throughout a busy career, which began in 1999. A keen sportsman in his youth who enjoyed ski-jumping, football and tennis, he initially qualified as a mechanical engineer before discovering a fascination for photography.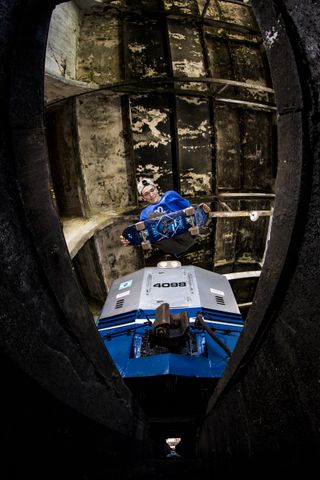 He considered a career in reportage before attending a sports photography workshop and realising he could combine his two passions. "I loved photography and everything connected with sports and the outdoors, so I was immediately hooked," Samo says.
"I'm self-taught as a photographer so learning the best techniques for different sports was challenging but, at the same time, it was really enjoyable. I worked hard and would have done anything to become a sports photographer. I started with an ambition to shoot sport for a local newspaper and went on from there. I was always pushing the bar higher, which I still do."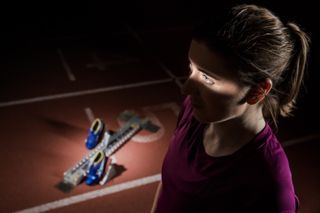 For his latest personal project, he arranged to photograph several disabled athletes. He wanted to emphasise both their sporting prowess and the considerable obstacles they have had to overcome.
His two camera bodies for these shoots were the Canon EOS 5D Mark IV and the Canon EOS 6D Mark II, fitted with Canon's EF 50mm f/1.2L USM lens, the EF 24-70mm f/2.8L II USM lens, the EF 16-35mm f/2.8L II USM lens, and the EF 8-15mm f/4L Fisheye USM lens. The combination of bodies and lenses enabled Samo to explore a range of creative approaches – each shoot allowing him to execute a different challenging technical approach, from light trails to underwater action shots.
To achieve his creative vision, Samo photographed his subjects in two contrasting ways. One image was a portrait, revealing their personalities and showing the physical challenges they faced, while the other was a dynamic action shot that put the focus on their courage, determination and achievements. The two resulting images of each athlete are presented as diptychs, which show both sides of their lives.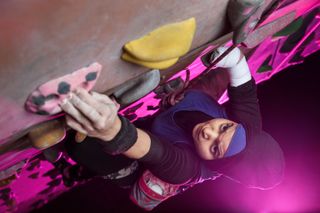 Slovenian swimmer Darko Duric, who was born with only one arm and no legs, features alongside Felipe Nunes, a Brazilian skateboarder who lost his legs in a train accident as a child. The other two athletes Samo photographed were British climber Anoushé Husain, born without her right arm below her elbow, and visually impaired sprinter and British Paralympic gold medallist Libby Clegg.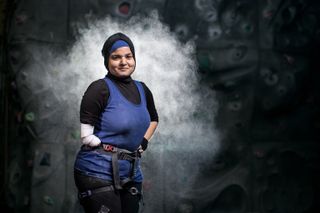 Throughout Samo's remarkable series of images on high-achieving disabled athletes, his dynamic, creative and visually striking images celebrate the personalities, skills and sheer determination of some truly inspirational people.
Case study: photographing Darko
Disabled swimmer Darko Duric has pushed himself to become a Paralympian, a double world champion and to break the world record in the 50m Butterfly S4 class. When shooting Darko's portrait and action shot, Samo wanted to convey his story immediately. "Darko only has one arm, but the water gives him wings, somehow. That's what I wanted to show," says Samo.
The sports shoot took place at a pool in Ljubljana, Slovenia. With Darko posing on a diving board for the portrait, Samo got two assistants to throw buckets of water at him from left and right, creating wing-like shapes with the water before it hit the ground. Samo froze the movement of the water with his studio flashes, having placed the main light three metres in front of the swimmer and a backlight five metres above him.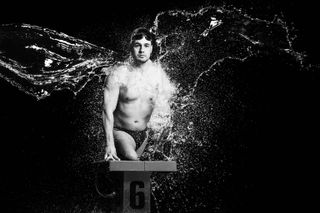 "I had planned on shooting the portrait from the water, but then I would have had to stand a metre and a half from the subject and use a wide-angle lens to get the subject in the frame, and I don't like to do that with portraits," Samo continues. "Besides, the white walls were about two metres from Darko, so they would have featured a lot more in a wide-angle shot and it would have been impossible to achieve the effect of the dark background while standing so close to him."
He did, however, use his Canon EF 16-35mm f/2.8L III USM wide-angle lens for the second photo: an underwater shot of Darko swimming in the pool.
For the action shot, Samo set up two studio flashes beside the pool, lighting the subject from above, and one behind a porthole in the pool, pointing at the subject from below the water's surface. Then he went underwater in his scuba diving gear to photograph Darko in action, swimming across the pool. The Canon EOS 5D Mark IV communicated with the lights via cables connected to a transmitter set up beside the pool.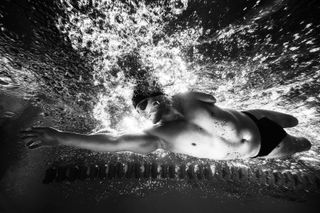 Samo used the camera's AI Servo setting to get pin-sharp images, and he made use of the Canon EOS 5D Mark IV's fast, continuous shooting mode to get 6.5 frames per second. "If you photograph a swimmer with two arms, you have more chances of a good shot, but because Darko only has one arm, I needed to make sure I maximised my opportunities to capture him in a striking position [with his right arm reaching forwards and face visible]," he explains.
"It was my first time shooting with the Canon EOS 5D Mark IV underwater, and everything worked perfectly. The autofocus was great, and all the images are sharp, which is the most important thing."
See videos and read more about how Samo Vidic created the in-camera effects in his Defying the Odds series here