These days, there are plenty of great devices that can capture video. Everything from your smartphone to a DSLR can record quality footage – but like any trade, picking the best tool for the job is going to get you the best results.
A phone can capture great video, but it won't deliver professional-quality stills and you have minimal control over focal lengths and settings. A DSLR gives you much more control, and is excellent at stills, but you're wrestling with a device designed to take photographs and trying to make it record movies.
Switching to a mirrorless camera affords you the ultimate flexibility – hybrid cameras, such as the Panasonic Lumix S5, offer an all-in-one solution that accommodates both top-tier stills and professional-grade videography.
Here are five reasons why you should upgrade your system to a mirrorless video camera, to unleash your passion and push your potential…
1) Image stabilization
Among the biggest secret weapons for mirrorless cameras are their stabilization systems. While not all bodies possess in-body image stabilization (IBIS) it's quite common for those that do to boast a 5-axis sensor shift system, which is rated at 5.0 stops of shake compensation.
However, a select few mirrorless cameras have yet another trick up their sleeves. While many IBIS systems only offer compensation via sensor shift technology alone, some offer synchronized stabilization technology – such as Panasonic's Dual I.S. 2.
This enables the IBIS to work in tandem with the stabilization provided by certain lenses. With the two systems working together, this can achieve up to a whopping 6.5 stops of shake reduction – which is a real game-changer for shooting video, enabling you to capture steady run-and-gun shots without needing a gimbal.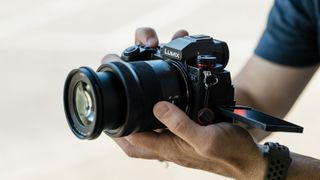 2) Video-oriented sensor and ISO performance
Most cameras these days have impressive image sensors, but they are not all created equal! And just because a sensor might produce fantastic results for stills, doesn't necessarily mean it is well suited for video.
Traditionally, image sensors have only had a single 'native' or 'base' ISO – that is, the lowest ISO at which you can set your camera, to deliver the cleanest image results. However, a new technology has emerged that is a huge benefit to video shooters: Dual Native ISO.
For example, the Lumix S5 has a full frame 24.2MP image sensor that features two native ISO circuits: one at ISO640 and one at ISO4000. This means that, rather than having to pass more current through the sensor in order to increase the ISO gain (resulting in noisier images) at the native 640 setting, you can simply dial the sensitivity up to the Dual Native ISO6400 setting and get crisp, clean footage.
3) Hi-res internal capture and RAW video output
As you would expect, mirrorless cameras intended for video use are geared towards the needs of videographers. This is especially important when it comes to the options available for capturing video footage in a variety of formats, for a variety of purposes and post-production requirements.
Most cameras on the market offer standard 4K capture, but serious video shooters need more in terms of frame-rates, bitrates and codecs. The Lumix S5 delivers 10-bit 4K video up to 60p internally – which means you don't need to use an external monitor or recorder.
However, for those wanting to achieve ultimate video quality, look for cameras that feature RAW video output over HDMI – formats such as ProRes RAW are supported by external recorder-monitors like the Atomos Ninja V, with BlackMagic RAW offered by devices such as the BlackMagic Video Assist.
4) EVF and free-angle LCD touchscreen
Like in-body image stabilization, this is another secret weapon that is easy to overlook! While DSLRs offered the first big breakthroughs for many creators looking to shoot video, they are still photographic devices that have had video functionality shoehorned into them.
Case in point, the optical viewfinder doesn't show you a live view of what the camera is actually recording, and the rear LCD screen is traditionally immovable – so when filming video, you have to be looking directly at the back of the camera.
With a mirrorless video camera, you have two game-changing additions to your arsenal. First of all, an electronic viewfinder – which is essentially another small video screen that gives you a live view of the exposure and settings to show exactly what you're filming.
Then there's a fully articulating touchscreen, which flips out to the side and rotates all the way forward. This is ideal for content creators filming vlogs or presenting to camera, as well as for all kinds of videography where a top-down or otherwise angled view is preferable to being glued directly behind the camera.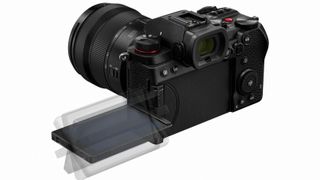 5) Next-gen mount and lenses
Another huge benefit to switching to a mirrorless camera is a cutting edge range of new mirrorless lenses. Not only does the latest generation of glass offer the finest optical performance, more importantly it is designed to be much smaller and lighter than lenses designed for DSLRs.
Thanks to a shorter flange distance between the sensor and mount, as well as the omission of the mirror mechanism, mirrorless cameras are much more compact than their bulkier DSLR counterparts – so it makes sense that the range of lenses can also be more lightweight too.
When it comes to the Lumix S5, users are literally spoiled for choice when it comes to lens options. The camera uses the L-Mount, a standard supported by three of the biggest names in the industry: Panasonic, Leica and Sigma – so whether you're looking for premium performance or the best bang for your buck, there's over 60 native lens options to choose from.
To shop for the full frame mirrorless Panasonic LUMIX S5, visit Wex Photo Video.