For photographers and videographers, colour accuracy is critical. When you're editing in Photoshop, Lightroom, Premiere or your other software of choice, you need to be sure that the colour of the image on your screen is as true-to-life as possible. Effectively, you need to be sure you're seeing your image the same way everyone else will.
Colour-calibration tools are an affordable, effective way to make sure your computer monitor or laptop screen is displaying accurate colours, and the Datacolor SpyderX range is one of the best around. The SpyderX tools – including the SpyderX Pro and SpyderX Elite – work by being physically placed on your screen, and using a sophisticated sensor to calibrate the colours. Fast, accurate and ridiculously simple to use, they're a no-brainer addition to any editing workflow.
What's more, this Christmas, Datacolor is offering some incredible discounts. You can save as much as £90 on one of the SpyderX tools, or one of Datacolor's handy all-purpose kits like the SpyderX Photo Kit, but the trick is to act fast, as these are limited-time offers that expire just before Christmas.
Don't fret – we've got everything you need to know. Here is the lowdown on Datacolor's fantastic SpyderX Christmas offers.
SpyderX Pro – save £50
The SpyderX Pro is one of the most popular colour-calibration tools among photographers and videographers. Its combination of an advanced colour sensor and a sharp, high-quality optical lens means that it is able to precisely detect the colours of a monitor and make the kind of small but vital adjustments that are so important for photo editing and digital grading.
The intuitive Spyder software allows for literal one-click calibration. Step-by-step assistant modes are also available to walk you through any customisation of settings you want to do. It couldn't be easier to get your colour workflow exactly as you want it, thanks to the SpyderX Pro.
The RRP of the SpyderX Pro is £159, but the Christmas discount means you can grab yours for just £109.
SpyderX Elite – save £90
The SpyderX Elite is the best colour-calibration tool for photographers, made even better. For absolute control over your monitor colour and achieving maximum colour fidelity, you really can't go wrong with a Datacolor Spyder device, and the SpyderX Elite is their best yet.
The SpyderX Elite has superior colorimeter technology, and additional features designed for top-end users. Its up-to-date calibration technologies mean it works even with brand-new monitors just off the production line, and its 'Spyderproof' function lets you compare the before and after with just one click. It can monitor room light and analyse monitor performance – for professional photographers and videographers, it offers maximum control of colour workflow.
The SpyderX Elite has an RRP of £239 – act on this Christmas discount, and it can be yours for just £149.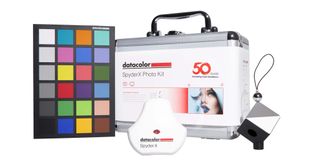 SpyderX Photo Kit – save £84
Optimised specifically for photographers, the SpyderX Photo Kit lets you nail your colour workflow from start to finish. The kit contains a SpyderX Elite, a Spyder Checkr 24 and a Spyder Cube.
The Spyder Checkr 24 is made for colour-checking your camera, and allows you to make adjustments and corrections to ensure consistent colours the entire way through your shooting and editing workflow.
The Spyder Cube is a portable device for setting white balance, exposure, black level, brightness and RAW conversion. It's especially handy for studio photographers who want to apply a consistent colour profile across their images – take a reference shot under the same lighting conditions as your subjects, and then you can easily apply the corrections to a whole series of shots.
The SpyderX Photo Kit has an RRP of £259, but this year's discounts let you snag one for £175.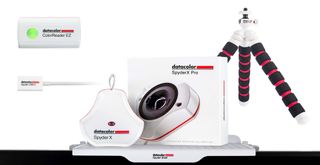 SpyderX Create Kit – save £64
The SpyderX Create Kit gives you all the tools you need to get out there and make amazing images – with, of course, faultless colour accuracy. It contains a SpyderX Pro, a ColorReader EZ, a Spyder Tripod, Spyder Shelf and Spyder USB-C adapter.
With the ColorReader EZ, you have a simple tool for on-the-fly colour calibration. You can scan a flat surface of any colour and it'll instantly find its Savage Universal background colour match, as well as the paint colour match, and precise RBG, Hex and CIE Lab colour data, allowing for simple conversion to Pantone colours.
The Spyder Tripod has flexible legs for easy setup anywhere. The Spyder Shelf attaches to a computer for a little handy storage space, and the Spyder adapter converts USB-A cables to USB-C ports.
The SpyderX Create Kit has an RRP of £239, but its Christmas sale price is just £175.
Want to take advantage of these offers? Head to datacolor.com to grab an all-timer of a deal – but act fast. These offers end on 24 December, 2021. They'll make an excellent Christmas present for the photographer in your life – especially if that photographer is you!