The go-to tool for professional photographers to edit their images has long been the pen tablet. However, the ultimate photo editing tool in recent years has become the pen display. This essentially replaces the plastic tablet with a high-resolution screen, enabling you to use the pen to edit your images directly.
The issue, of course, has been the price point. Screens with sufficient resolution and color accuracy used to cost big bucks, while more affordable options didn't offer sufficient screen quality for professional use.
Enter Huion, one of the world leaders in digital ink solutions that specializes in designing high-quality products with reasonable prices. And the remarkable Kamvas Pro 16 (2.5K) makes this incredible technology available to more photographers than ever before.
Offering great resolution and a wide color gamut, the Kamvas Pro 16 (2.5K) is a 16-inch QHD display with 2.5K resolution, delivering a compact and affordable option that's also ideal for those who require portability – and where more pixels might simply be overkill for the screen size.
Priced at just $599, the 16-inch device offers outstanding bang for your buck. Offering the industry's first 2.5K resolution at this size, with 186 PPI for sharper details and reduced eye fatigue, the screen delivers fantastic performance.
Achieving the 145% sRGB gamut, it boasts 16.7 million colors for vibrant and accurate hues along with 1200:1 contrast rate support for rich depth and dimension to your images.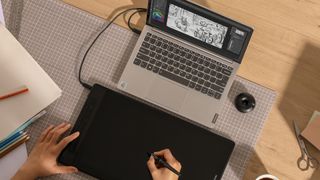 A combination of anti-glare glass and full lamination of the glass means that there is no air gap under the display. Not only does this increase visual fidelity, it also ensures optimal performance even in bright light and eliminates parallax.
Additionally, the specially treated glass surface along works in conjunction with the new, more reliable pen with PenTech 3.0 technology. Its felt pen nib gives an authentic "pen-on-paper" experience, with realistic friction, refined control and honest tracking of the nib.
You've also got the option to go into a conventional pen tablet mode by deactivating the screen, offering flexibility to your workflow. And in addition to the pen control, eight press keys can be programmed for functions such as zooming, undo, redo, pressure locking, pan scrolling and so on.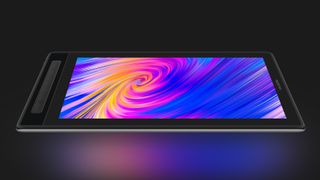 A convenient fold-out stand means that you can position your display for optimal comfort, with ±60° tilt support and a 178° viewing angle, and the lean 1.28kg weight and 1cm thickness makes it a breeze to take virtually anywhere.
For further information and to purchase the Kamvas Pro 16 (2.5K), visit the official Huion website.