If you're looking for a portable and creatively flexible lighting solution then the critically acclaimed AEOS LED light from UK lighting specialist Rotolight has got to be top of your list.
An industry first on launch, the agile AEOS is a bi-colour LED light that's ideal for location work due to its unique, ultra thin design, just 1inch 'thick'. Weighing less than 1.5Kg, it's one of the most portable photography and video lights on the market – and for its size, one of the most powerful with it. The two heads in its current kit option deliver more than 11,000 lux at three feet, when combined. And did we mention the AEOS is both a continuous LED light and HSS (High Speed Sync) flash with no recycle time, all within the one compact package?
A further facet that makes the versatile Rotolight AEOS perfect for location shoots is that it's also one of the most energy efficient LEDs on the market, able to run for two hours at full power, using a single 95W battery.
In addition the AEOS is the first location LED to integrate aluminium handles, giving users the freedom to creatively position the light and work at angles otherwise impossible. There's excellent colour rendering too – increasing speed of workflow by avoiding laborious hours in post-production – while both colour temperature (3150-6300K) and brightness (0-100%) is manually adjustable, so you can adjust the head to match daylight or balance out harsh fluorescent light.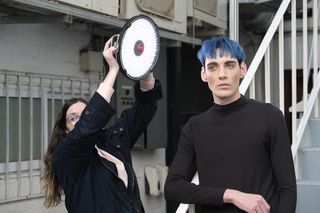 The AEOS 2 Light Kit plus Rotolight HSS Transmitter bundle offers great value for money. The value added kit – available for a limited time only – includes not only two portable Rotolight AEOS lights and two portable light stands to go with them, but also two pro aluminium ball heads, two four piece filter sets (including 1x 216 diffusion, 250 diffusion, 1x 184 Cosmetic Peach Skin Tone diffusion, plus 1x 279 Minus Green filter), two AC/DC power adapters, local mains cable and a sturdy Rotolight soft bag to transport it all in. The AEOS' built in Elinchrom Skyport receiver pairs up with the Rotolight HSS transmitter for wireless control of both units up to 200 metres away. The latter offers compatibility with Canon, Nikon, Fuji, Olympus, Panasonic and Sony systems.
But don't just take our recommendation as gospel. Pro commercial photographer and Nikon ambassador Christine Meintjes' work has graced the covers of magazines the world over – with no one shoot ever the same. That's why she values the Rotolight AEOS 2 Light Kit in allowing her to work a wide variety of angles, in a wide variety of locations, to fulfill a wide variety of briefs and client requests.
As she's always travelling, usually around her native South Africa, the portability and efficiency of the kit she packs – as well as the speed at which it can be set up – is of the utmost importance.
Rotolight meets these requirements perfectly for Christine. Put simply, its AEOS 2 Light Kit allows photographers and videographers to take on a broader array of creative requests and commissions – Christine undertakes food photography, shoots weddings, portraits and interiors, as well as dealing with commercial clients and publishing her lifestyle blog – while the lights' simplicity, ease of use and effectiveness empowers rather than restricts, and solves problems via agility that could otherwise cause headaches with less flexible tools.
"The convenience of these lights has added a whole new dimension to my work," she confirms. "I love the fact that the kit is completely mobile, with no cables required! As it provides a constant light, with the ability set strength and colour temperature, it's been a game changer for me. If I'm shooting in an office to produce stock imagery for a client and I've got two AEOS lights, I can balance the power and colour exactly to match the natural light coming through the window!"
Professional recommendation aside, there is an added reason for you to invest in ownership; namely that, for a limited time only, you can save a generous £425 when buying. That's when grabbing the 2 Light Kit + Rotolight HSS transmitter for just £1,703 during its November 19th to 28th Black Friday promotion (normal price £2,128.99).
So don't delay! Head to Rotolight now to discover more and place your order here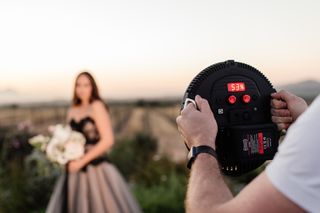 Rotolight's advantage illuminated
A pioneering British company based at world renowned Pinewood Studios, Rotolight creates award winning LED lighting solutions. These include on-camera, location and studio lights, as used by photographers and filmmakers. A succession of 'industry first' solutions have been critically acclaimed and received awards globally for innovation, technical excellence and quality.
A case in point: Rotolight developed the round LED light, producing signature catch lights in a subject's eyes. The company has become renowned for its ability to combine powerful output with soft, flattering effects, allowing photographers and filmmakers to effectively 'wrap' light around their subjects.
The current Rotolight range includes the on-camera NEO 2 LED, the ultra-portable AEOS LED, as discussed, plus the pioneering Anova PRO 2 studio light.
Furthermore, Rotolight offers photographers with unique features to help save money, reduce workflow and enhance results. These include:
High Speed Sync Flash
A powerful HSS flash with ZERO recycle time, boasting up to 5x the maximum continuous light output for traditional photographic workflows. This single piece of equipment provides both flash and continuous light – not only delivering convenience in only having to set up one lighting kit for both purposes but also serious cost savings
True Aperture Dimming™
Removing the guesswork from calculating exposure, this automatically determines and displays the correct f-stop for subjects at any distance, eliminating the need for a separate light meter.
AccuColour™
Save time in Photoshop by avoiding the need to correct skin tones as you get the colour correct when the shot is taken. Also, dual controls provide fast, tunable colour, aided by an accurate colour temperature display.
Head to Rotolight to find out more.