It's often said that any camera is only as good as the lens attached to it. It's equally true that any high performance digital camera is only as good as the memory card that stores all your precious data.
As a professional or enthusiast photographer or videographer using one of the latest high-end cameras, you need a card that unleashes its full potential in terms of speed, while also being utterly reliable and dependable. That's where the new Lexar Professional 1800x SDXC UHS-II Card GOLD Series comes in.
Let's talk speed. When shooting bursts of top-quality stills at super-fast frame rates, the last thing you need is to have your creativity put on hold while the camera clears its memory buffer to your memory card. With write speeds of up to 180MB/s, Lexar's GOLD cards won't slow you down and you'll avoid the risk of missing vital, unrepeatable shots. The same goes for capturing extended 4K video footage even at high frame rates and quality settings, thanks to the GOLD Series' UHS Speed Class 3 (U3) and Video Speed Class 60 (V60) certification.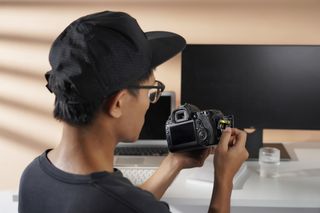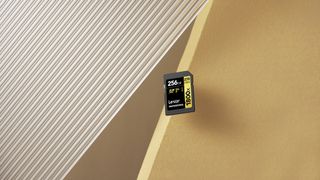 Improve your performance
Pick a card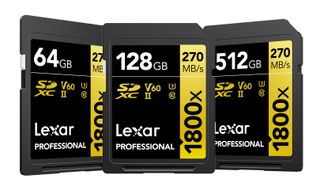 The Lexar Professional 1800x SDXC UHS-II Card GOLD Series has something for everybody. The extensive range of capacities includes 64GB, 128GB, 256GB and 512GB, so you can pick the card that's the best fi t for your needs, from shooting a few hundred stills to capturing lengthy video footage, all at the highest quality settings. And to ensure wide-ranging compatibility, all of these cards work flawlessly with UHS-I devices, from cameras to card readers and computers.
You won't want to waste time downloading your stills and video either. Lexar's 1800x SD GOLD Series cards excel here as well, with read speeds of up to 270MB/s. Large-capacity file transfers that used to take many minutes can now be completed in seconds, dramatically speeding up your workflow and giving you more time to devote to the creative process.
Reliability is paramount for every professional and enthusiast photographer. Building on its reputation for manufacturing memory cards to the highest standards for more than 25 years, Lexar has designed its 1800x SD GOLD Series cards to be waterproof, temperature-proof, shockproof, vibration-proof and X-ray-proof. All Lexar products undergo extensive testing in the Lexar Quality Labs, facilities with more than 1,100 digital devices, which ensures pro performance, quality, and compatibility with an extensive range of today's best cameras.
All in all, the Lexar Professional GOLD series gives you the ultimate in performance with complete peace of mind, all at very affordable prices. Find out more today at: www.lexar.com or @lexarmemory