For astrophotographers in the Americas, this month brings something that's impossible not to point a camera at – an annular solar eclipse – but there's plenty more going on this month in the night sky. From a meteor shower and a partial lunar eclipse to some stunning conjunctions featuring the crescent moon, October 2023 will be an excellent month for sky-imagers.
Read: Night photography techniques, tips and tricks
Monday, October 2: Moon meets the Pleiades
The waning gibbous moon is rarely photographed, largely because astrophotographers are having a few nights off after busily photographing the full moon a few nights previously. Tonight it may be worth making an exception because our satellite will sit just a degree – the width of an outstretched finger – from the sparkling Pleiades open cluster of stars. The action will happen in the east-northeast a few hours after sunset.
Friday, October 6: October's dark sky window opens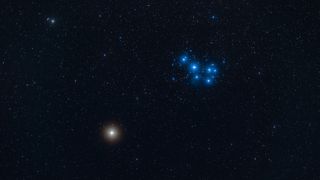 The moon will reach its Last Quarter phase tonight, which means dark skies for the next 12 or so nights until the waxing crescent moon gets dominantly bright around October 18. That makes this period ideal for astrophotography, both wide-angle nightscapes and close-ups of deep sky objects.
Read: The best cameras for astrophotography
Sunday, October 8: Crescent moon & Beehive Cluster
A few hours after midnight today look east to see a 33%-lit waning crescent moon rise just 3º above the Beehive Cluster (M44), one of the closest open clusters of stars to the solar system.
Read: The best lenses for astrophotography
Tuesday, October 10: Conjunction of the crescent moon and Venus
Rising in the east a couple of hours before sunrise will be an 18%-illuminated crescent moon displaying 'Earthshine' – reflected sunlight from our oceans onto the lunar surface. Just below it will be Venus, itself only 42%-lit, but very bright thanks to its closeness to Earth. Between the two is Regulus in Leo, one of the brightest stars in the night sky at just 77 light-years away.
Read: When to photograph the moon
Saturday, October 14: 'Ring of Fire' annular solar eclipse
Today almost everyone in North, Central and South America will see a partial solar eclipse, with any special location's distance from a 125 miles wide central path determining how much of the sun will appear to be blocked by the sun. Only those within that path – which goes through the US Southwest, Mexico's Yucatan Peninsula, Belize, Honduras, Nicaragua, Panama, Colombia and Brazil – will be able to photograph a 'ring of fire' around the moon as it eclipses up to 91% of the sun. To photograph this you'll need to use solar filters at all times and only watch it through the LCD screen on the back of your camera. The U.S. states the central path runs through – and from where the 'ring of fire' will be visible – comprise Oregon, California, Idaho, Nevada, Utah, Arizona, New Mexico, Colorado and Texas.
Read: Where to photograph 2023's 'ring of fire' annular solar eclipse in America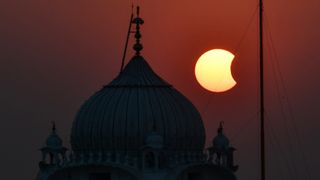 Monday, October 16: A young crescent moon after sunset
An excellent target for any astrophotographer after something challenging and beautiful is the youngest crescent moon possible. Just two days after appearing across the sun's disk the moon will be visible just above it – so, just after sunset – while just 5% illuminated. Catch its slender crescent in the west in twilight, but be quick because it will set soon after it becomes visible.
Saturday, October 21: Orionid meteor show
Up to 20 'shooting stars' are expected from the peak of the Orionids peak, which will occur in the early hours. Meteors will appear to emanate from the constellation Orion, though they can appear anywhere in the sky. The best way to photograph them is to leave a camera with a wide-angle lens on a tripod in continuous mode in the hope of catching one. Go for 30-second exposures.
Read: How to photograph a meteor shower
Saturday, October 28: Partial lunar eclipse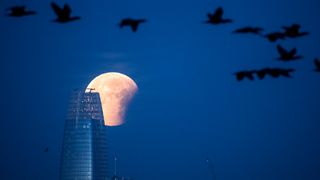 October's full moon, the 'Hunter's Moon', will tonight pass through Earth's shadow. Europe and Africa will get the best view. It's not visible from the Americas. From the UK, the full moon will rise and, over the next 100 minutes (exactly 19:01-20:35 BST) it will drift into the Earth's outer shadow, losing its glare. At 21:14, as seen from London, a small portion of the moon will enter the inner shadow, technically turning red. The effect will be slight – this will not be a bona fide 'Blood Moon'. However, with the full moon dimmer than usual, this will be an excellent opportunity to photograph it without the usual problematic glare. You'll need a telephoto lens such as an 70-300mm zoom.
Wherever you watch the full moon rise from, check the local moonrise time and don't forget to get Jupiter – just 3º beneath it – in your composition.
Read: How to photograph the full moon
Shot of the month: The eclipsed sun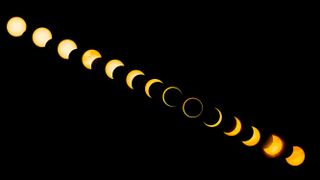 For photographers in both the central path of annularity and for those outside it, but still in the Americas, October 14's solar eclipse necessitates a solar filter on your camera at all times. Once that's done there are two ways to take images – close-ups of the sun using a long lens and a sequence of landscape shots that feature the eclipsed sun tracking across the sky.
The first way requires a 400mm lens on a tripod and a star tracker to track the sun. "I recommend taking a shot every 15 seconds," says Mike Shaw, author of the new book The Beginners Guide To Astrophotography who leads night photography tours. For an event that lasts almost three hours from first contact to fourth contact, that's a lot of images. "You don't need that many shots, but you can use them later to create a time-lapse," he adds.
The same goes for the other kind of image, a sequence, in which you leave a camera and a wide-angle lens in front of a landscape, just on a tripod, and then take shots of the eclipsed sun as it moves above the landscape. After the eclipse is over you should remove the filter and take an image of the foreground (or you could wait until twilight for a more dimly-lit shot), then drag everything into the free StarStaX software to create a composite image. Just don't move that tripod! "Whichever you go for, constantly check the focus," says Shaw, who recommends Planit Pro to plan the shot.
Read more:
Astrophotography: How-to guides, tips and videos
Astrophotography tools: the best camera, lenses and gear
The best star tracker camera mounts
The best light pollution filters
The best CCD cameras for astrophotography