Once upon a time, film students had to make do with old Super 8 cameras or analog camcorders to master their craft. Depending on where you learn, of course, you may have access to professional filmmaking equipment, but these days you can pick up your own pro- caliber camera – something that just wasn't affordable in the past.
Of course, just about every camera right now can shoot video – but there's a world of difference between learning filmmaking on an iPhone versus learning on an Arri. What you need is a video-oriented mirrorless camera, but one that comes with a very specific set of features.
Knowing exactly what to look for can be extremely difficult, especially if you're not already versed in videography techniques – and trust us, when you're spending money on a camera, you don't want to find out halfway through your course that it doesn't have something you really need to know about! So, here are 5 must-have features for film students…
1) Anamorphic video
If you're learning about videography and filmmaking then you absolutely have to understand anamorphic shooting – and your camera simply has to be capable of recording it, but by no means is this something that all cameras are capable of.
A body such as the Panasonic S5 specifically caters to 4K anamorphic video, in the 4:3 aspect ratio, supporting lenses with 1.3x, 1.33x, 1.5x, 1.8x, and 2.0x magnification – and the Anamorphic Desqueeze Display function enables you to shoot with the appropriate image conformation in-camera.
2) Super 35mm
Like anamorphic, film students will have to learn about shooting in the Super 35mm format. Originally, Super 35 came from using the optical audio space to eke out a larger image on 35mm film. Today, it refers to an image that has a crop factor between 1.4-1.6x – so, in digital terms, it's roughy equivalent to APS-C.
Being able to work, shoot and cut with Super 35mm footage is a key part of studying videography, so a camera that can capture in the format is crucial. The Panasonic S5 can record up to 4K 60p in Super 35mm, as well as shoot it in anamorphic.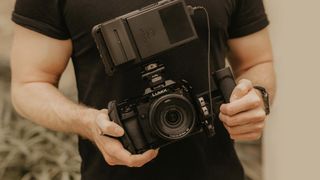 3) Shutter angle
Learning about shutter angle is a two-part process. First of all, there's the classic origins of the term as relates to rotary shutters (whereby a disc with an angled space would spin to allow illumination to hit the frame). Then there's the modern application, which affects how you do (or, indeed, don't) use shutter speeds when filming.
Essentially, shutter angle can be used to negate the old "shutter speed should double the frame-rate" rule, enabling you to set your angle (at 11°, 15°, 23°, 30°, 45°, 60°, 90°, 120°, 180°, 240° or 358° on the Panasonic S5) and forget having to worry about your shutter when you switch from, for example, 24p to 60p.
4) Log shooting
In simple terms, shooting video in log is the equivalent of shooting photos in raw; it gives you exponentially more room for editing, color grading and post-production of your finished footage.
The Panasonic S5 comes with premium V-Log shooting as standard, delivering a wide color spectrum and more than 14 stops of dynamic range – which fulfils the PQ requirement of HDR dynamic range. Further, the S5 also comes with V-Gamut preinstalled, covering the full HDR spectrum and offering the complete HDR shooting capability.
5) All the connectivity
Any camera these days can record video. Heck, your phone can record video (pretty great video, at that). However, what separates just any camera from one that will help you learn is the ability to connect it to external AV devices.
Any serious video camera comes with both 3.5mm line in / microphone and headphone jacks, enabling you to both monitor your audio and deliver dedicated sound input. And when it comes to audio, the best possible connection is a professional XLR jack – cameras like the Panasonic S5 can accommodate this via the optional XLR Microphone Adaptor DMW-XLR1
You will also want to make sure that your camera has an HDMI port, which is vital for equipment like external monitors and recorders, and a USB-C port that supports Power Delivery to keep you powered while recording.