Professional photographers and videographers have a very specific selection of gear that they use – but what if they swapped their go-to gear for a completely different set of equipment?
MPB, the world's largest online platform for used photography and videography gear, presented that challenge to three pros: Jon Devo, a photographer, videographer and tech journalist; Quetzal Maucci, a documentary photographer; and Tom Mackie, a landscape photographer.
It then went one step further, and asked each of them to pick their gear from the thousands of used cameras and lenses sold by MPB worldwide.
After shooting with their alternative kit bags from MPB, the three professionals sat down together to look at each others' work and see what they'd been able to shoot with a completely different selection of gear.
You can see how they all got on with their cameras in the video below:
All three had great experiences trying out different gear, as well as great experiences with how it was delivered to them by MPB – especially when it came to the planet-friendly nature of the packaging, and used gear in general.
"I was really impressed by the fact that the box had no plastic in it," said Jon, who received a Sony A1 and Tamron 50-400mm lens.
"I think the circular economy is so important, and if we can find ways to extend the life of older products, pick up stuff that's used and find new ways to use it, I think that is a really good benefit."
Quetzal, who was using a Fujifilm X-T5, Fujinon XF 35mm and Fujinon XF 50-140mm, had a very philosophical view of used gear.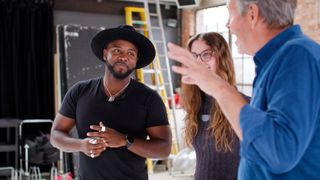 "One thing I love about MPB, and buying used equipment, is that I start to wonder about who used that camera before, where they went, what they photographed, the stories they told, and then starting to think about the stories that I will also tell with that camera."
And Tom, who replaced his usual 20-pound kit bag with a Canon EOS R and Canon RF 24-240mm lens, enjoyed the process of trying out gear in a much more affordable way.
"The nice thing about MPB, it allows you to try gear at more affordable prices that you wouldn't normally have access to. And I find the grading system really fair, because you know that if you're going for a 'like new' piece of kit, it's gonna be pristine."
To shake up your own kit bag with a fantastic selection of affordable used gear, visit MPB and whet your creative appetite!