Artificial intelligence is quickly becoming one of the key buzzwords of the 21st century, with various industries taking advantage of this emerging technology to improve their products and user experience. From healthcare to education, AI has become incredibly important and will no doubt help shape the next few decades. The photo editing industry is no different, with the recently announced application Luminar AI from Skylum using artificial intelligence to help users save time and effort when editing their photos.
The purist in you might be tempted to shy away from mixing artificial intelligence with your own carefully crafted photos. However, AI has been a part of photography for years, with smartphone cameras using sophisticated mechanisms such as machine learning, color enhancement and other digital solutions to visually improve images.
But smartphones aren't the only way to take advantage of AI in your photography. Skylum has recently announced the unique fully powered AI application Luminar AI. Due to be available for macOS and Windows as an application and plug-in, this new AI-powered app looks set to revolutionize the photo editing process.
Alex Tsepko, the CEO of Skylum Software, says, "Luminar AI will help make image editing easier for everyone. We've removed the boring and difficult parts of photo editing without sacrificing creativity. Luminar AI will be a great tool in a creators' workflow. They can focus on great results – not on the process of editing."
With the words 'artificial intelligence' often conjuring mental visions of dramatic 80's movies, there can sometimes be a knee-jerk reaction against embracing AI. However, the idea that AI is dangerous, or that it could be a replacement for human creativity, just isn't correct. Most artificial intelligence systems rely on instructions given from humans in order to function. AI will also only work on the specific problem that it's been asked to solve – so Skynet is always going to remain a work of fiction.
Meanwhile, artificial intelligence will never be able to replace human creativity because it relies solely on humans inputting data in order for it to learn. Without this feed of information, AI would be essentially useless. Even with AI gathering its data from humans, it's unable to understand, comprehend or learn from its surroundings in the same way as a 'real person'. This means that the sanctity of human creativity remains untouched – and photographers can rest assured that their images remain their own, even if they've been effortlessly improved with AI.
While artificial intelligence is a complex technology, the term is frequently misunderstood or misused. At times, it is presented with a sense of mysticism which makes it seem inaccessible. Too often, it is used as a throwaway marketing buzzword, to add a sense of perceived value without creating much in the way of actual value. However, this isn't the case with Luminar AI. This new software uses algorithms developed with machine learning to "see" a photo and understand all of the elements in the frame and where they are in 3D space.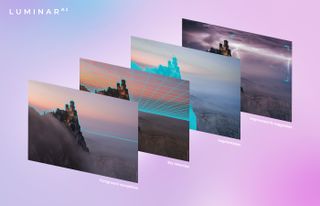 Using this understanding of the photo, Luminar AI can then take several actions to help get the very best out of it. First, Luminar AI will look to autocorrect common capture problems with exposure and color. Next, it can then suggest several creative paths, which Skylum calls Templates. The user can use these to produce stunning results with a very specific look or style in a surprisingly short amount of time.
Skylum's focus on true artificial intelligence is what helps separate it from a marketplace filled with vague claims about the theoretical benefits of AI. By creating truly functional AI tools, Skylum is able to help its users produce the amazing results they're looking for as quickly and efficiently as possible.
However, Luminar AI also goes beyond these more obviously impressive effects to help subtly redefine its users' workflow. Whether you're an amateur or a pro, sitting at your computer and having to manually edit hundreds of photos can often be the least exciting aspect of photography. However, Luminar AI is able to eliminate routine mundane tasks and speed up the editing process to help you achieve your desired results faster and more efficiently.
Plus, Skylum collaborated with top photographers including Marvin Grey, Richard Bernabe, Kate Phellini and more to help train the app's neural network. This essentially means that using Luminar AI is like consulting with a vast team of imaging experts every time you edit your photos. However, even with the huge array of AI-powered tools at users' disposal, Luminar AI still gives the photographer complete control over their image so they can give it their own signature style.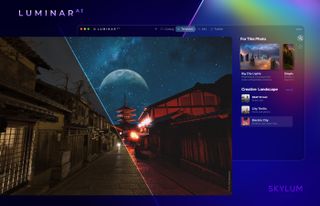 From achieving the perfect composition, to avoiding tedious tasks such as manual selections, to enhancing the mood of your photos, you might just find that Luminar AI is capable of cutting hours out of your workflow – and making your images look better than ever.
Reserve your copy of Luminar AI today to access a special price and get exclusive access to the Luminar AI Insiders, a private community solely for those who pre-order Luminar AI. Not only will you enjoy exclusive access to the Luminar AI team, but there will also be new tutorials, special events and even a few surprises too for no additional charge. After you've made your purchase, you'll receive your invitation to join this special community.