Creating a photo book is one of the most powerful things you can do with your photography. Whether you're a professional, putting together a high-quality portfolio of your work or delivering a client's magical memories, or an enthusiast, collecting cherished moments that can be traced forever, a photo book is an incredible keepsake of your photos.
However, not all photo books are created equal – so it's critically important to treat your images with the respect that they deserve when choosing a supplier to commit them to paper.
It takes more than just uploading your photos to a website and crossing your fingers; there are some tangible considerations that you need to take into account, which will influence how your images are treated, printed and presented.
To help you get the best results possible from your photo books, here are five key factors to think about when creating and curating your photo book. Trust us, dream photos can quickly become nightmare products if you don't take care at the start of the process!
1) Quality & binding
Remember that your photo book is a keepsake, intended to last for years. It may even become a family heirloom, passed down to children and grandchildren. So when it comes to considering quality, it's important to think not just about how it looks when you receive it, but how it might look when generations receive it in years to come.
Choose a reputable supplier that uses the best materials, not just the one that offers the best price – we're measuring value in terms of years of enjoyment, not just pennies saved. Photo books made of quality covers and paper stock will ensure vivid colors that last for years.
Think about the binding, too – in particular, consider albums with layflat binding (as depicted in the header image above). Conventional binding can cause loss of detail due to folds between the pages, but layflat albums protect your pages and preserve your photos.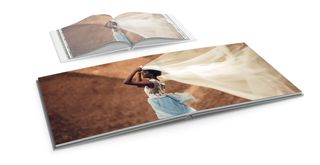 2) Clean presentation
All too often, even great photographic prints are let down by a lack of respect for your work. Nothing feels more intrusive on a book of photographic memories than a company logo slapped on the cover, or a barcode on the back.
Your photo book should feel personal, not like a product, so look for a provider that creates albums without their logo on the spine, cover or inside cover. Also be on the lookout for suppliers who can remove the barcode for you – especially if it's a professional book intended for clients, who can then receive a clean design.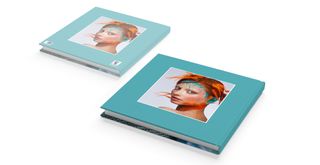 3) Simple yet sophisticated design process
This is possibly the most important thing to think about. Finding a great quality supplier is one thing, but it's all for naught if the process of designing your photo book is frustrating and difficult. When you look back at your album, you want to be reminded of the wonderful memories inside – not what a disaster it was to place images where you wanted them, or how many times the website crashed and lost all your work.
Print houses generally offer web-based interfaces where you can drag and drop images, reposition them on the page, and even add, remove or rearrange pages, all from the comfort of your browser. However, it's especially worth looking at companies like Saal Digital; this supplier also has its own bespoke mobile app, which makes it even simpler and easier to get your design just right while giving you very sophisticated tools and options.
Whether you want to use automatic options to design an album in around a minute, or take precise manual control over everything from layouts to backgrounds to text and clipart, Saal Digital's design app really adds to the creative process – rather than being a hindrance to it.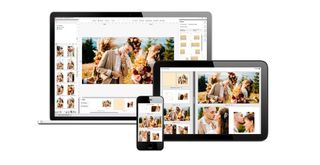 4) Delivery & delivery times
This one seems obvious, but it's worth double checking! Many vendors give an estimated shipping time, which is helpful – but may be of limited use if you are working to a deadline (and you aren't sure, for example, if "two weeks" means "20 business days" or "14 days from the day you order").
You should also be mindful about lead times / production times on top of shipping times. A product might say that it delivers in 24 hours, but it will need to be physically made before it can be shipped out. Providers like Saal Digital offer real-time production and delivery times on its website, so you can get a realistic timeframe for when you will receive your items. This is extremely helpful during busy times, such as the holiday season, when order volumes increase and timescales change.
Make sure to be aware of delivery costs, too – remember that photo books are heavy, so shipping can end up being pricey as a result. Suppliers that offer free, combined or reduced shipping are invaluable – especailly if you are ordering multiple products, where it can be more cost effective to combine orders instead of making them individually.
5) Customer service
Again, this one is key but so often overlooked. In an ideal world, you will never need to worry about customer service as your product will arrive and be exactly as you wanted it. However, things happen when custom items are being produced – and obviously things happen while things are being delivered, too – so having great customer service is important, should you happen to need it.
Knowing that there is a dedicated customer service team on hand, looking to provide a solution and ensure that you're happy with your order, can make all the difference should you experience any issues with your order.
All these points should probably come under a sixth, overarching point: choose a reliable photo book provider. While all the above measures give you a degree of control over the production of your album, to ensure that your photo books are handled with the utmost care and quality assurance, the most important step is to use a trusted photo product supplier.
We've mentioned it a couple of times already, and one of the best in the business is Saal Digital – whom we have used to produce a wide variety of photographic goods, from the highest-grade professional coffee table volumes to giftable photo books filled with our favorite holiday snaps.
Whomever you choose to print your album, make sure to use a provider who meets the above points and you won't go far wrong.