Nikon School is a venue for photography training that aims to educate and inspire. Their workshops cater for every level of photographic ability, whether you are a beginner, keen amateur or professional photographer.
We joined Nikon School UK at the Centre of Excellence in London to discover the secrets of capturing creative low-light cityscapes. We started by brushing up on our low-light theory and then headed out onto the busy streets of London's West End to capture traffic trails, before ending the evening at the Embankment. The course was practical-based with lots of hands-on tuition from trainer Neil Freeman to ensure we made the most of our trip out on the town.
1. Keep your camera still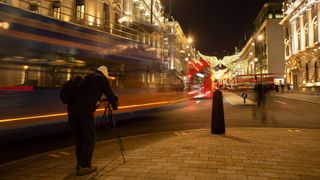 First, we had to put the camera on a tripod to keep it still while taking photos. With the camera stationary, only subjects like buildings and street lighting would remain sharp, whilst other moving objects like vehicles and pedestrians becoming a blur.
2. Dial in your settings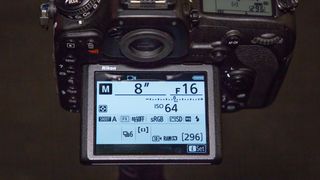 We were advised to use Manual mode to give us full control over all the settings in the camera. We set our Nikon D850 to its base ISO at ISO 64 to ensure minimal noise artefacts. Then we dialled in our aperture. We had two choices here, either opening the aperture wide such as f/2.8 to create an array of bokeh (out of focus circles) in the background, or a narrower aperture of f/11-f/16 to capture a starburst effect on stationary lights. We opted with f/16 as this also increases the depth of field in our image, making everything sharper from the front to the back of the frame.
3. How slow should you go?
The traffic light system is about to become your new best friend. When you're out at a busy street, take a few minutes before firing off any shots to see how long the light hold traffic for. If the vehicles are in a queue they won't blur, so time how long it takes until the lights change and use that as a basis for your shutter speed. Ours was around eight seconds of steady traffic flow because the rush hour congestion forced vehicles to queue. Both these images above have the same exposure length.
4. Look for reflections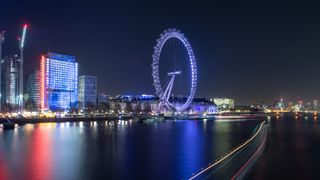 Even the roughest of rivers and seas can be brought to a gentle mirror-like reflection if given enough time. A long exposure like this 30 second exposure will smooth out the waves, and allow the reflected city lights to shine. If you have a telephoto or telezoom lens, then pick out certain details in scene by isolating the subjects.
5. Include people
Exposure times of four to eight seconds will blur pedestrians as they walk past. It'll look like ghostly figures passing through, with some shape to the people mixed with a good deal of motion blur. If your people look a little too blurry though, use a shorter exposure time like two or three seconds. Bridges are a great place to source these images as it naturally funnels footfall to within a few feet of your lens.
6. Avoid camera shake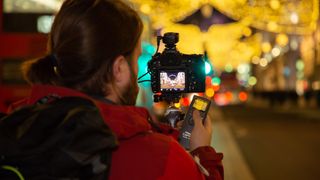 You can avoid shaking the camera while shooting by engaging Exposure Delay mode which not only locks up the mirror in your DSLR, but allows you to delay the shot from being taken by up to three seconds. If you have a remote release though, it's better to use that, because then you're not touching the camera, at all. Also, if you get a wireless remote release like the Hahnel Captur you can trigger it while you're away from the camera - useful if you're in a tight spot.
Why not try the new Z series mirrorless range?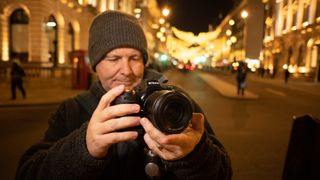 The in-built five-axis stabilization offered by the Z6 and Z7 is astounding as you can pretty much handhold a one second-long exposure. And when placed on a tripod the dynamic range is wide enough to capture plenty of detail in highlights and shadows. We found the same fantastic dynamic range in the all-round D850 that we used for the evening. But no matter what Nikon you have, you can try out some of the latest gear when on the course, you only need to ask.
Book onto your own Nikon School course
Whether you're a beginner wanting to learn their camera for the first time, or a pro that wants to brush up on a few things, head over to the Nikon School site to book in for your own course, just visit Nikon School's website .
If you'd like to book on your own macro photography course, visit Nikon School's Architecture & Landscapes photography page.
You can read more about this shoot in issue 95 of N-Photo magazine, on sale 14 February 2019 available in all good stockists. You can even buy it online in print and digital editions on My Favourite Magazines.