It used to be that an action camera was limited to those partaking in sports that have been designed to get the adrenaline rushing and the blood pumping, but the GoPro Hero 7 range goes beyond this and is an ideal cam for, well, everybody.
Whether you want to capture those perfect moments with the family, that special holiday, or are a teen off on yet another adventure, the GoPro Hero 7 range has all the smarts you need in a device that is better than ever.
In all there are three new GoPro Hero 7s - so no matter what your budget or lifestyle, they fit around you.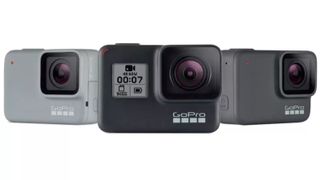 The GoPro Hero 7 White is the most affordable option in the range, geared towards anyone who maybe new to the burgeoning action-camera game. For everyday users who want something to use when they are out and about and on holiday, it is built tough and is waterproof to an impressive 10 metres.
Its innovative touchscreen offers simplified settings to get you filming as quickly as you can, including touch to zoom, and allows you to film glorious Full HD footage and take 10MP snaps for your Instagram feed.
It also has some great features including voice control, the ability to share your footage and there's video stabilisation and a photo timer on board.
The GoPro Hero 7 Silver ups the picture quality to a fantastic 4K (30fps), adds in GPS tagging and the fantastic Wide Dynamic Range (WDR) feature improves the exposure of your entire image, all the while keeping it natural looking.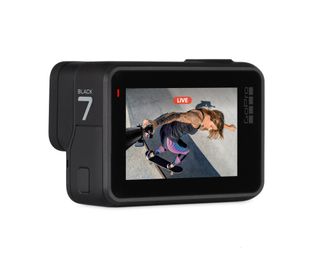 If you want all the bells and whistles, then the superb GoPro Hero 7 Black is for you. Combining all the features above with some really smart features.
The first is HyperSmooth video. This completely revolutionises electronic image stabilisation, offering gimbal-like smooth shots for creating the smoothest of video captures. SuperPhoto is also a fantastic feature - it will automatically reduce noise in shots and will add a HDR shine to the things you shoot.
Perhaps the best feature is its live-streaming capabilities. Turn this on and you'll be able to stream your adventures, no matter how big or small, at 720p on Facebook - with YouTube, Vimeo and Twitch integration coming soon.
The GoPro Hero 7 White (£179.99), GoPro Hero 7 Silver (£279.99) and GoPro Hero 7 Black (£379.99) are available now.