Virtual spaces have become increasingly prevalent over the past 18 months. Millions of buildings in more than 150 countries have been digitized, from homes, retail stores, museums, hospitals, and factories. With industries from all over embracing immersive digital twins, it's never been a better time to add 3D photography to your portfolio and reach new clients.
The Matterport Pro2 is an all-in-one 3D capture solution that transforms real-life spaces into immersive digital twin models. More than just panoramic scans, the technology backing it allows professionals to capture and connect rooms to create truly interactive 3D spaces. All of this is achieved via the Pro2's unlimited 4K print-quality photography and a professional photo resolution of 134 megapixels. The device is also dimensionally accurate within 1% – crucial for 3D accuracy.
Photographers can rely on the Pro2's ability to capture anything from small to large spaces – both inside and out – with the highest level of detail. Whether you're scanning an apartment or entire building, it's the most powerful, accurate, and quickest way to document a building or property.
In fact, it's entirely possible to scan multiple buildings in one day, thanks to the Pro2's eight-hour battery life and easy-to-use functionality – a capture can be initiated at the press of a button and requires little to no training. And, if you're attempting to scan outside, the Pro2 boasts the best outdoor image quality compared to all 360 cameras and the Leica BLK360.
Maximize performance with subscription plans
Out-of-the-box, Matterport's 3D data platform provides everything you need to deliver a complete service to clients. It automatically performs stitching, color adjustments, white balancing, and more.
If that wasn't enough, you can access premium features with a Professional or Business plan. Powered by Cortex, Matterport's powerful AI platform turns your scan into an immersive digital twin that is loaded with spatial data. This powerful, deep-learning neural network automates various steps in the model-creation process and provides unparalleled building insights and analysis. It will blur faces, select the best images from your captures, create accurate measurements and allow clients to have a more efficient and scalable way to experience and manage buildings.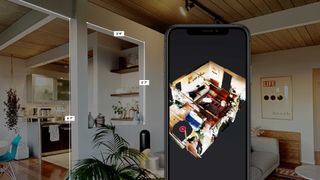 Grab these deals
If you're looking to grow and diversify your photography business portfolio by offering Matterport digital twins, you can purchase the standalone Matterport Pro2 (save $900) or a Matterport Essentials or Professional Kit (save $645) on Amazon from July 23 to September 30, 2021. The Essentials and Professional Kit both include the Pro2 camera, a tripod and a quick-release clamp, while the former boasts a backpack and the latter a case.