Photography is an expensive game, regardless of whether you're taking photos for fun or shooting professionally to make money. To get the best kit for the job, you will need to spend a fair amount of cash… though it doesn't have to be nearly as much as you think!
By shopping for used gear, rather than buying everything brand new, you can upgrade or completely refresh your kit bag without breaking the bank. It doesn't matter if you only need a lens or want to invest in a complete camera setup – you'll find that there are loads more options available, and at a much lower price, if you look at used equipment.
Indeed, you can actually get a shooting setup that's even better than if you bought everything new. Modern kit becomes more affordable, especially if you opt for a model that has recently received a new version. On top of that, legacy kit is both cheaper and often better suited to your needs.
We're putting this to the test with MPB, the world's largest digital photography gear resale platform, and every month we'll be putting together our dream setup for shooting specific areas of photography for a fraction of the price of buying new.
This month we've assembled a sports photography setup featuring a flagship Nikon sports camera and trinity zoom lenses – and you won't believe the savings we made!
Nikon D5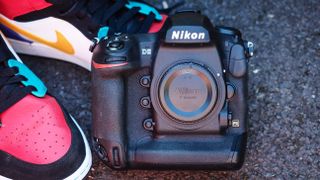 New price: £5,999
MPB price: £3,299 (condition: excellent)
The D5 was Nikon's flagship camera from 2016 to 2020. However, while it was succeeded by the D6 earlier this year, the truth is that the Nikon D5 is actually a much better buy than the new camera! In terms of shooting specs, the two bodies are largely indivisible – so while a brand new Nikon D6 will set you back £6,299, you can get a D5 in excellent condition for almost half the price.
The D5 boasts a brilliant 20.8MP image sensor (the exact same one that's in the D6), with monstrous sensitivity of up to ISO3.28 million! It also delivers blistering 12fps shooting speeds with continuous AF and metering, or up to 14fps without them in Live View.
While it's definitely a sports stills camera, first and foremost, it can still shoot crisp 4K video. You can get it with either dual XQD or dual CFast memory card slots – so you can opt for the newer and faster format, or the cheaper CFast cards that you may already have kicking around.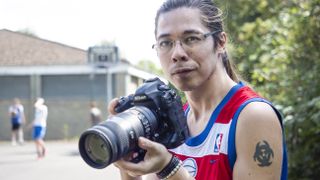 Nikon AF-S 24-70mm f/2.8G IF-ED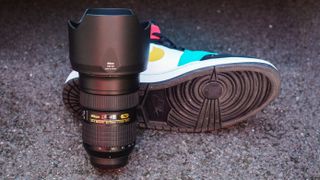 New price: £1899
MPB price: £679 (excellent)
One of the so-called "trinity lenses", a 24-70mm f/2.8 is absolutely essential for shooting sports. The 24mm end is about as wide as you'll need for most cases; in fact, unless you're shooting basketball from the baseline or covering boxing or MMA from ring- or cageside, you'll rarely need to go that wide.
The focal range is incredibly versatile, enabling you to quickly go from medium to wide and keep the action perfectly framed. And the fast aperture is crucial for enabling those high shutter speeds to freeze the action. An f/4 lens is okay in bright outdoor conditions, but shooting indoors you'll get much cleaner shots with that f/2.8 aperture.
This lens doesn't have image stabilization (or VR, for vibration reduction, as Nikon calls it), but since you'll be shooting at fast apertures at relatively short focal lengths you can save cash by foregoing it.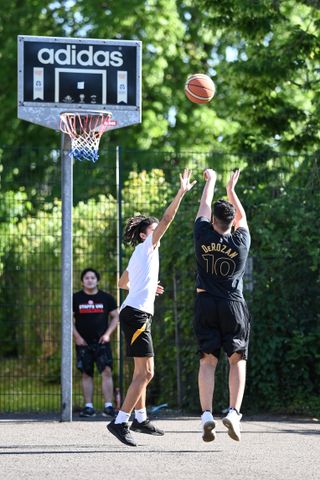 Nikon AF-S 70-200mm f/2.8E FL ED VR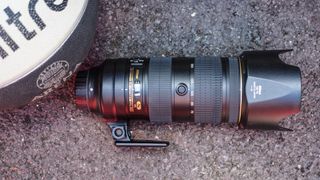 New price: £2,209
MPB price: £1,594 (excellent)
Another trinity lens, you're definitely going to need a fast 70-200mm in your arsenal as well! Obviously the longer reach means that you can keep the action tight when players are at the other end of the court or field. However, having a portrait focal range is also perfect for capturing close-ups and headshots of players, coaches and even notable fans and spectators.
While stabilization wasn't as critical for the 24-70mm lens, thanks to the fast shutter speeds needed for sports, it's far more important for longer focal lengths – so we recommend springing a little extra for VR on a lens like this brilliant Nikon, which has performance truly second to none.
Again the f/2.8 aperture is invaluable, both for maintaining high shutter speeds without going crazy on the ISO as well as rendering shallow depth of field for better isolation. However, it also has another important benefit when used with our next bit of kit…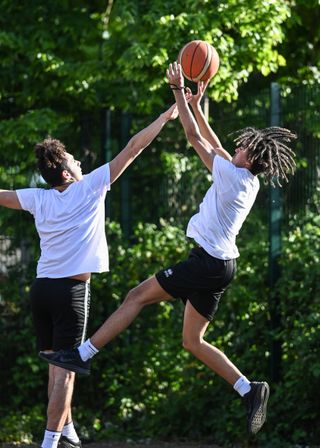 Nikon AF-S TC-17E II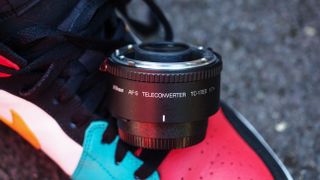 New price: £429
MPB price: £149 (good)
For some sports, even a 200mm lens isn't enough to shoot coast-to-coast action. However, instead of forking out for a costly 300mm or 400mm lens (and having to carry it around with you!), there is a much cheaper and simpler solution: a teleconverter. And that's where the brilliant TC-17E II comes in.
This 1.7x teleconverter pairs with the Nikon AF-S 70-200mm f/2.8E FL ED VR lens to give us a huge 340mm focal length – which is more than enough for most of our needs when shooting sports!
So why a 1.7x converter, rather than a 2x? Well, while a doubler would certainly give us twice the focal length, it also gives us half the amount of light transmission. With a 2x converter you lose 2 stops of light, so our 70-200mm f/2.8 would become a 140-400mm f/5.6, and that's a little slow to keep exposures both fast and clean. By contrast, this 1.7x converter turns it into a 119-340mm f/4.5 – a much better fit for our needs!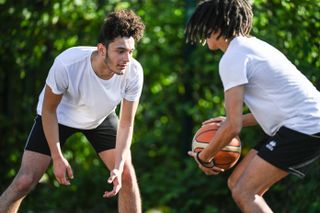 Sandisk Extreme Pro CFast 64GB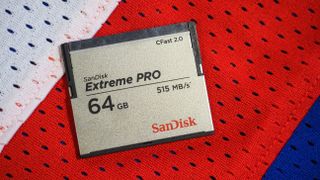 New price: £179
MPB price: £69
When switching systems, especially if stepping up to professional cameras, there's a good chance that you'll also need to switch memory formats. So if you've only ever used SD, then your stack of old memory cards won't do you much good on the D5!
That's why it's important to pick up some memory along with your camera and lenses. And here you can really see the benefit of buying used – we can buy two 64GB CFast cards for less than half the price of a single new one! And with a pro system like the Nikon D5, which has twin card slots, you'll definitely want a pair to make sure that your shots are safely saved twice in case a card should fail or get lost.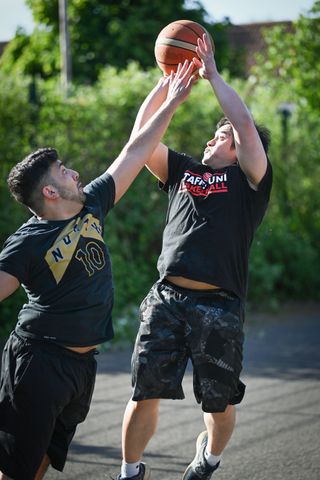 A medal-worthy sports photography setup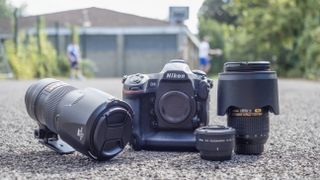 Sports photography setup
New price: £10,715
MPB price: £5,790
Total saving: £4,925
For almost £5,000 less than buying everything new, you can buy a flagship Nikon sports camera with a pair of "holy trinity" zoom lenses – everything you need to take incredible images whether you're shooting your kids' games, Sunday league matches, or even professional sports for news agencies.
So whether you're looking to pick up an extra lens to complement your existing system, or you want to build a whole shooting setup from scratch, make sure to check the wealth of used options available from MPB to get great results and great savings.