In 1972, Samyang started its journey in the optical industry with its manual focus lenses. To celebrate the company's origin, Samyang released the premium XP series in 2016, aiming to create the best manual focus lenses for the latest cameras and give photographers a new perspective.
The XP series lineup is named after Samyang's motto, 'eXcellence in Performance for eXPerts'. It's equipped with uncompromising image quality for 50 megapixel cameras and forged with innovation, which is shown in both the low F numbers and offering the world's widest angle of view in a lens. Samyang's designs are also recognized by the iF Design Awards and the Red Dot Award.
These five XP lenses – the 10mm f/3.5, the 14mm f/2.4, the 35mm f/1.2, 50mm f/1.2 and 85mm f/1.2 – are designed for professional eXPerts, including architecture, astro, landscape and portrait photographers. The XP series is available in Canon EF and Nikon F mounts.
Uncompromising image quality and optical power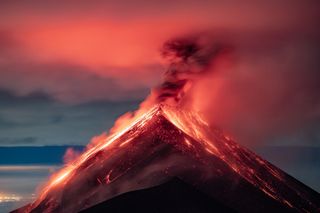 When shooting a once-in-a-lifetime experience, you need to be able to trust your kit. Photographer Martijn Hermans used the Samyang XP 85mm f/1.2 (available in Canon EF) to capture this incredible image of an erupting volcano.
"This particular shot looks like I combined multiple exposures of smoke coming off Fuego and the lightning flashes, but it's actually a single shot. I stayed up all night behind my camera, finger ready on the shutter button to catch a few stunning eruptions – and when I say stunning, I literally mean stunning.
"The eruptions were very short, so every time one occurred I had to react immediately. There was no time to fiddle around with my composition or settings. I trusted the performance of the XP lens to capture this once-in-a-lifetime image."
Beautifully dreamy bokeh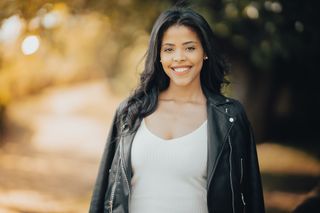 However, the XP lens series isn't just designed for landscape photography. Portrait photographers can also take advantage of the superior optical quality offered by XP lenses. Mirco Zancanella shot this portrait with an XP 85mm f/1.2 at the maximum aperture, capturing beautiful background bokeh while still retaining sharp details of the model.
A unique experience and a new perspective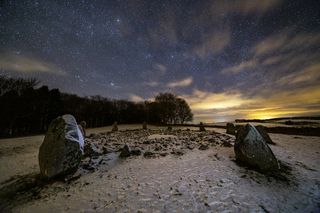 The Samyang XP series is also home to a groundbreaking piece of glass: the Samyang XP 10mm f/3.5 (available in Canon EF and Nikon F mounts), which is the widest prime lens in the world (not counting fisheye lenses). As a third party lens manufacturer, Samyang never ceases to challenge the status quo with its unflinching frontier spirit, as powerfully showcased by the XP series.
Known as the 'Master of Wide Angles', Samyang introduced the XP 10mm f/3.5 to help provide a unique user experience and a brand new perspective.
Photographer David Fowlie says, "The XP 10mm offers 'Zero Distortion', thanks to a full-field rectilinear design. This is an impressive feat, as lenses with this kind of focal length are usually fisheyes. With the right subject, the lens could capture some epic big scenes with detail all the way to the edges.
"It should offer a 122º horizontal field-of-view, creating some great immersive images. I liked the way the ultra-wide angle emphasized the foreground as well, giving an almost 3D-like depth to the images. Matched by great optics offering sharp, colorful and vibrant images with great clarity and zero distortion, this lens rewards those willing to put time into planning their shoots."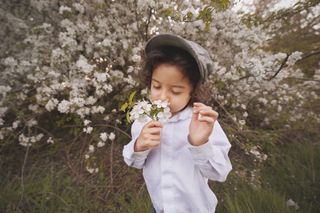 Of course, the XP series isn't just for shooting incredible once-in-a-lifetime events – it's also perfect for capturing the quieter moments found closer to home. Photographer Alyssa Zalabai used the XP 14mm f/2.4 to photograph this touching portrait of her son.
The Samyang XP 14mm f/2.4 (available in Canon EF and Nikon F mounts) contains 18 elements in 14 groups, including two Aspherical, one Hybrid-Aspherical, two Extra-Low Dispersion and three High Refractive elements. The floating lens system implemented in the design also helps to reduce chromatic aberration and provide a high optical performance throughout the lens.
"The ultra-wide angle of the XP 14mm f/2.4 has helped me capture my son in his most playful times with the mood and colors in harmony with his lively energy. Growing up with photo enthusiast parents, he's used to being a model and is happy to cooperate with my ideas. One of the reasons I enjoy taking photos of children is that they're beautiful like nature. They all have their own personalities and it's up to me to determine how to capture them and their individuality in the best way possible."
The XP 10mm f/3.5 and the XP 14mm f/2.4 are available in Canon EF and Nikon F mounts, while the XP 35mm f/1.2, XP 50mm f/1.2 and 85mm f/1.2 are available in Canon EF. However, Sony users can also take advantage of the supreme optical quality offered by Samyang XP lenses by using an Canon EF to Sony E mount adapter.
The Samyang XP lenses are fantastic pieces of glass designed to deliver dreamy bokeh, uncompromising image quality and a unique experience for every user. Discover more about this incredible range of lenses at the Samyang website.