When buying a camera, there are certain inalienable truths when it comes to eco-friendliness: namely that these are big blocks of plastic, metal alloys and silicon, and are inherently not very good for the planet. Some 63 million tons of electronic waste is discarded each year
That being the case, when the time comes that we genuinely do need to upgrade, trade in or otherwise add to our kit collection, we do so as responsibly as possible.
And it's here, at the point of purchase, that the single biggest difference can be made. Where you choose to spend your dollars makes a definite, tangible difference to the good of the planet.
Buying brand new kit is the least ecologically friendly way to consume camera equipment. Many manufacturers are taking strides to improve things, with the likes of Sony pledging to use more recycled / recyclable plastics in its products, and reduce the amount of waste in its packaging. A lot of brands are also doing things like excluding chargers, and only putting a USB cable in the box.
Still, you've only to look at what's inside a typical brand new camera box to see the excess waste. Plastic (often single-use) trays, plastic and metal cable ties, plastic bags, thick paper manuals / flyers / inserts… not to mention the ink and printing required to cover a dull brown box with shiny, retail-attractive branding, which if bought online generally comes packaged inside another box, usually with protective plastic and bubble wrap.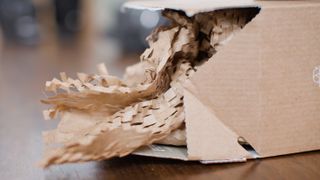 And, again, not to mention the non-recyclable components in the camera itself. And the same goes for camera accessories, such as batteries, lenses, tripods, bags, filters and everything else you'd find in or on a kit bag.
The solution? It's really quite simple: don't buy a brand new product, buy a product that already exists. That way, not only are not contributing to the manufacture of new goods – you're also extending the life of perfectly good products that are already in circulation, and might otherwise end up in landfill.
Let's take a second-hand specialist like MPB, the world's largest online retailer of used camera equipment. Some products come in Like New condition including the original boxes. However, for used goods without the original packaging, MPB uses recycled cardboard boxes and corrugated paper for protection – there is no plastic or bubble wrap included whatsoever.
Indeed, as MPB's packaging states: "Every year, MPB saves more than 1,200 football fields' worth of plastic bubble wrap by using recycled packaging."
The circular economy is crucial when it comes to electronics. Finding new uses (and new users) for old products is a hugely effective way to cut down on waste and carbon footprints. And it's also a hugely effective way to cut down on price, too!