Your best photos deserve to live somewhere other than the memory card in your camera or on your phone. While you may occasionally send a few files off to a print shop to get a physical copy of your standout photos, you can end up spending more money and time than you want waiting on results that may not always turn out quite how you expected. And, if you decide you want to make tweaks, you'll go through the process all over again. The HP ENVY 6055 can simplify this by letting you handle photo printing right at home.
A basic printer might only print in black and white, and some color printers may only support your standard letter paper – not exactly what you'd want to print a photo on if you're planning to frame and hang it. The HP ENVY 6055 supports HP Photo Paper, letting you get a much higher quality print. And, it can print a variety of sizes from 3" x 5" to 8.5" x 11.7". Borderless printing also ensures you can use every inch of space on your photo. It will also let you avoid going through the tedious process of cutting your photos out.
The support for various paper sizes and the ability to print at home makes the printer a handy way to put together photo albums. And, if you want to compile photos from both your digital camera and phone, you'll enjoy the support for wireless connectivity that allows you to print with HP ENVY 6055 from your phone as easily as you would from your computer. The HP Smart app will let you print from your phone with no hassle and no cables.
The HP ENVY 6055 is also ready if you've got printed photos and want to reverse the process by digitizing them. The onboard scanner is capable of scanning at a 1200 x 1200 dpi resolution, giving you highly detailed copies of your photos. And, it can format scanned files as PDF, JPG, or even RAW. So, you'll be ready to pull the photos into your favorite photo editor and make tweaks.
These are just a few of the ways the HP ENVY 6055 can help you with your photos. One day you might be printing off photos of a vacation to send to family, the next day you might be printing off a boarding pass for your next photographic adventure. If you're running a photography business, you can just as easily print samples for clients as you can print invoices and envelopes to mail them in. And, if you think you'll be printing a lot and never want to run out of ink, HP's Instant Ink program can help. The Instant Ink program keeps your printer topped up by automatically ordering refills whenever you run low. Instead of paying for the cartridges, you'll just pay a monthly subscription which can bring your cost as low as 3-5 cents per page even if you're printing borderless, color photos. So, if you're printing off lots of colorful pictures, it can save you some serious cash.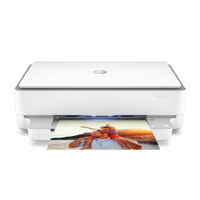 (opens in new tab)
HP ENVY 6055 All-in-One Printer (opens in new tab)
The HP ENVY 6055 All-in-One can handle all your usual office tasks with printing, copying, and scanning, but it's similarly ready for photography when paired with HP Photo Paper.
On sale on HP for $129