By now you've read all about Canon's latest EOS R bodies – but have you had a chance to actually get your hands on them? There's a lot of hype around these new cameras, but the only way to truly know if they're as good as everyone says is to try them out yourself.
This is one of the main reasons why Canon is bringing Camera Store Week to specialist camera stores near you: to give you the chance to touch and try the entire range of EOS R cameras and RF lenses. So, from March 27 to April 02, you can see first-hand what the kit is really like.
Maybe you're moving to mirrorless from a DSLR setup. Perhaps you're a professional, looking for your next trinity lens. You could be a would-be content creator, looking for a video-focused camera to shoot vlogs and video. Or even a complete newcomer, who has never used anything other than a phone to take pictures.
If you find the camera or lens that's right for you, you'll also enjoy another benefit of Camera Store Week: a wide range of offers and promotions available throughout the week, to make your EOS R experience even sweeter. Different stores will be running different deals, so find out where your nearest specialist is located and drop by to see what's on offer.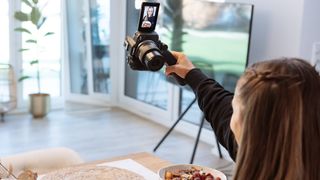 What is the EOS R system and RF lenses?
EOS R is the product family for Canon's cutting-edge mirrorless cameras. There are 10 bodies in the current lineup, including cinema-focused cameras like the Canon EOS R5C, with hyper-detailed 8K video, to the entry level Canon EOS R50, with 24.2MP resolution and 4k 30p video recording for incredible detail.
These cameras all feature the high-tech Canon RF mount, which powers the latest generation of lenses that simply aren't possible on any other camera system. Whether you're looking for a classic "nifty fifty" in the form of the pocket-friendly Canon RF 50mm f/1.8 STM, or the unprecedented pro performance of the Canon RF 28-70mm f/2L USM, some of the greatest glass available is at your fingertips.
Here are some of the amazing EOS R cameras being showcased during Camera Store Week…
Canon EOS R3
The top-end flagship model of the R system, the Canon EOS R3 is built for professionals who need ultimate power, performance and reliability. As well as 6K video and rock-solid in-body image stabilization, it boasts the familiar pro form factor – featuring an integrated vertical grip and high-performance battery – and comes with Canon's highest weather sealing and durability, to withstand any shooting environment.
It also boasts the most unique and advanced technology of any camera on the market. Its electronic viewfinder is packed with sensors that track the movement of your eye, enabling you to literally focus on a subject by looking at it! This incredible Eye Control AF technology can only be appreciated in person – so this may be the single best reason to get involved in Camera Store Week!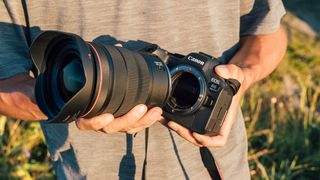 Canon EOS R6 Mark II
A class-leading camera that blends the best of Canon's cutting-edge technologies from across the range, the Canon EOS R6 Mark II enables you to shoot any thing, any time, any where. Its 24.2MP sensor hits the resolution sweet spot – packed with all the pixels you need to capture incredible detail, but retaining manageable file sizes that keep your workflow streamlined.
Like the flagship EOS R3, the R6 Mark II brings with it a sophisticated 5-axis in-body image stabilization system. Offers up to 8 stops of shake compensation, it's perfect for shooting rock-steady stills or capturing crisp 4K 60p video. And if video is your thing, you can take advantage of 6K ProRes RAW (via external HDMI) or super slow-motion FullHD footage up to 180fps.
Canon EOS R50
The perfect camera for content creators, the Canon EOS R50 is powerful enough to deliver showstopping footage yet portable enough for you to take the show on the road with you. From razor-sharp stills and uncropped 4K to vertical video and live streaming, there's virtually nothing that the R50 can't do!
Built around a stunning new 24.2MP APS-C image sensor, the R50 takes advantage of the smaller sensor with a camera body that's unbelievably small and lightweight. Whether you're self-shooting a vlog or capturing video for your social media, the fully articulating screen enables you to see what you're filming, the super-sticky autofocus means that your subject is always in focus, and the camera is so small that you can set it up anywhere
Head down to your local specialist between March 27 and April 02 and try out the EOS R range during Camera Store Week. If you have any questions, Canon experts will be on hand to guide you through the many features available on the cameras and lenses – as well as draw your attention to the relevant promotions that are running!