Need a power pack that's designed to keep up with even the most demanding shoots? Godox has the answer with the recently introduced Godox P2400 Power Pack. Not only is it the manufacturer's most powerful pack ever, but it's been designed to keep up with the rigorous, fast pace of commercial studios with a lightning fast recycle time of just 0.7 seconds.
Packing a monstrous 2400W, the Godox P2400 delivers all the power and speed necessary for high-volume intensive use. Whether you shoot high-end studio work, rapid-fire fashion or large-scale events photography, this pack promises to boost both your image quality and your shooting efficiency.
Designed for the Godox H2400P flash head, with versatile zoom and Bowens mount, the P2400 Power Pack boasts a 32-channel, 16-group receiver that can be fired at distances of up to 1000ft via the integrated 2.4G and 433Mhz trigger systems (compatible with the X2, XPro, X1 and FT-16, in addition to traditional sync cords).
Most impressive of all, the P2400 offers this premium performance for just a fraction of the cost of other brands, enabling all photographers to experience the benefits of powerhouse shooting.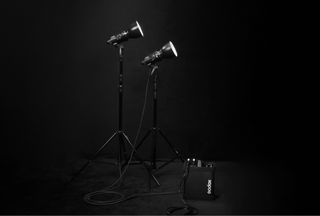 Power punch, pro performance
The Godox P2400 combines phenomenal power, lightning-fast speed and uncompromising color consistency in a pack that can keep up with even the most intense shooting demands.
This pack is perfect for use with a variety of light modifiers, including parabolic reflectors. While these may look similar to an ordinary umbrella, they actually have the ability to reflect light over long distances thanks to their unique shape and the inclusion of a focusing rod.
To see the powerful combination of the Godox P2400 and parabolic reflectors in action, you only have to watch the video below. Godox sent photographer Keith Saunders some exciting kit to help him on a recent shoot with a dancer. He ended up using the Godox P2400, a 65" Godox Parabolic Reflector and two Godox Softboxes (each with a Bowens Speed Ring and Grid) to capture a variety of stunning images, from enchanting portraits to mid-jump action shots.
Saunders says, "The P2400 has everything I need from a powerful flash system- for my shoot with the dancer Mimi, I needed a fast flash duration to freeze her mid jump and also a fast recycle time so I could get more than one picture per jump. Using two packs and 4 heads meant I could split the main lights between different packs and with the asymmetric power outputs, I could match those two lights at an excellent power/flash duration combination to freeze the action as I required. This left plenty of options for the fill in lights too. Having so many stops of output control was really useful too, to be able to accurately tweak 4 lights from 2 packs. Having the output adjustment in 1/10th increments is great.
I found the P2400 very simple to use straight out of the box, with the menu easy to navigate and the features such as colour accuracy and fast recycle times really useful. The pack delivered very consistent results making the post production workflow smooth and efficient."
However, the P2400 Pack isn't just useful for dance shoots, it can also be incorporated into all kinds of projects. Saunders says, "I have used the P2400 packs for quite a few shoots now, including still life, where the colour accuracy and power output was crucial (here once again the 1/10th increments were so useful); portraits of singers, where I used the Godox parabolic umbrellas to great effect; and for a large group shot, where I needed a lot of even light over an entire room. We have also been shooting video using the LED lights in the P2400 heads. I am really looking forward to shooting some exteriors with the P2400 packs, using the lights to illuminate a building facade for some portrait shots.
I would recommend these lights to photographers of all disciplines where fast flash duration, quick recycle times and colour accuracy is crucial. The compact, lightweight flash heads make handling easy and with the extension cables, can be used very safely on very high studio stands. The P2400 fits so well with the Monoblocks, ADPros and Godox accessories we also have at the studio."
Adjustable from 4.6W all the way up to 2400W, the Godox P2400 offers 512 steps of precision to give you pinpoint control over your exposures. Add a kiss of light or unleash a blast of full-power illumination, enabling you to keep your ISO and aperture low while your image quality stays high. It also features a 60W LED modeling light (equivalent to a 600W halogen lamp) for an accurate simulation of the flash effect.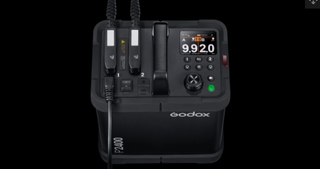 With a 0.7-second recycle time at full power, the P2400 keeps pace even during the most intense shoots. And its hiccup-quick 1/17,800 sec (t0.1) flash duration can freeze time, making it invaluable for photographing fast-moving action from dancers to water splashes.
Power and speed is nothing without consistency, so the Godox P2400 delivers accurate and reliable color output from shot to shot. Whether shooting fashion campaigns or product photography for catalogs, you can be assured of consistent color throughout.
The pack even boasts two asymmetrical flash outlets, giving you creative control over multiple lighting setups by distributing the same power to two heads or controlling each one independently. The large color screen enables you to see all your shooting settings at a glance, with an intuitive interface that makes fingertip control both speedy and straightforward.
Available for just £3,899, the Godox P2400 Power Pack is the perfect solution for professional-grade photography at a price that everyone can add to their kit bag.