AKASO, the world's most popular alternative to GoPro, has ushered in a brave new world for action cameras by introducing two groundbreaking new products: the AKASO Brave 6 Plus and the AKASO Brave 7 LE.
Whether you're a photography newcomer or an expert shooter, these cameras are ideally suited for those who love to travel and take part in sports. And they both pack the advanced features and quality performance you'd expect in a GoPro, but without the same high price tag.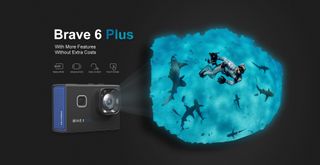 The AKASO Brave 6 Plus expands on the much-loved Brave 6, adding some exciting new upgrades to its predecessor. The touchscreen gives you fingertip control over the camera, while the 6-axis Electronic Image Stabilization gives your video a gimbal-like look. Now you can get super smooth footage from even the rockiest ride!
The Brave 6 Plus record crisp 4K video at 30fps, 1080p video at 90fps, as well as 120fps super slow-mo at 720p resolution. For still images it can capture 20MP photographs, and with an 8x zoom you can always get close to the action. You can even connect an external microphone to for top sound quality.
Best of all, since the camera is waterproof to 130 feet, you can shoot in all weather extremes and even underwater! In addition to the touchscreen, The AKASO Brave 6 Plus can also be operated by voice control – and when you want to take selfies, the built-in WiFi enables you to take remote control via the new AKASO GO app, where you can also transfer images and video directly to your phone for easy sharing.
At just $119.99, the AKASO Brave 6 Plus offers premium performance at a pocket-friendly price. And unlike many budget action cams, it includes a full set of camera mounts (including a bicycle stand and helmet mount) so you can start using it any time, any where.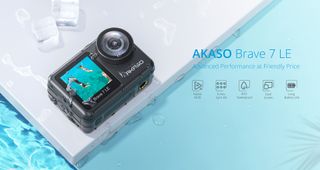 For content creators looking for the ultimate vlogging camera, the AKASO Brave 7 LE delivers powerful professional results in a simple-to-use package – along with an incredibly low price point.
Like the Brave 6 Plus it captures stunning 4K 30fps video and 20MP stills with 6-axis stabilization, but it features a front-facing 'selfie screen' as well as a rear 2-inch touchscreen. Thanks to the dual screens, you can record to camera (as well as take great selfies) while getting the perfect composition and most beautiful background.
Of course, heavy vlogging and video use can be a drain on your battery – but the Brave 7 LE comes complete with two 1350mAh batteries so you won't have to worry about running out of juice.
The camera is waterproof to 3 feet (meeting the IPX7 standard), and it also comes with a rugged waterproof housing that makes it waterproof all the way down to 131 feet, so you can take your followers on an all-weather vlogging adventure.
The built-in WiFi can connect to your phone via the AKASO GO app for wireless transfer of your files, while the integrated HDMI enables you to connect directly to a TV to share your images and videos. And for selfies, the WiFi connects to a handy wristwatch-style remote control – get that perfect YouTube thumbnail!
The AKASO Brave 7 LE offers the same features and double the number of accessories and extras as the GoPro Hero 8 – but at just $139.99, it's only one-third the price!
And with our discount code, you can save 15% on these cameras to make the price even more unbeatable. Use the code cameraVIP for a 15% saving on the AKASO Brave 6 Plus and AKASO Brave 7 LE (valid until 31 December 2020).
Be sure to sign up for AKASOGO Club, too, for premier membership benefits including 12-month warranty extension, priority and personalized customer service, exclusive coupons and a free trial of Wondershare Filmora.