Prices of new camera bodies and lenses only seem to be going one way: up! So purchasing secondhand camera kit is a great way to save some money. Luckily, you don't have to scrimp on quality when buying used equipment from MPB, the world's largest online platform for buying, selling and trading in used photo and video kit!
MPB grades its camera equipment on quality to give you an idea of the wear and tear and also comes with a six-month warranty, as well as a hassle-free 14-day return period if the item isn't as described. Our pick of the month is the top-flight Canon EOS R5 (opens in new tab), which is a mirrorless body with a 45MP full-frame sensor. It's capable of firing out a rapid burst of images at 20fps, making it great for everything from landscapes and sports to wildlife and action.
It also boasts 5 axis in-body image stabilization for pin-sharp shots when shooting handheld and can shoot incredibly lush, detailed 4K video footage at 120fps to boot! If you love macro photography or portraiture, we recommend pairing your EOS R5 with the Canon EF 100mm f/2.8 L Macro IS USM (opens in new tab).
While it's an older EF mount lens, you can find them on MPB.com from just £469 – that's over £1,000 cheaper than the native Canon RF mount 100mm F2.8L macro lens. You will need a Canon EF-EOS R adapter to use older EF lenses on the EOS R5, but this is a small price to pay for the huge savings on a top-class macro lens.
An EF-EOS R adapter is also an essential accessory for any Canon photographer that has switched from DSLR to mirrorless and would like to use their EF lenses with the new system. The EOS R5 is perfectly paired with the Canon EF 100mm f/2.8L Macro IS USM for macro shots, as you can make use of the EOS R5's powerful 5-axis image stabilization to mitigate camera shake, its 20fps burst rate so you never miss a moment, and focus peaking so you can clearly see what's in focus on your LCD display when using a macro lens – plus focus bracketing.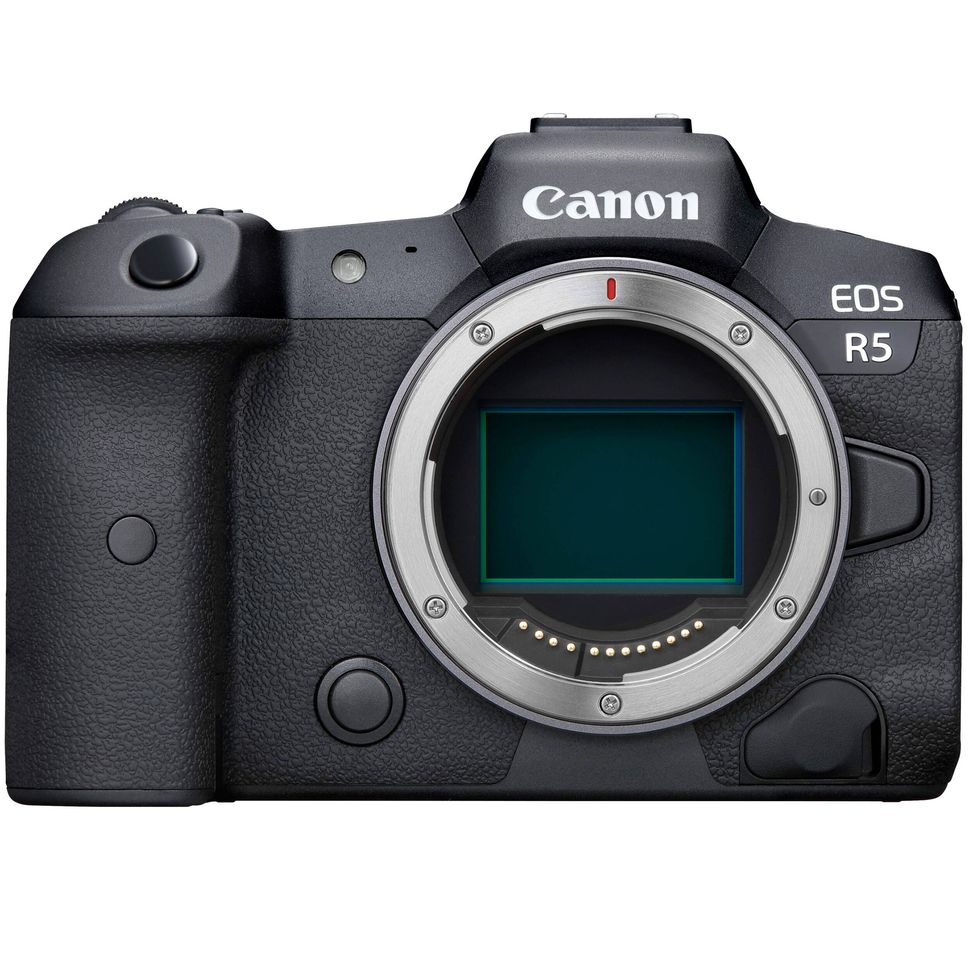 Great for sports, wildlife and weddings where you can't afford to miss the shot
MPB prices start at: £3,899 (opens in new tab)
Canon's EOS R5 offers a stellar spec sheet with a full-frame image sensor that's stabilized, so handheld shots are sharper with any lens attached. The sensor is 45MP for outstanding resolution. All this comes in a lightweight and durable mirrorless body that can shoot bursts of raw files at 20fps. Incredibly detailed 8K video can be recorded at 30p and 4K can be recorded at up to 120p for beautiful slow-motion footage.
Costing £4,299 new, this super spec sheet comes with a super price, making buying a pre-loved model from MPB a great way to save some money and get a reputable warranty. They're also in short supply, so if you're struggling to get hold of one, buying used could be the answer.
This is an affordable optic for macro and portrait shots
MPB prices start at: £469 (opens in new tab)
Whether you're looking to photograph bugs and insects, flora and fauna, still life, portraiture or intricate textures, a macro lens like Canon's EF 100mm f/2.8L Macro IS USM will help you focus closer and turn the ordinary into the extraordinary.
Alongside macro shots, the 100mm short telephoto focal length and close focusing feature makes it handy for head and shoulders portraits or getting closer for intricate details of facial features. Its wide f/2.8 maximum aperture also sucks in loads of light and provides wonderful shallow depth of field effects with beautiful bokeh. The ultrasonic motor (USM) makes focusing rapid and quiet, too.
Why buy from – and sell to – MPB?
MPB.com
MPB (opens in new tab) is the world's largest online platform for buying, selling and trading (opens in new tab) used photography and videography equipment. It's a much safer option than many used sellers or auction sites, as every product is individually inspected, photographed, and given a condition rating.
It offers a free six-month warranty on all products, packages are always insured with a signature required on delivery, and with its 5-star TrustPilot rating, you can be sure that you're dealing with a reputable and reliable company – one that recirculates 300,000 items of kit ever year.
The same customer commitment applies to selling to MPB, too. Online valuation is both free and commitment-free, your used gear is picked up from your doorstep free of charge, and friendly support is offered every step of the way. It's never been easier or more sustainable to sell and trade-in your old gear.