Photography can be an expensive pastime. Whether you're shooting for your own portfolio or for a professional client, getting the right gear means hammering your credit card if you want to add a new piece of equipment to your bag.
However, you can save serious amounts of cash by exploring used gear rather than buying new. Indeed, whether you're adding a new item to an existing system or buying a whole new setup from scratch, a much wider world of kit (and, thus, a richer photographic experience) is available by investing in used equipment.
In many cases, you can actually achieve a equal or even superior shooting setup by buying used, whether it's modern kit that's cutting edge at a cut price, or legacy gear that offers similar performance at a lower premium. In fact, many legacy cameras and lenses are better equipped for certain genres than the latest models!
We're putting this to the test with MPB, the world's largest digital photography gear resale platform, and every month we'll be putting together our dream setup for shooting specific areas of photography for a fraction of the price of buying new.
This month we've assembled an awesome and affordable architectural photography kit that would equip anyone to taking incredible images…
Canon EOS 5DS R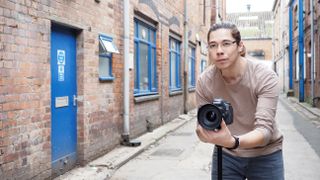 New price: £2,699.99
MPB price: £1,259 (good condition)
For our camera body, we've gone for the mighty Canon EOS 5DS R – which, with its 50.6MP sensor, is the highest resolution DSLR available. This enables us to capture pristine architectural shots with the same resolution as many medium format cameras – and the fact that the 5DS R possesses a low-pass cancellation filter maximizes the sharpness of the sensor.
The 5DS R is rugged, reliable and robust, with weather sealing that makes it perfectly suited to shooting outdoors even during inclement conditions. Like a 5D camera on steroids, it delivers fantastic results that can be cropped or blown up depending on whether you want to focus on finer details or make enormous wall-worthy prints.
Canon tilt-shift lenses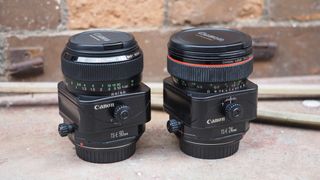 Canon TS-E 24mm f/3.5L
New price: £1,959.99
MPB price: £409 (well used)
Canon TS-E 90mm f/2.8
New price: £1,229
MPB price: £489 (good)
Ask any serious architectural photographer and they'll tell you: you NEED to have tilt-shift glass in your bag! Sure you can make these corrections in Photoshop, but these edits can come with compromises. And besides, we'd much rather spend our time shooting than fixing things on the computer.
Tilt-shift lenses enable you to prevent distortion such as keystoning, as up to ± 8.5° of tilt for focus control and ±12 mm of shift can be dialed in independently, so you can achieve the ideal perspective and composition. We went for the 24mm lens to give us a wide-angle option, as well as a 90mm to give us some light tele reach.
Sigma 14-24mm f/2.8 DG HSM Art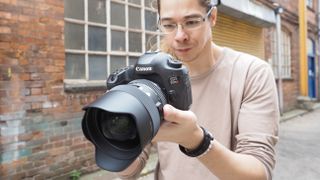 New price: £1,129
MPB price: £1,004 (like new)
Of course, sometimes 24mm just isn't wide enough when you're shooting large landmarks or sprawling architecture, which is why we also picked up the brilliant Sigma 14-24mm f/2.8 DG HSM Art lens. This ultra wide-angle zoom comes good on two fronts: exceptional build and superb image quality.
Our favorite thing about the Sigma 14-24mm is that it's almost distortion-free – truly remarkable for any lens this wide, let alone a zoom. When you're shooting with a super-high resolution camera like the Canon EOS 5DS R, you really appreciate optics that deliver great results across every pixel of the entire frame – and the Sigma does exactly that.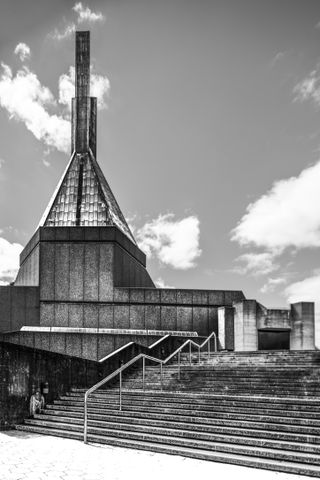 Canon EF 70-200mm f/4L USM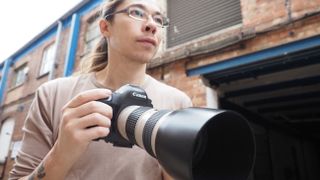 New price: £639.99
MPB price: £349.00 (excellent)
While most architectural photography revolves around shooting wide, there's a whole world of opportunity that only becomes available when you go long. And this is where a telephoto zoom like the Canon EF 70-200mm f/4L USM enables you to get those shots you'd otherwise miss.
Whether you want to zoom in to isolate specific elements of interest, or you're shooting something from a distance and you simply need the extra reach, a versatile 70-200mm lens enables you to push right in. And, being one of Canon's top flight L-series optics, this lens is weather sealed and designed to withstand the rigors of shooting outdoors.
Manfrotto BeFree Aluminium Travel Tripod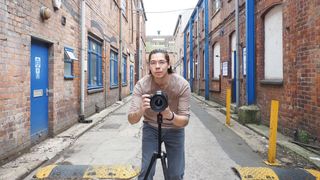 New price: £184.95
MPB price: £89 (excellent)
Obviously you need cameras and lenses to get the shots, but there are some accessories that are pretty essential to get the job done! Thankfully, MPB carries all kinds of kitbag must-haves, including staples like tripods.
This Manfrotto BeFree tripod is made of aluminium and features a clever folding mechanism that accommodates the head, which keeps it lightweight and compact at just 1.4kg and 40cm – perfect for easy carrying. Its ball head enables you to quickly and easily get those exaggerated angles if you're shooting up at tall buildings, and the 4kg payload more than handles our EOS 5DS R with its chunkiest lens!
Lee Seven5 Super Stopper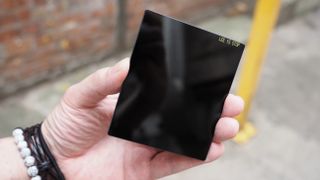 New Price: £59.95
MPB Price: £49 (like new)
Speaking of kitbag essentials, any outdoor shooter will extol the virtues of using filters – and again, MPB has a whole range of individual filters and complete filter systems, whether you want variable NDs, grads, polarizers or anything else. What we really love about getting filters from MPB is that you're able to pick up components of systems that have been discontinued and aren't available from other retailers (or even directly from the filter companies themselves).
While a 9-stop ND is our usual go-to for striking architectural photography, we decided to get creative and pick up a Lee Seven5 Super Stopper – which gives us a whopping 15 stops to really see what could do with wide apertures and long exposures! If you've never used a filter system before, buying used is a great way to experiment without paying through the nose.
Top bank for bottom dollar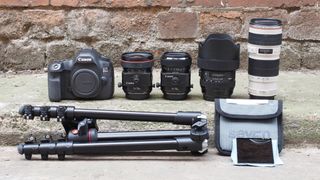 Architectural photography setup
New price: £7,902.87
MPB price: £3,648
Total saving: £4,254.87
For a fraction of the price of buying a modern camera system, and for less than half of the cost of buying the same equipment brand new, we've assembled a formidable photography setup for shooting architectural imagery.
It just goes to show that buying the best doesn't always mean buying new. So whether you're looking to pick up an extra lens to complement your existing system, or you want to build a whole shooting setup from scratch, make sure to check the wealth of used options available from MPB to get great results and great savings.