It doesn't matter if you're doing paid shoots for clients or doing shoots purely for yourself – your photography equipment is expensive. Getting the right kit for the right situation is always going to mean spending a good chunk of change – but it doesn't have to be as chunky as you think.
Instead of buying everything new, you can shop for used gear and upgrade (or even completely replace) your kit without making your credit card cry. Whether you just need a new lens or your want to buy a completely new setup, your money will go a lot further if you look at used equipment – and you'll have a lot more choice, too.
That's right, you can actually get a much better shooting setup if you buy used, rather than getting completely new kit. Of course modern kit becomes more affordable on the second-hand market, but you also have the choice of all the cameras and lenses that aren't made any more – cameras and lenses that might fit your needs far better than what manufacturers are currently making.
We're putting this to the test with MPB, the world's largest digital photography gear resale platform, and every month we'll be putting together our dream setup for shooting specific areas of photography for a fraction of the price of buying new.
This month we've assembled an awesome and affordable astrophotography kit – perfect for shooting during the long nights at this time of year!
Pentax K-1 Mark II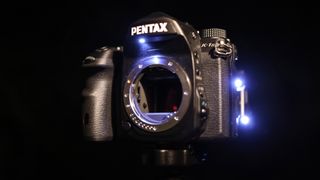 New price: £1,799
MPB price: £1,269 (condition: like new)
One of the best DSLRs you can buy, the Pentax K-1 Mark II is a formidable camera with its 36MP full-frame sensor, weather sealing, in-body image stabilization (IBIS) and innovative flexible angle rear screen. However, what most people don't know is that the K-1 Mark II is arguably the best all-round astrophotography camera out there.
At the heart of this is the signature Astrotracer technology. This combines the power of the camera's stabilization (which makes micro-adjustments to the image sensor to compensate for camera shake) with the built-in GPS system. However, while IBIS is typically used to correct camera movement, with Astrotracer it compensates for the movement of the stars!
By coordinating with GPS data, the K-1 Mark II uses IBIS to move the sensor and prevent unwanted star trails when the camera is mounted to a tripod – meaning that you can take long exposure images without worrying about streaky stars spoiling your shots!
Combine that with external illumination that lights the camera mount (for changing lenses in the dark) and underside of the rear screen, along with a Night Vision option that turns the LCD red to optimize it for shooting in the dark, this is the camera to take out when you shoot astrophotography.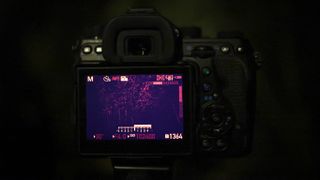 HD Pentax-DA 11-18mm f/2.8 ED DC AW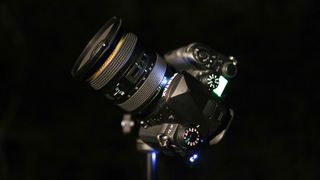 New price: £1,279
MPB price: £944 (like new)
A fantastic wide-angle lens, and a fantastic lens period, the Pentax HD Pentax-DA 11-18mm f/2.8 ED DC AW is tailor made for heavy duty outdoor use – and especially for astrophotography, thanks to the fast f/2.8 aperture.
It's a hefty lens, but packs weather serious sealing and is freeze-proof to -10°C, and even features a lens heater groove to prevent condensation from dew. It's incredibly sharp edge-to-edge, with minimal aberrations, and has a focus clamp to prevent lens creep during long exposure shots and astro work.
It's designed for cropped APS-C sensors, but that still translates to an equivalent 17-27.5mm on the full-frame format – more than wide enough to get great astro shots.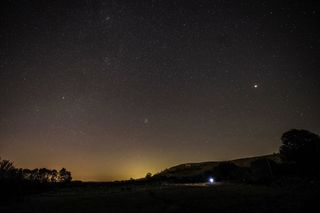 Sigma 24-70mm f/2.8 EX DG HSM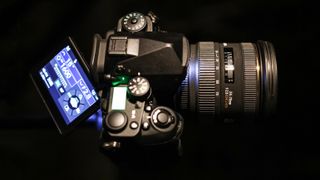 New price: £1,399.99
MPB price: £349 (excellent)
Another fast f/2.8 lens, the Sigma 24-70mm f/2.8 EX DG HSM is absolutely phenomenal value. As a full-frame lens this suffers from some sharpness, vignetting and aberration issues, but as a cropped APS-C optic you get the benefits of the sharpest part of the frame (the filet mignon in the center) with many of the issues at the edges and corners cropped off.
Again the crop factor makes this an equivalent 38.4-112mm lens in full frame terms, which picks up nicely from the Pentax optics and enables us to work with our location and compose shots according to what the landscape gives us.
It's far and away the cheapest way to buy an f/2.8 standard zoom, and it's a fab all-purpose lens that will serve your needs beyond just astrophotography.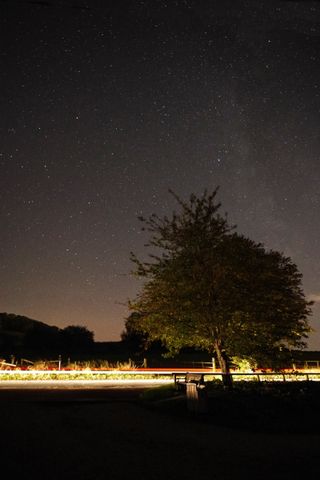 Tamron AF 70-300mm f/4-5.6 Di LD Macro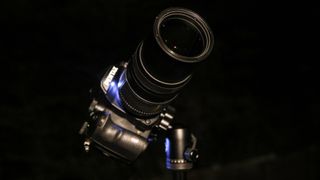 New price: £129
MPB price: £52 (good)
Another extremely affordable optic, the Tamron AF 70-300mm f/4-5.6 Di LD Macro covers the focal range beyond the Pentax and Sigma in our kit bag. The general rule is that for landscape astrophotography you should use something between 16-35mm, and obviously we added the 24-70mm to give us flexibility beyond that.
However, for solar system astrophotography (planets, moons and other phenomena) you'll typically need something between 85-300mm. So the 70-300mm coverage here gives us that extra reach to pick out specific celestial objects.
No, it's not as fast as you'd usually want for astro work, and it's not a rugged and durable optic designed for shooting in extremes. For the price, though, it's a kitbag essential – and might just nab you that stunning shot of the moon or aurora that you'd otherwise miss.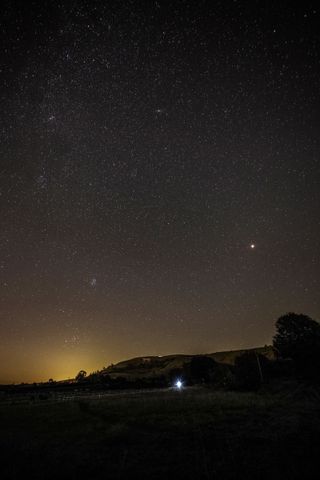 An astro setup that shoots for the stars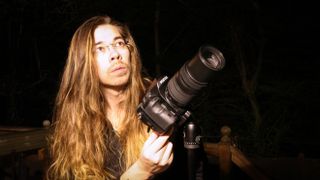 Astrophotography setup
New price: £4,606.99
MPB price: £2,614
Total saving: £1,992.99
For just over £2,600 – less than the price of many new full-frame mirrorless bodies – you can get arguably the best all-around astrophotography cameras along with three lenses that give you complete coverage to shoot the stars. And you STILL save nearly £2,000 on the RRP!
So whether you're looking to pick up an extra lens to complement your existing system, or you want to build a whole shooting setup from scratch, make sure to check the wealth of used options available from MPB to get great results and great savings.