If a picture tells a thousand words, then a video tells thousands more – especially in the age of YouTube and social media sharing, where videos are powerful tools for businesses and incredible ways for individuals to express themselves.
However, expectations for video have never been higher. Whether you're using your smartphone or a dedicated 4K camera, you'll get great footage – but if your editing isn't equally great, your video will fall flat. That's where FilmoraPro comes in.
Other video editing packages can be difficult to learn, especially for newcomers with limited experience – and they often require an ongoing payment if you want to keep using them.
The beauty of FilmoraPro is that it it makes professional-level editing easy, regardless of whether you're a beginner or a seasoned pro. And with a price plan offering a single lifetime payment, you don't have to worry about recurring charges every month.
Powerful tools make professional results easy
FilmoraPro transforms advanced techniques into enjoyable, easy-to-use features. So instead of wasting time Googling how to use a complicated function, you can simply focus on producing the best video possible.
By streamlining professional-grade tools, even novices can unleash their creativity. Whether you want to produce a great-looking video for your Facebook profile, or you want to create compelling content for a business, FilmoraPro makes it simple.
Dynamic timeline
Make your editing more efficient! The Dynamic timeline features unlimited tracks, advanced editing modes, grouped timeline clips, range markers, split edits, and much more.
Powerful audio editing
Your sound is every bit as important as your visuals. With FilmoraPro you can perfect your audio with audio sync, compression, noise reduction, and audio transitions.
Keyframing for motion graphics
Now you can really take your videos to the next level, by creating custom animations for text and graphics. There are even ease-in and ease-out tools to help replicate real-life motion.
Hollywood-style visual effects
Enhance your footage or transform simple shots into spectacular sequences! Access a large library of customizable visual effects including lens flares, chroma key, blurs, and distortions.
Professional color correction
Whether you're simply correcting for consistency or you want to add a cinematic palette, transform your clips with sophisticated color tuning tools including color wheels, scopes, and controls for highlights, midtones, and shadows.
One-time lifement payment plan
Say goodbye to those recurring credit card bills – with a one-time payment, FilmoraPro is yours to use forever!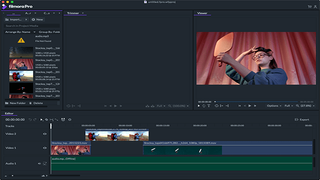 It doesn't matter if you've been working with video for years or you're just starting out on your editing journey – FilmoraPro will help turn amateurs into auteurs, and professionals into perfectionists.
Find out more about FilmoraPro and how it can make expert editing easy. PC users can download it for Windows, and Apple users can download for Mac.