If you're in the market for a sturdy, lightweight and affordable tripod, you'll be pleased to hear about the new Benro Rhino tripod kits that have been recently released. Each tripod features a carbon fibre build and magnesium alloy castings that are specifically designed to keep weight to a minimum without sacrificing strength. This is perfect for those photoshoots where the scenic payoff can only be admired after a long slog up a hill.
With weight capacities ranging from 10 to 20kg, folded lengths from 25 to 49.4cm, maximum operating heights from 108 to 174.5cm and product weights from 1.24 to 2.06kg, these four new tripods offer plenty of variety to help you pick up the perfect pair of legs for you.
Each of the new Benro Rhino tripods use carbon tubes produced from a new braided material. This is designed to offer greater rigidity and capacity without making any compromise on the weight. Meanwhile, photographers can adjust the height of their tripods with the ergonomic rubber-coated leg locks, which provide fantastic protection against both dirt and water.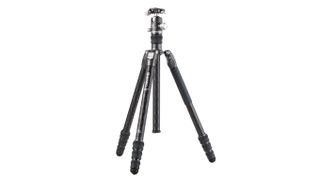 One of the most exciting aspects of the new Benro Rhino tripod kits is the newly designed VX ball heads. These offer simple dual action controls with built-in friction control and an independent pan lock. The VX ball heads also have a 360º panoramic function. This means that not only does the base rotate, but so does the quick release platform as well. To help protect photographers' gear and give you ultimate peace-of-mind, the VX ball heads also have a safety lock to prevent the plate accidentally sliding out.
The new Benro Rhino tripods also feature a removable leg that can be attached to the central column. This means that photographers can transform their tripod into a full-sized monopod, making the Benro Rhino range as versatile as possible. Having a tripod that converts into a monopod means that photographers can capture anything from landscape to sports to wildlife photography – without having to lug along extra unnecessary kit.
The Benro Rhino tripod kits are available now, including the:
• Benro Rhino 05C + VX20 kit SRP £200,
• Benro Rhino 14C + VX20 kit SRP £230,
• Benro Rhino 24C + VX25 kit SRP £250 and the
• Benro Rhino 34C + VX30 kit SRP £290.
Each of the Benro Rhino tripods are supplied with a set of three spiked feet and a tripod carry bag. Check out the Benro website for more information.