Internationally acclaimed professional landscape and travel photographer David Clapp always aims for the absolute best when creating prints from his digital images. That's why he uses a Canon imagePROGRAF PRO-300 printer.
David feels it delivers unrivaled print quality for both mono and color photo output, with seamless support for a vast range of glossy, matte and fine-art media, along with perfectly consistent accuracy. And as well as putting David in full control of the entire printing procedure, he feels that the printer and its supporting, free-of-charge software gives him unparalleled freedom of expression throughout the creative process, all with speed, efficiency and cost-effectiveness. And best of all, it keeps things simple.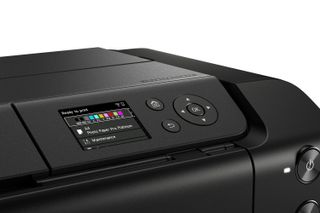 At the heart of the Canon imagePROGRAF PRO-300 is a newly formulated set of 10 Lucia Pro pigment-based inks. This brings an enhanced color gamut that does full justice to striking landscape images, while Canon's Chroma Optimizer ensures really vivid blacks and minimal bronzing on glossy and lustre papers. There's even a special 'Baryta' mode that further expands the color gamut in dark areas for this classic style of fine-art paper.
David is even more impressed when it comes to printing color and mono images on matte photo paper and fine-art media. The Canon imagePROGRAF PRO-300's new matte black is unique to the model and vastly improves black results on Matte & Fine Art Papers. The class-leading depth and detail in blacks and really dark tones gives a whole new level of expression – the likes of which he's never seen from any other inkjet printer or competing print technology.
Top tip
To ensure you get the results you're expecting, it's important to use a calibrated computer monitor. A color temperature of D50 (5000K), luminance of 80-120 Cd/m2 and a gamma of 2.2 is ideal.
Another creativity boost is that the Canon imagePROGRAF PRO-300 features a new, ultra-high-precision paper transport system that enables full-bleed, borderless prints not only on glossy and lustre papers, but also on matte and fine-art media.
David loves the fact that he only needs to have white borders around images when he really wants them. The A3+ gallery quality printer supports all popular paper sizes, and for added wow-factor, you can print panoramic landscapes at custom lengths of up to 39 inches (990.6mm).
The Canon imagePROGRAF PRO-300 produces spectacular print quality that exceeds that of many professional labs, while putting you in the driving seat so that you can create your own masterpieces quickly and easily, in your own home.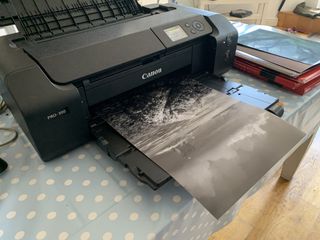 David says that any photo will look different in print than it does on-screen, due to the reflective rather than light-emitting nature of the medium. Even so, he wants what he gets on paper to match he sees on screen as closely as possible. That's where Canon Professional Print & Layout comes in.
Using Canon Professional Print & Layout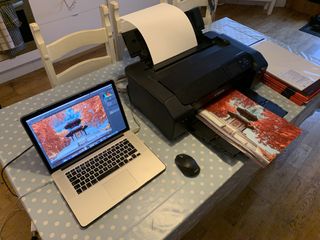 Available as a free download, this pro-grade program includes soft-proofing and hard-proofing tools to ensure the utmost in accuracy and fidelity. David finds the Pattern Print tool especially useful, as it creates different versions of the same image on a single sheet of paper, with subtly different renditions of brightness, contrast, tone and color, so he can easily pick the perfect treatment for any individual image.
He also loves the high-end design tools for arranging multiple images on a single page, and the quick and easy Gallery Wrap option for effortlessly creating images for stretching over the sides of a frame.
Get £100 cashback on the imagePROGRAF PRO-300
Claim £100 cashback and get a standard 2 year warranty when you purchase the Canon imagePROGRAF PRO-300 between 1 June – 9 August 2022.*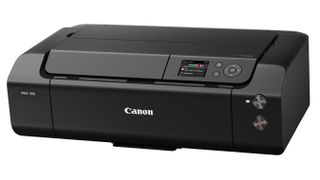 *To enter the cashback promotion, the Participant must purchase a Promotional Product from a Participating Retailer within the United Kingdom or Republic of Ireland between 01.06.2022 and 09.08.2022 inclusive. Claims must be submitted by fully and correctly completing the online claim form (including specifying a valid EEA product serial number) by midnight on 09.09.2022. Full details at canon.co.uk/cashback.