Make professional quality prints at home, office or photo studio easily with Canon's imagePROGRAF PRO-1000 which can print up to A2 size and has an advanced 12-ink system for a wide colour gamut and outstanding print quality.
Ideal for everyone from landscape photographers to camera clubs, and small businesses to full-sized studios or even schools and colleges, Canon's imagePROGRAF PRO-1000 is the printer for you if you want to create prints for sale or display with astonishing detail.
Also on this impressive specification sheet is borderless printing at up to A2 paper size, as well as a Chroma Optimiser for smooth reflections without any bronzing. It takes 12 LUCIA PRO high-longevity inks delivering a superb and range of tones for added realism and it features WiFi and Ethernet too, as well as integrating a 7.5cm user-friendly color display.
It works brilliantly well with Canon's own proprietary high quality gloss and matte paper or other third-party media. Whichever media you choose to use you can use custom ICC print profiles to get the best results, and setting your monitor's color temperature to D50 (5000K), Luminance to 80-120 Cd/m2 and Gamma to 2.2.
Canon's L-series optics for DSLR and mirrorless cameras can be identified by their iconic red line around the lens barrel that signifies their supreme quality. Canon's imagePROGRAF PRO-1000 printer is also worthy of the red band treatment with its best-in-class print quality.
It also comes with a 2-year warranty as standard and if you purchase up to the August 9 2022 you can also get up to £270 cashback!
Five things you should know about the Canon imagePROGRAF PRO-1000 printer
1. Borderless printing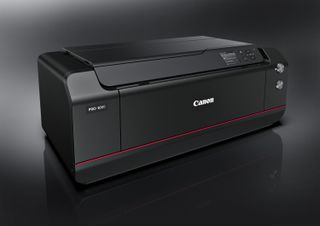 Canon's imagePROGRAF PRO-1000 can print up to A2 size without a border on a wide-range of media including gloss, matte, fine art paper, canvas and Baryta papers. It also supports panorama paper sizes 21x59.4cm and has longer custom print size functionality – up to 1,200mm for incredible large format banners that you'd usually need to use a specialist printing company to create traditionally.
2. Premium LUCIA PRO inks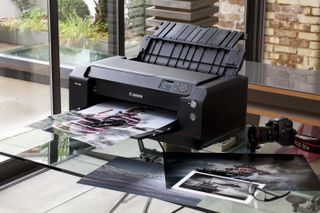 Is your current printer giving you lackluster prints that fail to live up to expectations? Canon's imagePROGRAF PRO-1000 has a LUCIA PRO 12-ink system to deliver a broader colour gamut and fine-tuned detail. Large 80ml capacity ink tanks also allow you to print for longer before needing to replace the cartridges so you can print uninterrupted for longer. All 12 inks are easily loaded from the front of the printer and are housed behind a flip-down cover for even simpler access.
3. Chroma Optimiser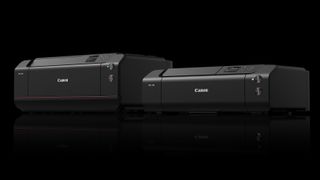 Chroma Optimiser ink technology achieves uniform glossiness and natural color with enhanced black density. With this feature you can banish bronzing for good, the detractive phenomenon that gives your prints a uniform tone, often bronze, when viewed from an angle and occurs when the ink isn't properly absorbed into the coating. It does this by maintaining deep colors and punchy blacks even when glare causing reflective light is falling on your prints with a high quality print density and 1,536 printing nozzles per chip!
4. Ease of use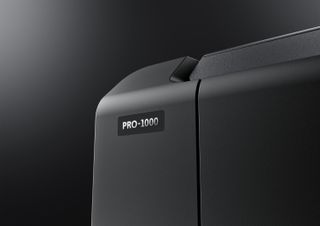 The imagePROGRAF PRO-1000 is built with ease of use in mind and comes with WiFi and Ethernet functionality. It also boasts Apple Airprint for easy printing from a smart device, though can also be used with the Canon PRINT app for iOS and Android or PIXMA Cloud Link for more advanced printing options. It also features a 7.5cm user-friendly color display which makes it even easier to navigate the menu directly on the front of the printer.
5. Outstanding black and white results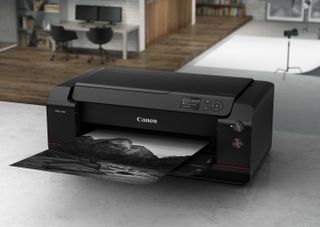 Add some film-noir style to your imagery with eye-catching monochrome prints. High-quality black and white images with neutral tones can be achieved thanks to the LUCIA PRO ink system's four dedicated monochrome inks – photo black, matte black, grey and photo grey – for black and white images that boast exceptional depth and clarity.
Accounting Manager Software
The Canon imagePROGRAF PRO-1000 comes with free Accounting Manager software that allows you to input in your ink and paper costs. This means you can create a print log to calculate how much each print costs, total ink use and time taken to print. You can even track what each person prints, machine usage and electricity consumption. Costs can be reviewed each job and exported in CSV format to import into Excel to work out your costs effortlessly.
Media Configuration Tool
This free software is for creating and managing media settings data for top-quality printing with each media type. Both Canon original and third-party media can be added according to your needs. The Media configuration tool allows you to manage what is displayed when searching for a paper type. If you want to add a third party paper this allows you to configure it from what type it is, gsm (thickness of the media), ink limits, vacuum strength and head height.
Firmware Update 3.010
The update includes a few things, first allows a new size, 21x59.4cm, represents an A2 sheet cut in half and is perfect for printing panoramic images.You can also extend the custom paper size limit from 647.7mm to 1,200mm, meaning images can be printed on an even wider range of sizes.
Finally, Baryta paper mode was added which reproduces the deepness in the reds and darker colors such as deep greens. It implants the colors in that part of the color gamut, while also reducing the effect of bronzing, which is sometimes associated with Baryta media. This mode will enhance the printer, so when it prints on Baryta paper it's going to have less bronze and better color finishing in dark areas. The latest firmware can be downloaded here.