Digital Camera magazine has teamed up with Olympus to give you the chance to try out the flagship Olympus OM-D E-M1 Mark II during an afternoon walk around one of Britain's most picturesque Christmas markets.
Fifteen spaces are up for grabs and you could be that lucky reader who's able to try out this brilliant camera over a number of photographic challenges.
How to win a place
There are a few things we need from you in order for to you to be eligible to take part in this challenge.
First of all, you need to be free on the afternoon of 22 November, and be able to make your own way to Bath, in south-west England. If coming by car, you'll have to be responsible for finding somewhere to park while you're taking part.
We will provide you with your camera, lenses and advice, plus the series of challenges you'll face during the afternoon. The photographer judged to have taken the best shots will be awarded a special prize.
We will also publish some of the best pictures on this website, and in a special feature to appear in the January 2019 issue of Digital Camera magazine, on sale 14 December.
So whether you're a beginner or an experienced photographer, this unique experience will help you to make the most of a range of photographic scenarios and give you some great ideas and inspiration on ways to improve your shooting skills! Everyone is welcome to apply, and it doesn't matter if you are not using Olympus cameras already.

We know you're interested, as you're scrolled down this far already, so all you have to do now is fill out your details on this Olympus page.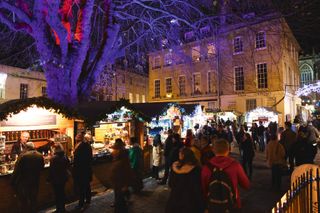 What to expect on the day?
Each participant will get the use of an Olympus OM-D E-M1 Mark II, plus access to a bank of Olympus lenses to choose from. They will also be able to get help and advice from Olympus experts, and staff from Digital Camera magazine.
To make it a great afternoon, each person will be given a list of challenges – consisting of a list of words or phrases they will have to interpret with a picture that they take. The idea is to find great images that tick off each of the challenges.
With a wide range of stalls and exhibits amongst to photograph during the challenge, there will be plenty to test your photographic skills – and those of the camera.
The Olympus OM-D E-M1 Mark II boasts high-speed performance, awesome precision and excellent image quality, along with 5-axis Image Stabilisation which makes it the perfect match for low-light photography.
See some images from recent reader challenges, sponsored by Olympus.
Click here to apply now and have a great day of photography, courtesy of Digital Camera World and Olympus.