It is absolutely silent on this clear, crisp cold morning in the Swiss mountains. Air forms small clouds of mist in front of my face as I emerge from my sleeping bag at over 8,200 feet. The black of the night has already given way to the colors of the approaching dawn, and in a few minutes the blue hour will begin.
These are the moments that I love most as a nature photographer, sitting in silence and waiting for the spectacle of color to appear in the sky. While the chamois watch me from the ridge, I reach for my OM SYSTEM OM-5, the silence only interrupted by the occasional squawk of a snow grouse.
After quickly checking the settings – dialing up the ISO according to the level of darkness – I am ready for this magical morning in the mountains.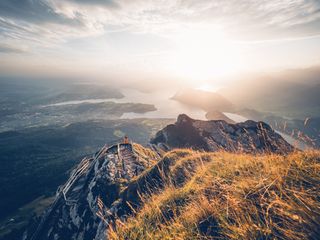 Dreaming of adventure
When I started photography as a 12-year-old, I dreamt of adventures, never thinking that 25 years later I would get to really experience them. While photography remained a hobby for a long time, in 2016 the mountains drew me under their spell.
Further fueled by inspiring pictures I saw on Instagram, I realized that Switzerland had so much more to offer than the popular routes and places I already knew, and I was driven to explore more remote regions where otherwise only a few pass through.
I craved a raw experience, the real thing – something that would leave my skin numb with cold and my eyes sparkling with excitement at the beauty around me! Some of my favorite times have been the most secluded – in the mountains at night, or in the winter, touring with my skis and setting up my tent in the middle of nowhere when the landscape is shrouded in a white blanket and no one else strays off the trails.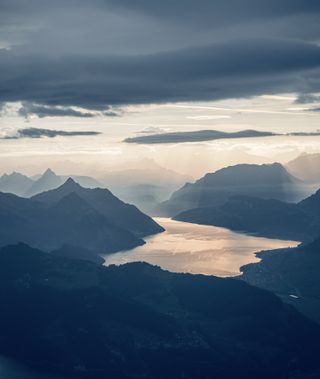 Of Ibexes and rainbows: ready for any moment
As my passion for adventure increased, I soon realized that my old camera was not suited to my needs. Too heavy, too slow, and with too few functions – so we parted ways. When I started looking for a new system in 2018, one of the most important things for me was that the camera was light and compact.
My tours often take me above the tree line in Switzerland and far away from civilization, with the next power outlet or warm hut usually several hours away on foot – so it's critical for me to be able to rely on my camera system.
I found what I was looking for with the OM System OM-5, with the weather-sealing another all-important reason for me to go ahead and purchase. In the mountains, especially in fall, I often encounter multiple conditions in one day; rain, sun, fog, and even snow. I want to be able to photograph every single situation without worrying about whether my equipment can handle it or get damaged.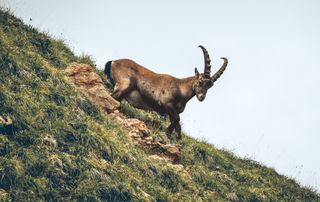 I need a camera that's ready with me for those moments when thick snowflakes fall, a rainbow forms in the downpour, or suddenly an ibex stands perfectly on a rock against the sky! These fleeting moments are often the most challenging to capture, and there would never be time for a tripod, but with the OM System OM-5's in-built Image Stabilization and fast AF, I can be sure not to miss any of these shots.
Furthermore, the ones I'm particularly excited about can even be captured as a High-Res shot at the touch of a button, all handheld, which is especially advantageous if I want to print these images in large format for myself or clients later.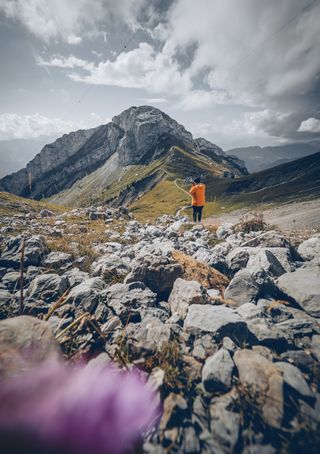 Feature-heavy, but light in the hand: what's in my bag
Since I often take a tent, sleeping equipment, stove, water, and food along with my camera kit, a camera that is feature-heavy, but physically light so that I don't need additional equipment is key.
Tripod? I can leave it at home thanks to the superb IBIS. ND filters? I don't need them, because Live ND is already built into the OM System OM-5, so waterfalls and lakes flow into soft shapes, creating unique images even in broad daylight!
There are other great features, too, like Live Composite mode for getting creative at night, and Focus Stacking which is ideal for landscapes as well as close-up macro work. With the OM System OM-5, I have everything I need. It's become my constant companion, helping me capture incredible moments for eternity.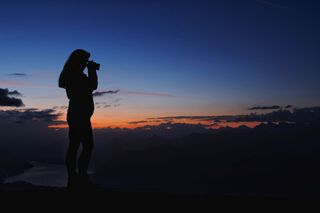 Since I am also away from power for long periods at a time, it's essential for me to be able to charge my camera via power bank with USB-C. And a pro tip for anyone else working at temperatures far below zero: I store my power bank, mobile phone, and spare batteries either close to the body or in an insulating bag – which I use to keep food warm – so they lose the least amount of energy.
In general, warmth is so important on my adventures, little raises the mood as much as a hot soup in the evening and a warm bed bottle in your sleeping bag at night!