Tip 17: Be a good sport
Sport-themed images are big sellers, but there are a few points to consider. If you want to photograph a football team, why not just approach a local Sunday league team and ask to shoot their next match? You should avoid top-tier sport events, as well as prominent logos (this includes advertising brands and well-known team logos).
Clients won't use an image that has corporate branding everywhere. Smaller, less well-known team names and logo designs won't prove as distracting, but they're still best avoided if possible. Again, put yourself in the buyer's shoes.
Tip 18: Think 'less is more'
We hear this a lot in photography, but in stock photography, it's really vital. Your images should be technically superb, but stop short of making them too flashy. too much processing will give your images a slick, fashion-like finish.
This will limit the opportunities for multiple sales because only glossy lifestyle magazines use such pictures – and once one title has used it, no other will touch it.
Tip 19: Keep it real
You can always tell when something is staged. So if you want to sell a picture that evokes the atmosphere and excitement of a live gig, why not find an up-and-coming band and offer to shoot their next concert? The result will be much more natural-looking, and less hassle than trying to shoot well-known bands. Check with stock libraries that you don't need model release forms, however.
Tip 20: Be creative with nature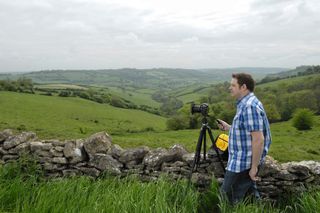 Earlier we warned about excessive artiness, but you can flex your creative muscles a bit more with images of the natural world. A literal take on a forest scene produces an opposite effect in advertising: it's too ambiguous and has been seen innumerable times. If you're trying to convey a theme of green energy, for instance, you might take a straight shot of a forest scene and then mask in a separate image of an 'a' rated fridge in between two trees. think of the natural world as a canvas – a base on which to make illustrative points.
Tip 21: Stay sharp and keep the noise down
When you're competing with so many other wannabe stock photographers, you need every advantage you can get. So make sure you do the little things exceptionally well. Invest in quality gear and put the time and care into getting everything right in-camera.
Your images must be pin-sharp and noise-free, for this is often the deciding factor between two pictures. A picture editor may find two shots that they like equally, but one may be just a little bit softer, or noisier, than the other, and guess which one they will reject…
Tip 22: Choose the right keywords
You've taken your photos, processed them and submitted them to a stock agency, but your work doesn't end here. People still need to be able to find your shots, and for this to happen you have to make them as visible as possible.
To this end, stock photographers rely on keywords, which they can assign to their images so they turn up in agency customers' search results. Some photographers go as far as assigning a keyword for every visible object in the frame, but this can sometimes have the reverse effect of annoying both the agency and the picture editors searching for photos.
Generally, you want to keep your keywords below about 20 words, and even that's a lot. Also, never give your image a keyword that's a common search phrase, such as 'romance', if it doesn't apply. This will get you reprimanded. Good keywords shouldn't make assumptions about what could happen in a situation (such as 'divorce' on a photo of an arguing couple) but they can be conceptual – for instance, terming a frosty landscape 'winter'.
Like your composition, keywords should also aim to set your image apart from all the others like it. In other words, if you have a picture of a Texas rancher on horseback waving at the camera, assign it the literal terms stating what it is, but also consider terms like 'happy cowboy' which might be a little more unusual.
Finally, when keywording a location, such as the aforementioned Texas rancher, if you know he's from Laredo, it's fine to use the keywords 'Texas' and 'Laredo'. But don't start listing every city you know in Texas. You'll inevitably run into problems when someone spots the wrong landmarks in the background, or even knows the rancher.
Read more: How to add copyright and website details to every image you take