We keep saying that Sony was once the only full frame mirrorless camera maker until Canon, Nikon and Panasonic joined in, but we keep forgetting the prestigious but pricey 24-megapixel Leica SL, launched in 2015.
But while the Leica SL was easy to overlook (oops), the Leica SL2 is going to be much harder to ignore. It's been a busy couple of years for full frame mirrorless cameras, and the SL2 is the last to arrive at the party, but it makes quite an entrance.
It's like a glamorous soirée, where the most stylish guest is the last to arrive and makes the most sophisticated entrance. The Leica SL 2 is never going to be one of the masses, it will always hold itself apart from the rest, and it will always draw envious glances (or glowers) from the crowd when it finally arrives.
We haven't had the chance to run the Leica SL2 through our gamut of lab tests and a full range of real-world situations yet, but inevitably it qualifies as one of the best Leica cameras you can get, and time will tell whether it also makes our list of the best mirrorless cameras you can get.
Specifications
Sensor: 47MP full frame CMOS sensor
Image processor: Maestro III
AF points: 225-area contrast AF with depth mapping
ISO range: 100 to 50,000
Max image size: 8,368 x 5,584
Metering modes: Multi-field, centre-weighted, spot
Video: 5K at 30/24/24p, C4K & UHD at 60/50/30/25/24p
Viewfinder: EVF, 5.76m dots
Memory card: 2x SD/SDHC/SDXC (UHS II)
LCD: 3.2-inch fixed touchscreen, 2.1m dots
Max burst: 10fps mechanical shutter, 20fps electronic shutter, 100+ JPEG, 78 DNG
Connectivity: Wi-Fi, Bluetooth
Size: 146 x 107 x 42mm
Weight: 835g (body only, without battery)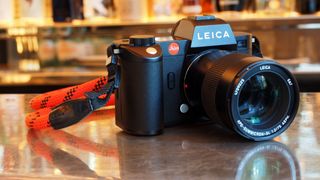 Key features
Leica and Panasonic are technology partners, and you don't have to look to deeply into the SL2's specifications to see its technical similarity to the Panasonic Lumix S1R.
The Leica SL2 has a 47-megapixel full frame CMOS sensor, for a start, with 5-axis in-body stabilisation that offers a quoted 5.5EV shutter speed advantage. Like the S1R, the SL2 can capture 4K video at up to 60/50fps, and there appear to be strong similarities in the autofocus systems too, as the SL2 uses a 225 zone contrast AF system with 'depth mapping' operating at a frequency of 480fps.
Leica's autofocus options are interesting. They include body detection as well as face detection, and the camera has easily accessed autofocus 'case settings', each with adjustable parameters, for different kinds of moving subject.
It also has an impressive turn of speed, offering 10fps continuous shooting with its mechanical shutter and 20fps with its electronic shutter. There's been a process of improvement and simplification too. Leica says it's removed a glass filter layer from in front of the sensor (we were told this is the low pass filter, done to maximise resolution) and that plastic viewfinder components have been replaced with glass for a better user experience.
There's more information about this camera and its specifications in our Leica SL2 news story, but we also got to spend some time with the camera at a hands on event, so here's our first impressions on what it's like to use.
Build and handling
The internal similarities between the Leica SL2 and Panasonic S1R might be obvious, but as a physical device it's utterly different. This is NOT just a rebadging exercise, but an entirely different camera that just happens to share some internal components.
The first and most obvious characteristic of the SL2 is its sleek, minimal design. How can a camera this sophisticated have so few external controls, and can a couple of unmarked dials and six custom function buttons (five of which are unmarked) really offer the kind of clarity and efficiency that photographers will look for?
Actually… yes. You can't really assess a camera properly in an hour and there many be annoyances and inconsistencies we discover later, but the SL2's control system and the thought that has gone into it are remarkable.
There's no mode dial. Instead, you click the rear dial to activate a mode display on the status screen then turn the dial to change the mode. So you don't need a mode dial.
The twin dial layout works intuitively in each of the PASM exposure modes, with the rear dial controlling aperture or shutter speed and the front dial used for exposure compensation – or, in M mode, one dial is for the shutter speed, one for the lens aperture.
So isn't programming all those unmarked function buttons an utter pain in the neck? Normally we'd say yes, because it mean lots of tiresome hunting through layers of menus to find the custom settings options.
Not here. When you press and hold a function button an on-screen display pops up to offer all the settings available for that button. It's a real light-bulb moment that makes just puts a grin on your face the first time you use it.
The separate menus for still and video photography are another great detail, as are the very elegant yet clear graphics and typefaces used throughout. It's a reminder that you're not just paying for megapixels and metal in a camera like this, but the design care and expertise that's gone into it too.
Other 'features' might raise a few eyebrows. The rear touchscreen is big, bright and sharp, but it doesn't even tilt, let alone flip forwards. This inevitably makes certain sorts of shot more difficult, but then there's always the Leica FOTOS app for remote viewing and camera control in those situations.
Performance
It wasn't possible to use the camera for long enough to reach any final conclusions about its performance, but a few things stand out.
The autofocus system, for example, is fast and positive in good light but a little slower in more dimly lit interiors. The Leica lenses fitted to the sample cameras, however – 75mm and 35mm primes – focus so quickly and quietly that focus is often achieved before you actually realise it.
Image 1 of 5
Image 2 of 5
Image 3 of 5
Image 4 of 5
Image 5 of 5
The image quality is quite spellbinding and in more than one way. The resolution is as stellar as you might expect, thanks to the combination of a 47 megapixel full frame sensor and SL lenses which Leica says are the best it's ever made. The 35mm proved sharp right to the edges of the frame with no visible distortion, chromatic aberration or corner shading.
Leica is especially proud of its image processing, and the SL2's dynamic range, and while many sample images looked no different to those that might have been taken on any camera, there were a couple that were shot into the light against a bright sky that showed a lot more sky and shadow detail than might have been expected.
This is likely to be a camera whose qualities can't be gauged solely from the specs sheet and needs trying out over a more extended period.
Early verdict
The Leica SL2 is bound to provoke some controversy, either through its relatively late arrival, its technical similarity to the Lumix S1R or its price.
First, it's better late than never. Second, the Lumix S1R is an excellent camera, and if the SL2 shares much of its technology, we shouldn't complain about it! Third, Leicas have never been built to meet a price point and nobody's being forced to buy one.
So is the Leica SL2 worth it? If all you want is specifications, features and performance, we'd say not (get the Lumix S1R instead). But the SL2 adds a layer of build quality, design finesse and usability that adds considerably to its value.
For most of us the Leica SL2 is way too expensive, but there are well-heeled amateurs and discerning pros who will think differently – and who would much rather have this extraordinarily well thought out piece of engineering than its value in cash.
Read more:
• These are the best Leica cameras today
• We pick the best mirrorless cameras on the market
• The best cameras for professionals